Thank you for visiting our online community for travel professionals. It's now easier than ever to sell our trips and position yourself as a B&R insider.
Our co-branded itinerary feature allows you to add your logo and contact details to any of our trip itineraries. You can easily select the trips that you'd like to share with your clients and we'll remove our email and phone number so that the dialogue remains in your hands.
We also invite you to review our collaboration process for designing extraordinary private trip experiences. Our private trip collection continues to expand beyond biking and walking with new destinations, exclusive events and insider access! I look forward to telling you more about these great features in person.
Please call or email me to schedule a chat by phone or check back here frequently to see where and when the B&R team will be on the road.
Warm regards,
Simon Elliott
Director, Industry Partners
simon.elliott@butterfield.com
———————————————————————————————————-
Upcoming Webinars:
Join Simon Elliott and Virtuoso Travel Advisor Jamo Ladd (Avenue Two Travel) for a 30-minute presentation about B&R's Normandy & Brittany Biking trip. Jamo joined this trip in June and the focus of this webinar will be to hear about his experience as a first timer on a biking trip and the Butterfield & Robinson value.
September 19, 2017 at 3:00 PM EDT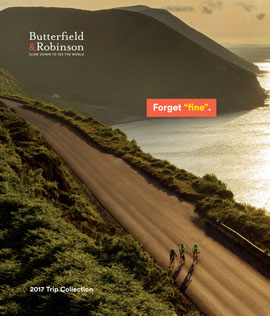 2017 Trip Collection
@BNRSIMON