TUSCANY CUSTOM LUXURY TRIPS
A region of rejuvenation
If leisure's what you seek, then head to Tuscany and Umbria with our Tuscany luxury travel and bask in one of its 39+ luxurious spas. A land of natural wonders, Tuscany is renowned for its many thermal springs.
Family Villa Stay
Price per person per night from US$900
Biking & Walking
Price per person per night from US$1,200
Corporate Walking Retreat
Price per person per night from US$1,000
What is bespoke with B&R?
Your dreams—realized. Your expectations—exceeded. And your mind? Totally and utterly blown.
We craft extraordinary experiences, tailor made to meet your every need, with every stitch of every day crafted just the way you want it.
Tell us your dreams and The World's Best trip designers will craft a journey exclusively for you.
Fill out the form to have one of our expert trip designers get in touch—and start planning your perfect adventure
TRIP IDEAS
Family Vacation
Let us select the ideal villa to match your families needs. We'll organize special evenings on the property from barbecues to throwing pizza to cooking demonstrations. You'll set off each day for a scenic ride with the whole family down cypress-lined routes and past peaceful hilltop villages. Mid-day meals are as much events as they are refueling and the afternoons can be spent with more activity (extended rides or walks) or poolside lounging at the villa.
Pedal along a portion of the pilgrimage route to Rome over rolling countryside and views of hilltop Pienza and Montepulciano in the distance.
Take part in a medieval flag-throwing demonstration and learn how to toss Palio flags in Siena from real sbandieratori.
Dune buggy your way to Lake Trasimeno then cruise over to one of its islands for lunch and an afternoon of water sports beach side.
Inspired? Craft a similar Bespoke trip starting from US$900 per person per night.
Biking & Walking
As lovely as the Tuscan countryside and cuisine are, they're at their best when enjoyed in good company. Here, our friends are your friends, and we have great ones. Giovanni brings Cortona to life for us. In Umbria, we'll ask Mamma Dina to serve up her homemade pasta for us. And before we part, our friends at the Avignonesi winery will send us off in style.
Ride to Castello di Brolio, the estate still home to the descendants of the Baron Ricasoli – renowned for being the inventor of the Chianti Classico.
Walk past tiny villages that are frozen in time towards our favourite Tuscan cooking school.
Join local guide Giovanni, whose family has been here since at least the 14thC, to walk towards the 4thC hilltop town of Cortona.
Inspired? Craft a similar Bespoke trip starting from US$1,200 per person per night.
Corporate Walking Retreat
At the centre of Italy, Umbria's lush rolling hills and beautiful forests are dotted with walled towns and timeless equanimity. Its rugged landscape has served to make Umbria a sort of island throughout the centuries. Self-reliant and tenacious, Umbrians are fiercely proud of their culture and history.
Tour the winding alleyways and view the spectacular cathedral of Spoleto, a town once a key military outpost connecting Rome to the Adriatic Sea.
Follow the "olive tree path" of Spello, rolling gently along the northeastern ridge to the town of Assisi.
Enjoy a privately guided tour of Assisi highlighting the two-tiered basilica with its spectacular frescoes.
Inspired? Craft a similar Bespoke trip starting from US$1,000 per person per night.
FEATURE HOTELS
TRIP DESIGNERS
Our talented team of Trip Designers are the best in the world at what they do—and what they do is turn fantasies into reality. (We thought about changing their title to "Dream Weavers," but we didn't want to re-print all those business cards.)
"There were many great moments on our fabulous trip through Tuscany. The fact that everything was so smooth was clearly due to the professional planning of B&R and it's great team. The views were delightful and our new friendships are amazing!"
— Fabio Vidigal, Bespoke Tuscany Biking
Notes from the Road
These are the best books about Tuscany that capture the spirit of the storied Italian region. If you're looking for Tuscan inspiration, the best place to start is...
more »
Related Trips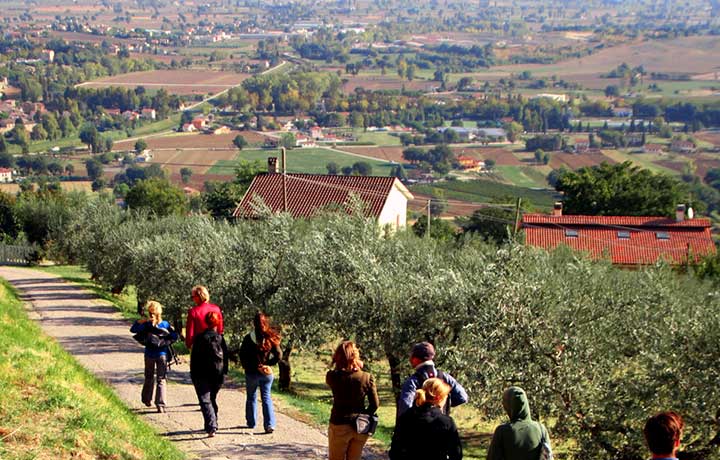 Tuscany & Umbria Walking
6 Days / 5 Nights
Enthusiast
Perugia / Chiusi
Price from: $4,695 USD
Tuscany Biking
6 Days / 5 Nights
Enthusiast
Florence / Florence
Price from: $5,295 USD
Tuscany Family Adventure
Discover hilltop towns, rolling hills, and secrets for perfect pasta on this family adventure through glorious Tuscany.
Subscribe
Slow down to see the world