NAMIBIA CUSTOM LUXURY TRAVEL
Discover Namibia
From a charter plane you'll have a bird's eye view as this spectacular country spreads out before you. On the ground, you'll get in deep: track rhinos by foot, meet the Himba people and learn about their nomadic lifestyle.
Namibia by Air
Price per person per night from US$1,000 to $2,000
Namibia Walking
Price per person per night from US$1,000 to $1,500
What is bespoke with B&R?
Your dreams—realized. Your expectations—exceeded. And your mind? Totally and utterly blown.
We craft extraordinary experiences, tailor made to meet your every need, with every stitch of every day crafted just the way you want it.
Tell us your dreams and The World's Best trip designers will craft a journey exclusively for you.
Fill out the form to have one of our expert trip designers get in touch—and start planning your perfect adventure
TRIP IDEAS
Namibia by Air
Offering a wide variety of environments and peoples spread across every corner of the country, Namibia can be daunting to explore. To ensure you don't miss a thing, our chosen mode of transport is a small charter plane, offering you a bird's eye view of this remarkable country. During our journey, you'll interact with the nomadic Himba people, spend time with the Herero and meet all of the creatures great and small that survive in an environment as challenging as it is rewarding.
Discover the unique species of Namibia, including the acclaimed desert-adapted elephants of Damaraland.
Walk in the remote mountains and river valleys and meet up with the nomadic Himba tribes.
Take a scenic flight to see the shipwrecks that dot the world-famous Skeleton Coast.
See the dunes from a different perspective as you float over in hot air balloon.
Inspired? Craft a similar Bespoke trip starting from US$1,000-$2,000 per person per night.
Namibia Walking
Truly one of the most remote places in Africa, Namibia's many wonders practically demand to be explored by foot. On this journey we combine the highlights of the region, weaving in off-the-beaten-track locations like Kaokoland and Damarland with must-see staples like the dunes at Sossevlei. Walking with the nomadic Himba people and tracking rhinos by foot, you'll sense the endless possibilities on offer in a country with peoples as diverse as its environments.
Get away from it all in your private camp in the Namib Rand Nature Reserve.
Learn about the specialized animals like the desert lion in the Skeleton Coast National Park.
Take a morning walk to meet the local Himba tribes in the Purros Valley.
Spend the day tracking the largest population of free-roaming black rhino in Africa.
Inspired? Craft a similar Bespoke trip starting from US$1,000-$1,500 per person per night.
FEATURE HOTELS
Serra Cafema, Hartmann Valley
Serra Cafema is located in the north-west of Namibia on the banks of the Kunene River in the Hartmann Valley. Amongst the most remote camps in Southern Africa, Serra Cafema is intimate and peaceful with a unique mix of rustic and luxury elements nestled amongst the shady Albida trees. The accommodation consists of 8 riverside villas on elevated decks blended into picturesque surroundings. View hotel website »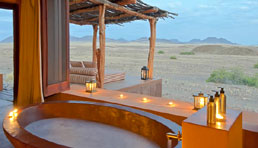 Okahirongo Elephant Lodge, Purros
Okahirongo Elephant Lodge is located in the Purros Conservancy and is often described as one of the last true wilderness areas in Namibia. Perched on a hill above the banks of the Hoarusib River, the lodge offers an unforgettable safari experience, an infinity pool and seven terracotta bungalows, each looking out over the boundless wilderness and offering rich, natural décor. View hotel website »
TRIP DESIGNERS
Our talented team of Trip Designers are the best in the world at what they do—and what they do is turn fantasies into reality. (We thought about changing their title to "Dream Weavers," but we didn't want to re-print all those business cards.)
Accolades
"B&R provided an incredible experience! No detail was overlooked and our guides were exceptional in every aspect."
— Patsy Walker
Related Trips
Tanzania Active Safari
6 Days / 5 Nights
Recreational
Kilimanjaro / Lake Manyara
Price from: $6,995 USD
Namibia Family Safari
10 Days / 9 Nights
Recreational
Windhoek / Windhoek
Price from: $9,895 USD
Namibia Walking
7 Days / 6 Nights
Recreational
Windhoek / Windhoek
Price from: $6,750 USD
Subscribe
Slow down to see the world