MOROCCO CUSTOM LUXURY TRAVEL
A Must for Your Bucket List
Widely known for authentic art, culture and enriched history, Morocco's most humbling experience—in addition to its must-see deserts—comes from the people, where Moroccan hospitality is as plentiful as its soft, ancient sands.
Biking with the Family
Price per person per night from US$1,000 to $2,000
Gather the Gang for a Sahara Getaway
Price per person per night from US$2,000 to $3,000
What is bespoke with B&R?
Your dreams—realized. Your expectations—exceeded. And your mind? Totally and utterly blown.
We craft extraordinary experiences, tailor made to meet your every need, with every stitch of every day crafted just the way you want it.
Tell us your dreams and The World's Best trip designers will craft a journey exclusively for you.
Fill out the form to have one of our expert trip designers get in touch—and start planning your perfect adventure
TRIP IDEAS
Biking with the Family
On this Morocco luxury travel experience, we give you the best of the region: magical Marrakech, Berber villages, stunning oases, camel and donkey rides, fabulous food, the High Atlas Mountains, and an absolutely unforgettable stay in the magical city of Essaouira.
Journey to the Sahara by bike, 4×4 and camel, then feast under the stars before retiring to your unique private tent.
Visit a pre-Saharan village with a local guide, then ride through the foothills of the High Atlas Mountains to a true oasis.
Explore Marrakech's intricate neighbourhoods with local guide Mohamed. Listen to tales of the city over lunch at his riad.
Inspired? Craft a similar Bespoke trip starting from US$1,000-$2,000 per person per night.
Gather the Gang for a Sahara Getaway
As you cross the sun-baked Saharan dunes and ascend the High Atlas Mountains, you'll discover that Morocco is a journey of the mind and spirit as much as one of geography. From souk to Kasbah to Berber village, we've got the authentic experiences covered.
Bike lush olive and almond groves and desert landscapes and stop enroute for a delicious picnic in the shade of oases.
Dance and sleep under the Sahara desert's never-ending stars in the middle of the "Grand Erg – Lake Iriqi."
Dine in the middle of the sand dunes and sleep under the stars at Dar Ahlam's luxurious outdoor camp.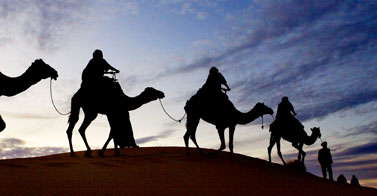 Inspired? Craft a similar Bespoke trip starting from US$2,000-$3,000 per person per night.
FEATURE HOTELS
Dar Ahlam, Province de Ouarzazate
Located within the palm groves of Skoura, this relaxing kasbah features serene guest rooms, a gorgeous turquoise pool and soaring views of the mighty Atlas Mountains. Our Regional Expert for Morocco reports that the property is possibly the best he's seen in his 18 years in the country. View hotel website »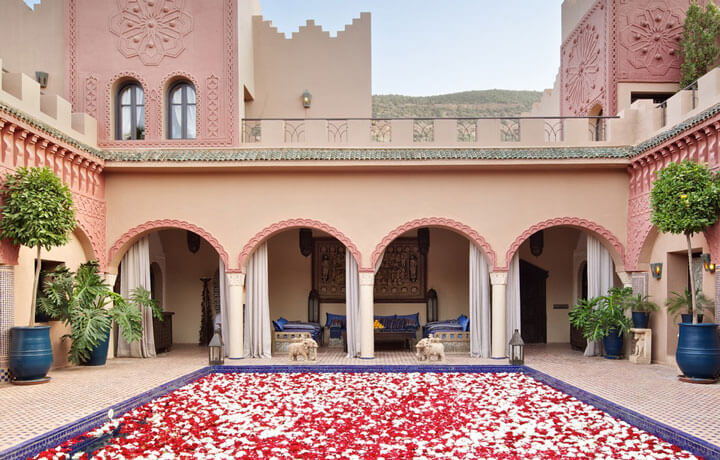 Kasbah Tamadot, Asni
Once owned by an Italian antique collector, this unique mountain retreat is tucked away in the midst of the Imlil Valley. Surrounded by the High Atlas Mountains, rose gardens, almond groves and fruit trees, B&R is proud to be the only biking company accepted at this impressive property. View hotel website »
TRIP DESIGNERS
Our talented team of Trip Designers are the best in the world at what they do—and what they do is turn fantasies into reality. (We thought about changing their title to "Dream Weavers," but we didn't want to re-print all those business cards.)
Accolades
"Of most importance, our guide was fabulous. He combined both intimate knowledge of the locale, and bonded immediately with all of the members of our family. His fun-loving attitude just made our trip so enjoyable."
— Ken McVay
Notes from the Road
With a new museum dedicated to Yves Saint Laurent and a burgeoning art scene, Marrakech transforms from architectural marvel to artistic mecca.
more »
Related Trips
Morocco Saveur Culinary
Enjoy wine tastings, visit countless souks, learn how to make outstanding traditional couscous and enjoy an unforgettable final evening under the desert stars in true Berber fashion.
Morocco Family Expedition
9 Days / 8 Nights
Occasional
Marrakech / Marrakech
Price from: $5,995 USD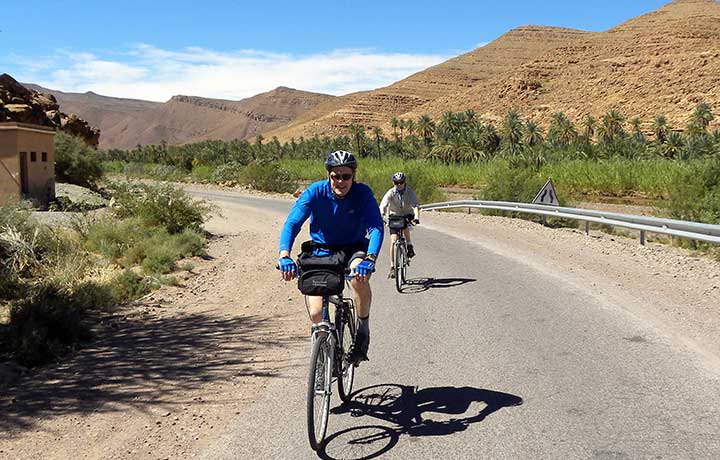 Morocco Active Expedition
8 Days / 7 Nights
Recreational
Ouarzazate / Marrakech
Price from: $8,995 USD
Subscribe
Slow down to see the world