GERMANY CUSTOM LUXURY TRAVEL
History Comes Alive in Germany
Cycle Bavaria's picturesque roads, through postcard-perfect alpine villages and valleys, indulge your Wanderlust on Black Forest hiking trails and revitalize your body in its world-renowned spas, or experience 20th century history up close as you bike from Berlin to Dresden. Whatever you want from this historically and culturally rich country, we'll make it happen.
Discovering Bavarian Beauty
Price per person per night from US$1,250 to $2,000 
Rambling the Romantic Road
Price per person per night from US$1,250 to $2,000 
A Ride Through German History
Price per person per night from US$1,000 to  $1,500 
What is bespoke with B&R?
Your dreams—realized. Your expectations—exceeded. And your mind? Totally and utterly blown.
We craft extraordinary experiences, tailor made to meet your every need, with every stitch of every day crafted just the way you want it.
Tell us your dreams and The World's Best trip designers will craft a journey exclusively for you.
Fill out the form to have one of our expert trip designers get in touch—and start planning your perfect adventure
TRIP IDEAS
Discovering Bavarian Beauty
Willkommen in Bayern! Bavaria: the archetypal—and most beautiful—face of Germany with soaring peaks and sparkling lakes, flower-laden chalets and humble hilltop chapels, lederhosen and felt hats, and friendly locals singing and dancing with pitchers of ice-cold lager at hand! Fabulous hotels in all the right locations and a dazzling network of dedicated bike paths allow us to explore Bavaria's beauty.
Indulge in the exclusive comforts of Rottach-Egern on Lake Tegern, the summer retreat of choice for Munich sophisticates
Delight in the culinary creativity of Heinz Winkler, youngest chef ever awarded three Michelin stars
Ride around sparkling Lake Chiemsee and enjoy a private tour of Herrenchiemsee Palace, "Mad" King Ludwig's tribute to Versaille
Inspired? Craft a similar Bespoke guided trip starting from US$1,250 to $2,000
Rambling the Romantic Road
Demure timbered villages, oblivious to their own charm, tucked into rolling hills crisscrossed with vineyards; church bells tolling, vintners nailing up a wreath to announce their new wine, and paths of old through beautiful mystical forests: this is the essence of Germany's Romantische Straße (Romanic Road)—and of our experience there.
Absorb the legendary refinements of Baden-Baden; its opulent Caracalla Spa, the Fabergé Museum, or Europe's oldest casino
Hike to a crumbling Black Forest castle for a picnic lunch on its medieval ramparts, accompanied with some classic chilled Riesling
Tour Würzburg's historic centre in the enlightening company of Hans, a local professor and B&R friend
Inspired? Craft a similar Bespoke guided trip starting from US$1,250 to $2,000
A Ride Through German History
From pulsating Berlin, to UNESCO World Heritage site Potsdam and the many treasures of Dresden, Germany resonates at once as a flashpoint in history and progressive European leader. Combine urban explorations with rides into the stunning countryside of Swiss Saxony, the Elbe River Valley, the gardens and palaces of Sanssouci and even a punt ride on Spreewald canals. Historic Germany—B&R style.
Bike from Kennedy's Brandenburg Gate past crucial landmarks of formerly divided Berlin with Mike, our Berliner friend and guide, taking in modern, cosmopolitan Berlin enroute
Experience the quiet countryside charm of eastern Germany: farming hamlets, forests, lakes and canals while navigating on flat, dedicated bike paths
Appreciate the marvelous treasures of the new Green Vault in Dresden with our local expert, Christiane
Inspired? Craft a similar Bespoke guided trip starting from US$1,00 to $1,500
FEATURE HOTELS
Brenners Park Hotel & Spa, Baden-Baden
Without a hint of doubt, Brenners Park Hotel is the place to stay in Baden-Baden. It has a two Michelin-star restaurant, its own world-class spa and spacious, tranquil rooms overlooking the Kurpark. A member of the Leading Hotels of the World, this 5-star superior Grand Hotel is located off the Lichtentaler Allee and is within walking distance of the city's sights. View hotel website »
Residenz Heinz Winkler
Leaving Munich in 1991, Chef Heinz Winkler opened his elegant Relais & Chateaux property as a complement to his eponymous Michelin-starred restaurant within. With only nineteen beautifully appointed rooms, a gracious garden, and a topnotch spa, the hotel mirrors the gastronomic excellence for which he is acclaimed. View hotel website »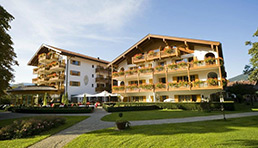 Park Hotel Egerner Höfe
Bavarian coziness combined with exclusivity and extraordinary comfort have made this hotel a summer institution with well-heeled Münchner. It includes a state-of-the-art spa complex with swimming pool, beautiful gardens, and elegant rooms and suites in best Bavarian taste. View hotel website »
TRIP DESIGNERS
Our talented team of Trip Designers are the best in the world at what they do—and what they do is turn fantasies into reality. (We thought about changing their title to "Dream Weavers," but we didn't want to re-print all those business card
Accolades
"This trip was an excellent balance between riding through beautiful countryside and slowing down to learn the complex history and culture of the region."
Richard Gilden
Notes from the Road
Related Trips
Munich to Salzburg Biking
Meet Bavaria—postcard perfect Germany—a land of sweeping mountains, sparkling lakes and timbered houses.
Berlin to Dresden Biking
6 Days / 5 Nights
Occasional
Berlin / Dresden
Price from: $5,495 USD
Alsace Bespoke
Journey through medieval castles and fortified towns in a region considered to be one of France's hidden treasures.
Subscribe
Slow down to see the world