LUXURY BHUTAN TRAVEL
Discover Bhutan
The natural splendour is stupefying. Pause for thought: the Alps and the Rockies were once much like this. The capital city, Thimphu, is awesome for another reason. Restaurants, shops, markets, personalities—all built on the foundation of Buddhism.
An Untouched Country
Price per person per night from US$1,000
Cultural & Spiritual Bhutan
Price per person per night from US$2,000
What is bespoke with B&R?
Your dreams—realized. Your expectations—exceeded. And your mind? Totally and utterly blown.
We craft extraordinary experiences, tailor made to meet your every need, with every stitch of every day crafted just the way you want it.
Tell us your dreams and The World's Best trip designers will craft a journey exclusively for you.
Fill out the form to have one of our expert trip designers get in touch—and start planning your perfect adventure
TRIP IDEAS
An Untouched Country
The essence of Bhutan can be summarized as a spirituous fusion of the old and new, with its unique way of blending traditional and progressive beliefs. This tiny remote Kingdom perched timelessly in the clouds is dotted with prayer flags, snow-capped Himalayan mountain peaks, incredible skies and ancient rituals yet, futuristic in ways that preserve their Buddhist-influenced teachings and beliefs.
Visit the extraordinarily friendly and open locals in their colourful kitchens, drinking freshly brewed butter tea and making new lifelong friends.
Wake up early and experience a morning Buddhist ceremony. But be warned: the spiritual music played on traditional instruments and the peaceful atmosphere might compel you to give up everything and join a monastery.
Climb Tiger Nest Monastery, perched high in the clouds, and see for yourself why this is one of Bhutan's most revered sites and one of 500 Sacred Journeys of a lifetime.
Inspired? Craft a similar Bespoke trip starting from US$1,000 per person per night.
Cultural & Spiritual Bhutan
Journey through Bhutan's spiritual past and present, and immerse yourself in ancient cultural traditions and rituals. Find your "centre of peace" in the hundreds of monasteries and imposing yet welcoming temples that dot the landscape, mingle with pilgrims at the local festivals, eat with your hands at the offering of Doma and interact with locals gaining valuable insight into an ancient and traditional culture.
Attend a butter tea ceremony and perform rituals taught by revered monks in Bumthang, believed to be the birthplace of Buddhism in Bhutan.
Dine with Bhutanese politicians and monks and learn first-hand how Buddhist philosophy influences domestic politics and policies, resulting in Bhutan's Gross National Happiness.
Put your cooking skills to the test and learn Bhutanese cooking techniques from local chefs. Feast on home-cooked specialties with local families and visit their local temple.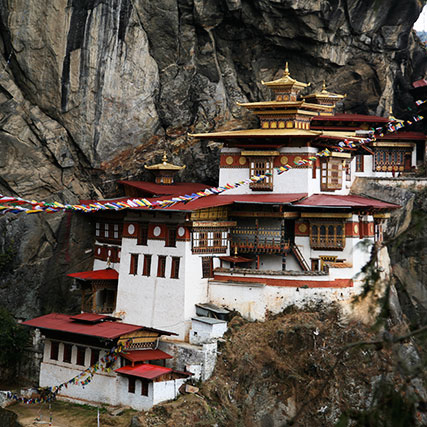 Inspired? Craft a similar Bespoke trip starting from US$2,000 per person per night.
FEATURE HOTELS
Amankora Punakha, Punakha
Situated north of the grand Punakha Dzong and across a suspension bridge over the Mo Chhu, the Amankora Punakha has eight suites in three rammed-earth buildings, with wood-panelled interiors, traditional wood-burning bukhari stoves, and king-sized beds. The surrounding citrus orchard has views across the nearby rice paddies and up the Punakha Valley.  View hotel website »
Gangtey Goenpa Lodge, Gangtey
Nestled in the beautiful Gangtey Valley, this hotel offers sweeping views of the lush Himalayan landscape. Complete with a fireplace and wall to ceiling windows, each guestroom is furnished with earthen tones and warm fabrics to echo the natural surroundings of Bhutanese heritage. During warmer weather, hot air balloons launch from the lodge and float amongst mountain peaks. View hotel website »
Trip Designers
Our talented team of Trip Designers are the best in the world at what they do—and what they do is turn fantasies into reality. (We thought about changing their title to "Dream Weavers," but we didn't want to re-print all those business cards.) Learn more about Karen, our trip designer for Bhutan, below.
Accolades
"From our first phone conversation I could practically picture the mountainside temples and Buddhist monks, and I'm happy to say the trip itself exceeded the vision."
— Clare Gallagher
Notes from the Road
Related Trips
Bhutan Active Expedition
7 Days / 6 Nights
Recreational
Bangkok / Bangkok
Price from: $7,995 USD
Bhutan Walking Expedition
12 Days / 11 Nights
Enthusiast
Bangkok / Bangkok
Price from: $12,495 USD
Bali to Bhutan Expedition
12 Days / 11 Nights
Recreational
Bali / Bangkok
Price from: $11,995 USD
Subscribe
Slow down to see the world