AUSTRALIA LUXURY TRAVEL
Endless Possibilities
A country so big that it is a continent in its own right, Australia offers endless opportunities to explore. Dive in the pristine waters of the Great Barrier Reef, walk the wilderness trails of Tasmania, or cycle through vineyards from the Margaret River to the Barossa Valley.
Explore Tasmania by Foot
Price per person per night from US$900-$1,250
Sydney & Beyond
Price per person per night from US$1,000-$1,500
A Taste of South Australia
Price per person per night from US$1,000-$1,500
North Queensland & The Great Barrier Reef
Price per person per night from US$750-$1,250
What is bespoke with B&R?
Your dreams—realized. Your expectations—exceeded. And your mind? Totally and utterly blown.
We craft extraordinary experiences, tailor made to meet your every need, with every stitch of every day crafted just the way you want it.
Tell us your dreams and The World's Best trip designers will craft a journey exclusively for you.
Fill out the form to have one of our expert trip designers get in touch—and start planning your perfect adventure
TRIP IDEAS
Explore Tasmania by Foot
Once considered the last outpost for England's most hardened convicts, this island at the end of the world is now celebrated for its stunning scenery, delectably fresh produce, cool-climate wines and heart-warming whiskeys. Explore the dockside Markets of Salamanca, the unique wildlife of Maria Island, and the spectacular landscapes of the Freycinet Peninsula.
Bike down Mount Wellington, passing historic convict buildings and colonial distilleries, to return to your hotel by the docks of Hobart.
Walk the beaches and woodlands of Maria Island, dining and sleeping by the water's edge at night.
Wade into the waters of Great Oyster Bay to taste the freshest, most succulent oysters you'll ever experience.
Inspired? Craft a similar Bespoke trip starting from US$900-$1,250 per person per night.
Sydney & Beyond
Every trip to Australia should include a visit to Sydney, the city by the shore with one of the world's most beautiful Harbours. Sparkling, optimistic and sunny in temperament, Sydney is a city that joyously embraces nature, sport and relaxation – great advice for us to follow as we spend a few days getting to know this beautiful city.
Head to Sydney's most famous stretch of sand, Bondi Beach, and jump into your wet-suit for a private surfing lesson.
End the day with a twilight cruise on a private yacht as your captain, Colin, shows you his favourite hidden coves on Sydney Harbour.
Travel west over the Blue Mountains to explore the Bush and wildlife of Wolgan Valley.
Inspired? Craft a similar Bespoke trip starting from US$1,000 -$1,500 per person per night.
A Taste of South Australia
South Australia's diversity covers so many of Australia's quintessential experiences. In the red hills of the Flinders Ranges experience true Aussie Outback hospitality. In the Barossa and Clare Valleys, enjoy some of Australia's most famed wines. On the wild shores of Kangaroo Island witness winds and seas sweep over the Southern Ocean directly from Antarctica.
Experience true Aussie hospitality on the immense Arkaba Station, as you enjoy Australian wine over sundowners with Station Manager, Brendon.
Spend the day with a Naturalist on Kangaroo Island, walking amongst Koalas and Kangaroos, Sea Lions, Echidna and Seals. Safari Aussie-style!
Ride amidst the vineyards of the Clare Valley, stopping to taste the superb cool-climate Rieslings.
Inspired? Craft a similar Bespoke trip starting from US$1,000 -$1,500 per person per night.
North Queensland & The Great Barrier Reef
In Tropical North Queensland there's a magical connection where the two World Heritage Sites of the Great Barrier Reef and the Daintree Rainforest come head to toe in an environmental wonderland. It's a playground of discovery, with great opportunities to explore.
Go hands-on with the Walker Brothers to learn traditional Aboriginal ways, catching mud-crabs on the mangrove flats, and learning about the local culture.
Take a private cruise to the Great Barrier Reef, letting your local captain guide you to the best snorkeling and diving spots.
"Jungle-surf" amongst the tree-tops of the Daintree Rainforest on zip-lines.
Inspired? Craft a similar Bespoke trip starting from US$750-$1,250 per person per night.
FEATURE HOTELS
Arkaba Station, Flinders Ranges
Built in the 1850s alongside the Outback's Flinders Ranges, Arkaba is a place that could only be found in Australia. The homestead is at the heart of a 60,000 acre former sheep-station with heaps of wildlife to be spotted. Homestead meals are served with generosity and hospitality in the cozy dining room, or outside under the endless canopy of stars. View hotel website »
Saffire Freycinet, Coles Bay
Built beside the azure waters of Great Oyster Bay, Saffire Freycinet sits on the gentle curve of sandy coastline that joins the Freycinet Peninsula and mainland Tasmania. The suites offer a large, open-plan living area with a private courtyard and outdoor deck with lounge, and a bathroom overlooking Great Oyster Bay. Head chef Iain Todd ensures food plays a vital role here and uses only fresh, local produce. View hotel website »
Southern Ocean Lodge, Kangaroo Island
Find yourself in the Great Room at Southern Ocean Lodge on Kangaroo Island around sunset, and chances are you'll be very happy. We suggest curling up in a leather lounge in front of the floor-to-ceiling windows and soaking in the pristine cliff-top views of the Southern Ocean. View hotel website »
TRIP DESIGNERS
Our Trip Designers are a special breed. Part guru, part collaborator, part mind-reader, they have the full breadth of B&R resources at their fingertips. Our talented team is the best in the world at what they do—and what they do is turn fantasies into reality. (We thought about changing their title to "Dream Weavers," but we didn't want to re-print all those business cards.)
Australia is an incredible destination. It offers a great range of experiences, from beautiful Sydney Harbor, to the vast landscapes of the Outback, great wildlife and national parks, and exceptional food and wine. We finished off with some down-time in the Great Barrier Reef which was a great way to end the trip.
- Peter Berkman
Notes from the Road
These are the 17 best luxury hotels in Australia, as chosen by our expert Trip Designer. The single most spectacular property in Australia is...
more »
Related Trips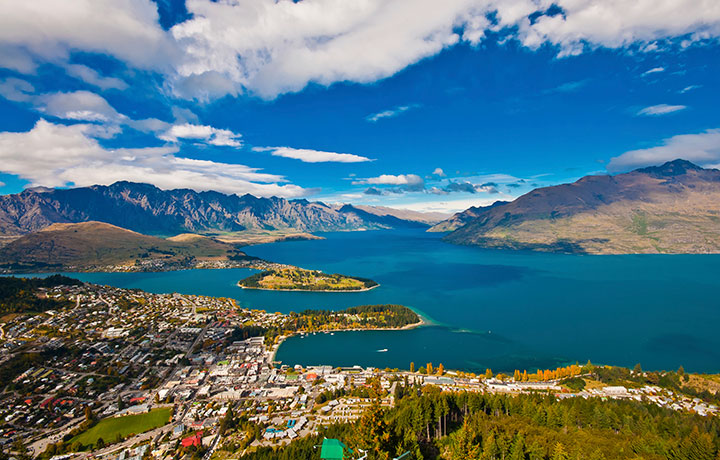 New Zealand Biking
7 Days / 6 Nights
Enthusiast
Christchurch / Queenstown
Price from: $5,995 USD
New Zealand Family Adventure
11 Days / 10 Nights
Enthusiast
Christchurch / Queenstown
Price from: $12,245 USD
Bali Active Expedition
8 Days / 7 Nights
Enthusiast
Denpasar / Denpasar
Price from: $8,995 USD
Subscribe
Slow down to see the world