Tom Abraham's 11 Favourite Hotels in Greece
At Butterfield & Robinson, our hotels aren't prosaic—they're pure poetry.
From castles and riads to ryokans and monasteries, we source lodgings that aren't just places to crash, but one-of-a-kind spots as intimate, authentic and sublime as the rest of your journey—and packed with personal touches from our hotelier friends.
Below we've rounded up a few of the best luxury hotels in Greece, where you can do so much more than simply rest your head.
But be warned: there may be tears when it's time to say goodbye!
---
A hidden gem in the mountains of the Zagori region, Aristi Mountain Resort comprises a group of pretty stone buildings that reflect the traditional villages set along the Vikos Gorge.
With awe-inspiring mountain views from the rooms, an indoor pool, restaurant and spa, this is a wonderfully understated and charming place from which to discover this intriguing part of north-west Greece.
---
The Excelsior is a rare gem directly and perfectly situated in the heart of Thessaloniki. State of the art technology and a designer interior come as a pleasant surprise within this historical building dating back to app. 1925.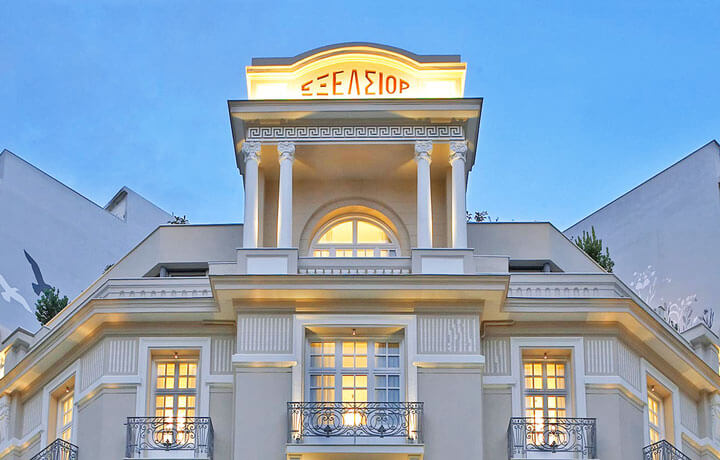 The Excelsior combines all modern facilities of a five-star hotel, combined with the unique and warm atmosphere of an elegant home.
---
Dating back to 1930 and located in the centre of Athens, the 5-star King George, a Luxury Collection Hotel represents the absolute essence of a fascinating boutique hotel.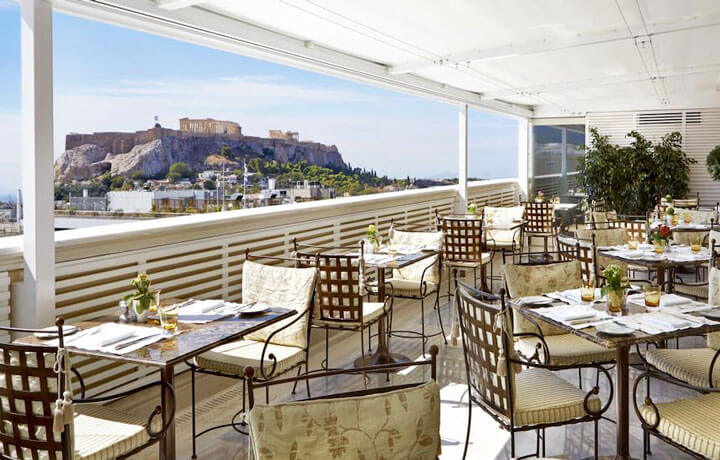 A truly inspiring and gracious venue, King George is located within walking distance of the wonders of Athens. The Acropolis, Agora, Plaka and Thission are nearby, so too are up market boutiques, world-renowned museums, and the city's vibrant business district.
Experience Greece With B&R
Private Greece Walking Trip
With its astonishing wealth of natural attractions and a unique blend of cultures, Northern Greece is arguably the country's most fascinating region, yet one that remains relatively undiscovered—unless, of course, you're on our Greece Walking trip…
DETAILED ITINERARY
Private Greece Biking Trip
Our Greece Biking trip is an odyssey fit for the gods! Begin in bustling Athens and wind your way on two wheels to rural fishing villages, along the coast, through mountain roads, as you see ancient relics, snowcapped peaks, seaside caves and Byzantine monasteries.
DETAILED ITINERARY
The stone-build Nerida Boutique Hotel, situated in a unique location overlooking the river Lucius, and the dramatic Arcadian mountains follows the tradition of the historic city of Dimitsana.
This authentic residence combines the natural beauty of the area with elegant comfort and service excellence.
---
Built in the simple style of the local Maniot architecture, the guesthouse and restaurant is integrated with care and respect into the natural environment.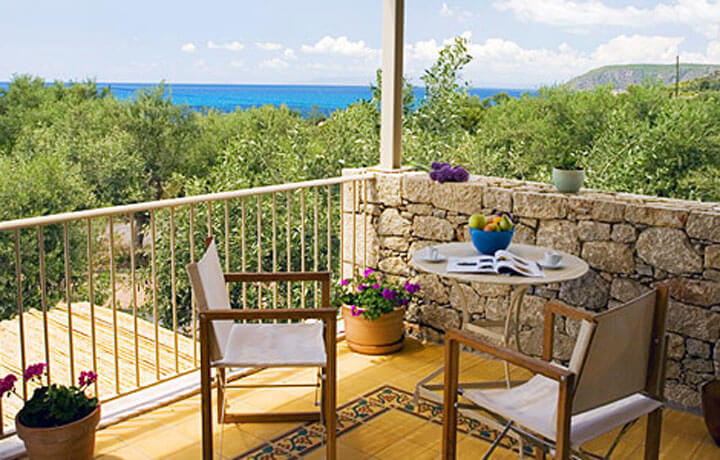 One has the impression that it was always there. Earth, stones herbs and olives influence the basic design of the estate. The covered patios protect from the summer sun and offer a perfect view to the surrounding olive grove.
---
Dating back to 1870, this elegantly restored property enjoys a prominent setting on the ancient harbour of Gerolimanes. It offers a historic atmosphere, creative Greek and International cuisine and country-chic rooms with antique furniture.
The Kyrimai Hotel, a member of the Historic Hotels of Europe, lies a few kilometres from the southernmost point of the Tainaro peninsula, where the Ionian meets the Aegean Sea.
---
Surrounded by gardens and vineyards, the Kinsterna Hotel & Spa offers flawless hospitality with a strong focus on spa and wellness.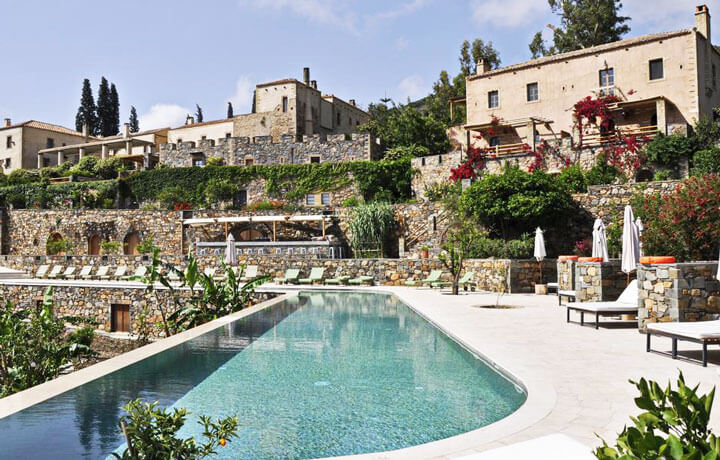 The history, location & unique architecture of the Byzantine-era rural mansion where it is situated, makes this accommodation a truly unique experience.
---
Located between Mt. Olympus and the Pierian mountains, at an altitude of 900 meters, just outside the village of Agios Dimitrios, Pieria, Ktima Bellou is a located on a 12 acre organic farm.
The Macedonian style buildings, crafted by local traditional craftsmen, are constructed with natural materials – stone, wood, terracotta, kourasanit. The hotel provides full accommodation, restaurant, café and pool. Ktima Bellou is the proud winner of best small hotel in Greece in 2012 and 2013.
---
Set amid a pine tree forest, the Grand Forest Hotel in Metsovo features a gourmet restaurant and mountain-view bar, a farm with horses and a spa centre with a hot tub, an indoor pool and a sauna. 
Guestrooms and suites are fitted with hardwood floors, dark-wood furnishings and soft colours and enjoy views over the Pindos Mountain.
---
Luxury Hotel Antique is housed in a gorgeous neoclassical building that has been meticulously restored with an eye to luxury. 
From the original artworks by locals to the Persian rugs to the bed linens made from Egyptian cotton—everything in Hotel Antique exudes an incredible beauty, complete with personalized service.
---
A beautiful vessel, this classic motor sailing yacht has all the amenities to ensure a comfortable time on board.
The intimate Aegean Schatz is the best way to travel through the Greek Islands.
Luxury and hospitality are priorities on board, meaning that your every need is met, leaving you to simply enjoy the ride.
JOIN MORE THAN 70,000 FELLOW WANDERERS