The 10 Best Luxury Hotels
in Sri Lanka
At Butterfield & Robinson, our hotels aren't prosaic—they're pure poetry.
From castles and riads to ryokans and monasteries, we source lodgings that aren't just places to crash, but one-of-a-kind spots as intimate, authentic and sublime as the rest of your journey—and packed with personal touches from our hotelier friends.
Below we've rounded up a few of the best luxury hotels in Sri Lanka, where you can do so much more than simply rest your head.
But be warned: there may be tears when it's time to say goodbye!
---
Perched at an altitude of 1,250 metres in Sri Lanka's panoramic Ceylon tea region, these restored planters' bungalows feature gorgeous timbered ceilings, paneled libraries and claw-foot bathtubs.
Feast on tea-inspired cuisine and rustic views before exploring the surrounding tea estates, ravines and waterfalls.
---
Built in 1804, this ancestral manor combines a rich history with 21stC minimalist lines, atypical antiques and quirky strokes of colour around a central courtyard.
If you can bear to leave your chaise lounge on the veranda, enticing hammocks beckon around the infinity pool.
See For Yourself
Sri Lanka has been seducing travellers for centuries. On our Sri Lanka Walking trip, take in the golden beaches, hilltop rock temples, lush rainforests, vanished empires and stunning highland tea plantations that make up its colourful mosaic.
DETAILED ITINERARY
Neighbouring a lakeside Buddhist shrine in downtown Colombo, Uga Residence is centrally located, yet it breathes peace and quiet.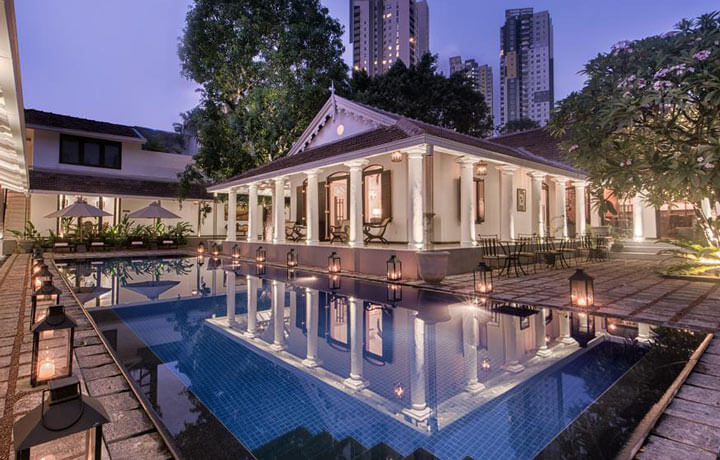 The grand colonial villa is the perfect home base for visits to the bustling capital. Amenities include an outdoor pool, lush gardens and fine-dining restaurant.
---
The Wallawwa boutique hotel offers colonial charm and exceptional service within five acres of tropical landscaped gardens.
Basking in its pindrop-peaceful rural setting and lovingly tended tropical gardens, the Wallawwa is a super-sensitive restoration of a 200-year-old manor house, where graceful original features have been spiced up with luxuriant interiors and a spa.
---
Once the ancestral estate of local Anuradhapura nobility, this hotel in Anuradhapura features a 150-year-old mansion at its centre. Immerse yourself in culture, history and nature at this enchanting sanctuary.
Twenty-five detached chalets with private plunge pools are scattered on 58 acres of Sri Lanka's finest land. With its own solar farm generating half of its own energy requirements Ulagalla is truly a unique boutique hotel.
---
Vil Uyana is situated among reed beds and paddy fields and over the first man-made lake since the era of Parakramabahu.
Situated in the shadow of the historic rock fortress of Sigiriya, is what Harper's Bazaar calls the Best Eco Luxury Hotel in Sri Lanka. Relax in an atmosphere of rural simplicity combined with the lavish comforts of the present day to experience a stay hard to forget.
---
Water Garden Sigiriya offers a unique getaway, blending nature blended with lavish design and serene surroundings. The villas at Water Garden Sigiriya, are set among an expansive property and its perfectly articulated landscape.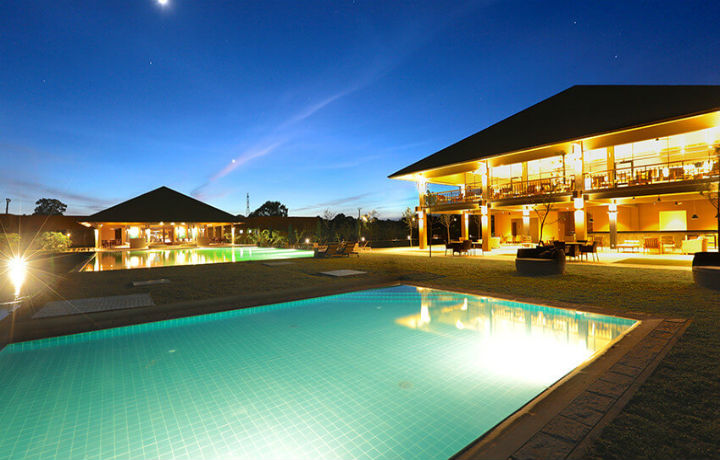 Flanked by winding tributaries and veiled by the abundant flora, the villas combine chic, spacious interiors, secret gardens and exclusive private plunge pools.
---
Surrounded by misty mountains and vibrant greenery, the Kings Pavillion offers a haven of tranquillity overlooking the breathtaking Hunnasgiriya Mountain. 
Unpack in airy bedrooms styled after bygone eras and take in the remote setting, accentuated by the trademark rustic luxury of the Kandyan kings.
---
In the historic port of Galle, Amangalla sits within the ramparts of the 17thC Galle Fort, a UNESCO World Heritage Site.
Offering views of the resort's 200-year-old gardens and of the Fort and harbour beyond, Amangalla provides a great base for the leisurely exploration of this historic trading port and the surrounding countryside.
---
This former merchant's home turned boutique hotel sees fresh, contemporary interiors that invoke a Middle Eastern vibe. Set within a UNESCO-listed 17thC fort, Fort Bazaar promises serenity, high-end service and modern gourmet dining, and offers a welcome retreat from the bustling cobblestoned streets of Galle Fort. 
Enjoy the indulgent Z Spa where peace reigns supreme and luxurious and revitalizing treatments await.
JOIN MORE THAN 70,000 FELLOW WANDERERS