The 20 Best Luxury Hotels
in Japan
At Butterfield & Robinson, our hotels aren't prosaic—they're pure poetry.
From castles and riads to ryokans and monasteries, we source lodgings that aren't just places to crash, but one-of-a-kind spots as intimate, authentic and sublime as the rest of your journey—and packed with personal touches from our hotelier friends.
Below we've rounded up a few of the best luxury hotels in Japan, where you can do so much more than simply rest your head.
But be warned: there may be tears when it's time to say goodbye!
---
A traditional family-owned inn of 10 rooms, the exquisite Kayotei sets the standard for Japanese ryokans. The inn is set amidst a natural forest and the hospitality is warm, charming, and unobtrusive.
Its elegant hot spring overlooks the forest and provides the perfect place for meditation.
---
A juxtaposition of modern and traditional Japan, this tranquil retreat offers guests contemporary interiors fused with local accents, a full spa, as well as everything needed to fully unwind.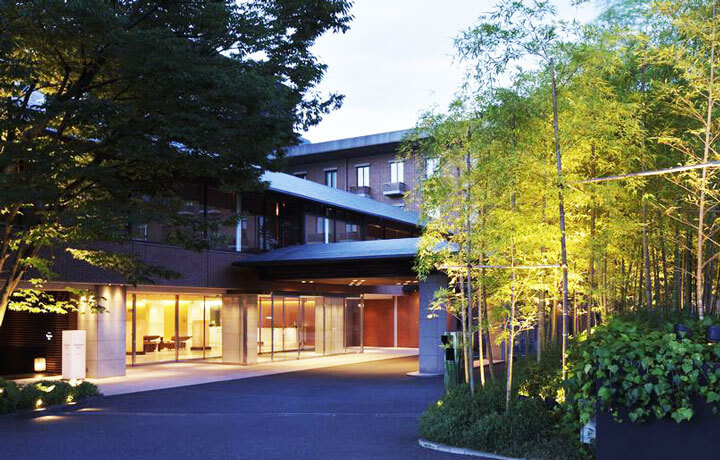 Guestrooms feature clean lines, warm earth tones, and floor to ceiling windows; a work of understated elegance and tranquility.
---
Overlooking Tsukumo Bay on the Noto Peninsula, this modern ryokan takes full advantage of its location with tranquil and relaxing salt water baths and a stunning restaurant that perfectly complements this tucked away gem.
---
Overlooking the Sea of Japan, this celebrated ryokan is famous for its spa and hot tub. The rooms are welcoming and the zen atmosphere is unbeatable.
We love it most for its peaceful and stunning location.
---
Kagaya Ryokan, Wakura Onsen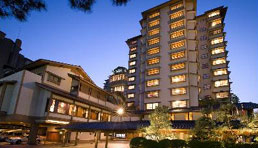 Set in the hot spring town of Wakura Onsen, Kagaya perches over the Sea of Japan and attracts Japanese from all over the country to bathe in its famous hot springs.
Voted as the most outstanding Japanese Ryokan for 30+ years, Kagaaya provides attentive and caring service to all guests.
Experience Japan With B&R
Scheduled Group Biking Trip
The wonderful riddle of contemporary Japan is how wholeheartedly it has embraced all things modern—all the while retaining the customs of times past. See history come to life on two wheels on our Japan Biking adventure.
DETAILED ITINERARY
Scheduled Group Walking Trip
Immerse yourself in Japanese culture, history and nature on our Japan Walking trip, where you'll stroll through rice fields, ancient bamboo groves, and centuries-old temples as you get a taste of authentic rural Japan.
DETAILED ITINERARY
Set in the hot spring town of Wakura Onsen, Matsunomidori perches over the Sea of Japan and attracts guests from all over to bathe in its famous hot springs.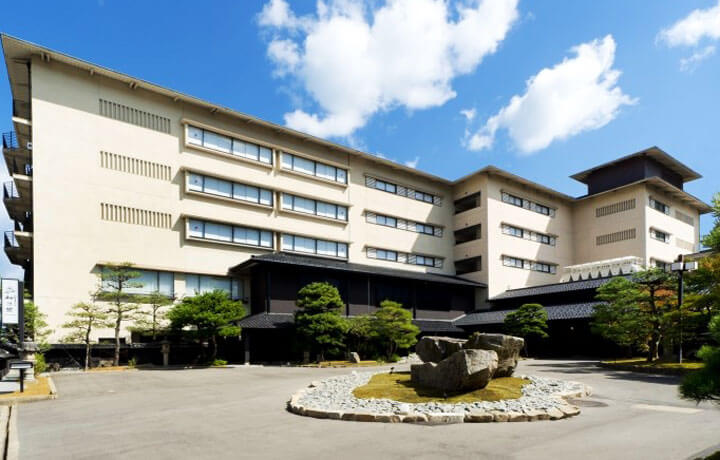 The building features a contemporary design and every room is blessed with an ocean view.
---
Tadaya Ryokan, Wakura Onsen
Set in the hot spring town of Wakura Onsen, Tadaya perches over the Sea of Japan and attracts Japanese from all over the country to bathe in its famous hot springs.
Tadaya's spacious bathhouse features indoor and outdoor hot spring baths, and even individual ceramic bathing pots which overlook the sea! After a soak, enjoy a beautiful sunset from the window of your spacious room.
---
A break from the tatami mats and futons, the Excel is a comfortable four-star property that offers modern western-style rooms (and beds!), and is located within easy walking distance of the city's shopping, restaurant and historic districts.
---
Notonosho's atmosphere offers a great representation of the Japanese aesthetic. Rooms are spacious and all feature tatami mat floors and futon beds.
The inn boasts of having the most alkaline water in Japan, and a long soak in the tub will leave your skin feeling silky-smooth.
---
Tucked away in the lush mountains of Hakone, lies the spa resort of Hakone Ginyu. 'Ginyu' means a person seeking inspiration for a poem by traveling around.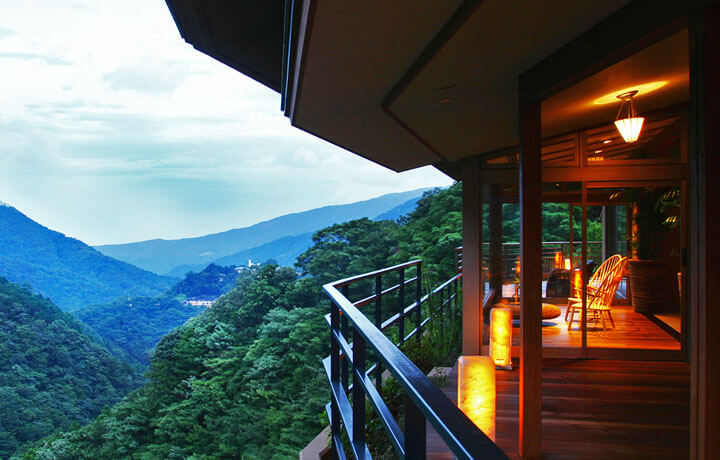 Spectacular views of the Haya-Kawa River as well as the Hakone Mountains set the perfect backdrop for poetic inspiration. The essence of Japanese style emanates throughout.
---
With an incomparable perspective on the city and a singular, moat-side setting across from the Imperial Palace gardens, the Palace Hotel is a haven of hospitality—serene and refined and imbued with understated luxury throughout.
---
The recently-opened Ritz Carlton brings luxury to a new level.  Situated right along the Kamogawa River it offers iconic Kyoto views.
Rooms feature traditional Kyoto aesthetics and sophisticated elegance.
---
Located throughout the town, these traditional homes (machiya) have achieved a perfectly balanced restoration – keeping their traditional feel by using the original construction of clay walls and washi paper for the sliding doors, they have all the modern conveniences from wireless to air conditioning.
These traditional homes are ideally suited to families. While there is a concierge service, properties are not are not a full service hotel – you're in a home.
---
Formerly the estate of a noble, the Suiran is a new, contemporary Japanese resort on the banks of the Hozu River.
With spacious rooms and gorgeous views, the hotel is perfectly poised to offer access to some of Japan's most important national treasures.
---
Sheraton Hotel Hiroshima is a 4-minute walk from Hiroshima Station and a 10-minute drive from the Atomic Bomb Dome.
It offers 4 dining options, an indoor pool and a fitness centre.
---
Located next to the fresh greenery-surrounded Kofuku-ji, the Noborioji is a luxury-filled retreat.
With only 12 rooms, and decorated in 1930's Japanese-European style, it is perfectly situated between Nara Park and old Nara Town.
---
The century-old Nara Hotel features classic Japanese architecture and elegant rooms with a timeless hospitality. It was originally built to serve as the premier guest house in the Kansai region for visiting dignitaries.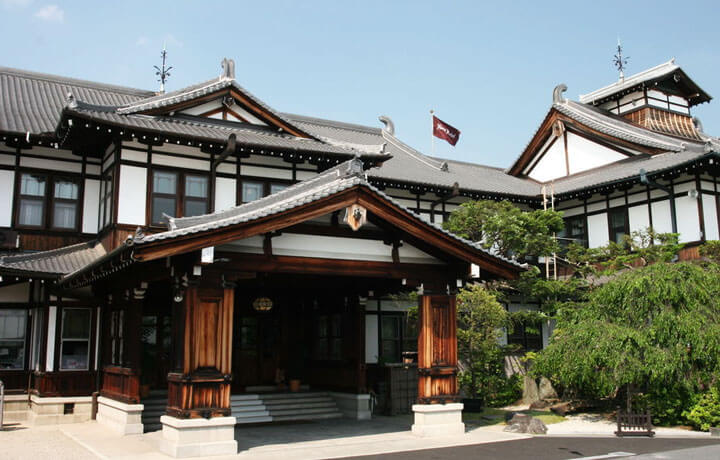 Located in a quiet corner of Nara Park's beautiful hills, it overlooks the ancient capital's historic sites.
---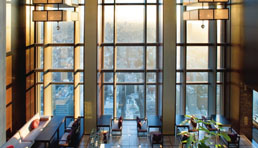 Located in the heart of the city the Mandarin Oriental is surrounded by the chic shops and offices of Nihonbashi.
Floor to ceiling windows showcase breathtaking birds eye views of the city skyline, and guestrooms feature a crisp, cutting-edge style befitting its setting in the core of this modern metropolis.
From this luxury brand, would you expect anything less than spectacular?
---
Fudo-in is a temple in the holy Koyasan Buddhist mountain retreat. It is located off of the main road and is a smaller temple in the upper end of a tiny valley surrounded by forest.
Fudo-in is well known for its refined, welcoming atmosphere and peaceful setting, perfect for meditating. The separate "Hanare" rooms offer splendid views of the garden; secluded spiritual luxury.
---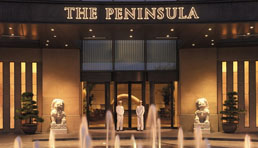 International in design but Japanese by inspiration, this landmark hotel boasts 1000 pieces of art, 900 of them by Japanese artists.
Interiors offer commanding city views, luxurious comforts and sophisticated facilities that are always in tune with the Peninsula brand.
It's located opposite the Imperial Palace, close to the Ginza shopping area and definitely not to be missed.
JOIN MORE THAN 70,000 FELLOW WANDERERS