Perched white towns, sun-dappled plazas and stunning rocky valleys
In this region of southern Spain you'll find superb biking among Roman ruins, Baroque churches and the legacy of 700 years of Moorish domination. Come enjoy paella, gazpacho and every known tapa while basking in sunshine, Flamenco and lazy afternoons scented with orange blossoms. Learn the art of carving a jamon iberico, sip sweet Jerez and let the wonder of Andalucia wash over you.
Trips in Andalucia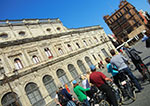 Andalucia Biking
6 Days / 5 Nights
Enthusiast
Granada / Seville
Price from: 5995
Andalucia Walking Private
8 Days / 7 Nights
Enthusiast
Seville / Granada
Price from: 6995
Andalucia Bespoke
Find the essence of Spain at every turn on your adventure through the olive groves and ancient mountains of Andalucia.