Olive groves, Baroque cathedrals and iconic trulli
Puglia's location may be down at the heel, but there's nothing remotely shabby about the stunning, sun-drenched coastline routes or the whitewashed villages and charming locals. Think Italy, with Greek parents, exquisite organic cuisine and some of the finest, most serene biking we've found anywhere.
Trips in Puglia
Puglia Biking
7 Days / 6 Nights
Recreational
Brindisi / Bari
Price from: $5,295
Puglia Biking
6 Days / 5 Nights
Recreational
Brindisi / Brindisi
Price from: $3,995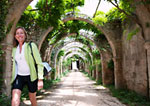 Puglia Bespoke
Experience incredible food, surprising wines and a bottomless supply of memorable moments on this journey through Puglia.