India in Living Colour
The extraordinary richness of the diversity of India can only be described as a bewitching explosion of dazzling colours, sounds and stark contrasts. The omnipresent colour, the irony of an elephant traffic jam, contrasting with the opulence of the palaces and forts we visit and stay in, the experiences are endless.
Trips in India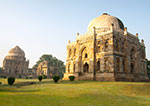 India Biking Private
10 Days / 9 Nights
Avid
Delhi / Delhi
Price from: $13,495 USD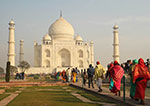 India Spiritual Walking Private
9 Days / 8 Nights
Occasional
Delhi / Delhi
Price from: $11,495 USD
India Bespoke
Discover the land of kings and camels, soaring mountains and once-in-a-lifetime-experiences on your own customized adventure to India.