Desert Surprise
You expect certain things from Africa: sand dunes, big skies, lions and long stretches of vast, sun-blasted emptiness. You don't expect cool coastal breezes, bratwurst and logistical ease–unless you go to Namibia with us. Boasting spectacular biking and abundant wildlife, this country mixes the Africa you know with the one you didn't.
Trips in Namibia
Namibia Family Private
Signature Hotels
10 Days / 9 Nights
Recreational
Locally-Supported
Price from: $9,895 USD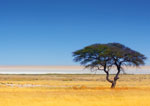 Namibia Bespoke
Get in deep and up close with spectacular Namibia as you track rhinos, meet the Himba people and marvel at the dunes of Sossevlei.