Family
Family Travel with B&R
The
World's Best

Tour Operator For Families

We were voted #1 by readers of Travel + Leisure magazine because we don't believe "let's have kids" means "let's stop seeing the world." That's why we craft family adventures that illuminate, inspire and (don't tell the kids!) educate travellers of all ages.
7:56 am
Still waiting for mom and dad to get out of bed. What's so great about coffee and croissants anyway? Sarah says she's Sleeping Beauty.
8:38 am
Last chance to run around the castle. This place is totally like a fairytale. It even has towers! Definitely the coolest place ever. A real queen stayed in the same bedroom as mom and dad.
9:26 am
We leave ma mère and mon père (that means mom and dad) behind while we get to go canoeing. So cool! Mom and dad are doing something for grown-ups.
10:27 am
The guide says mom and dad are riding to some famous goat cheese place. Yuck. Splash Sarah with my paddle.
12:18 pm
Picnic at some lady's house in a valley. Pretty nice I guess. She's nice, too. All the guides seem to know her.
12:28 pm
Done lunch. Mom and dad still eating. Kick around a soccer ball 'til some of the French kids join in—they're GOOD. One guy, Louis, can juggle the ball with his feet over 100 times. Wait 'til my friends back home hear about him.
1:11 pm
Holy moly—this whole place is built above CAVE DWELLINGS. House just got way cooler. We go down to look for troglodytes. (That means cave people, I had to teach my dad that.)
1:45 pm
Ride our bikes with one of the guides. Sarah has this neat tandem bike attached to Dad. Mom and the other guide get a lift in the van. Sunflowers and real castles are everywhere.
3:20 pm
Visiting some reeeeally old monastery. Richard the Lionheart was REAL? Practice our fencing moves from yesterday. En garde! I win again.
5:10 pm
Ride to our "château." It's like our own private mansion only way bigger! A bunch of the other kids on the trip and me explore the grounds. They're pretty cool, I guess. The guys from Boston are nice, even though they like the Red Sox.
6:30 pm
A medieval feast! Eat like kings. Dad still won't let me eat with my hands.
9:24 pm
Can't sleep. Sarah won't stop talking about the horses tomorrow.
B&R Family TOURS
Accolades
This was our first group bike trip so we did not know what to expect. Every aspect created life long memories. But all of this was made even better by our guides—they were great with us and our children. We had four other wonderful families in our group. We and our children made new life-long friendships with them. All of this together resulted in a family experience we will cherish forever.
– Mike Dodson, Loire Valley Family Biking
Private Travel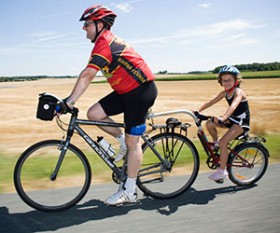 Our Family Equipment
Family with B&R
on our blog