Imperial Splendour, Bohemian Rhapsody
A journey between the great capitals of Vienna and Prague is a trip back in time. In Austria, we ride the UNESCO-protected Wachau Valley, where wine has been cultivated for some 1,000 years. We follow the Danube through vineyards and villages, appreciate Baroque architecture and entertain the kids with fun amid the medieval ruins. Crossing into the Czech Republic, in Bohemia we pedal through the breadbasket of the country, past castles and churches, lush forests and winding rivers. Cesky Krumlov is a fairy tale town, its red roofs and spires soaring above the Vltava River. Arriving in renascent Prague by week's end, we celebrate the adventure in style.
Trip Details
Easygoing to Moderate
Vienna to Prague
6 Days / 5 Nights
Price per person from: $4,495
Single supplement: $500
See departure dates for exact pricing
Choose a Date
Day by Day
View a falconry display and ride through sun-dappled forests and fields of wildflowers before venturing into the thousand-year old riverside towns of the Kamptal wine region.
Bike along the Danube's banks to the town of Melk, home of the impressive Melk Monastery. Take a private guided tour of the spectacular halls before heading to Weissenkirchen on a relaxing river cruise.
Take a scenic drive to the Czech Republic and bike into Cesky Krumlov to explore its perfectly preserved houses along the serene Vltava River. Meet with an American who has made 'CK' his home for nearly 20 years.
Ride through the quiet landscapes of central Bohemia and gather for a picnic lunch in a quiet spot along the river. Take a private tour of the outstanding Krumlov Castle.
Ride along quiet roads from Cesky Krumlov to Holasovice, a UNESCO World Heritage site. Explore the City of One Hundred Spires, better known as Prague before cruising the Vltava aboard a private boat.
Enjoy a final breakfast together in the hotel before saying farewell and catching your international connections.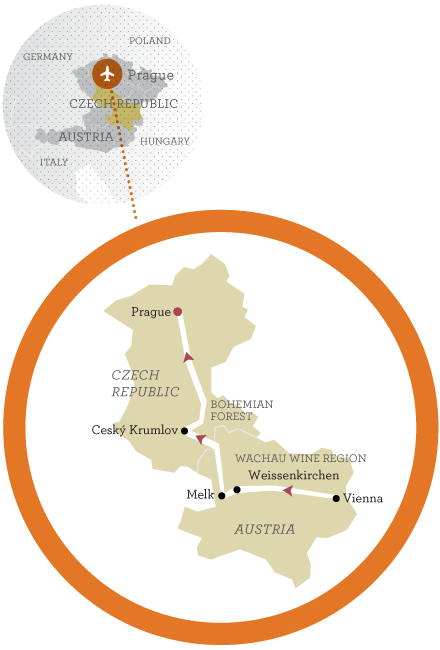 Hotels
Hotel Kirchenwirt, Weissenkirchen
The perfect hotel for families is, not surprisingly, run with care by not one but two Austrian families, the Wildeis' and Köcks. The four-star Kirchenwirt's rooms are airy and comfortable, and its location, tucked in the streets of a charming riverside town along the Danube bike path, is ideal. View hotel website »
Hotel Ruze, Cesky Krumlov
The Hotel Ruze is the best hotel in Ceský Krumlov. Constructed as a 16thC Jesuit Monastery in the Renaissance style, it is now a comfortable (though not luxury) hotel with a beautiful view of the village, the river and surrounding hills. Our favourite place to enjoy this vista is from the restaurant terrace—with a glass of local pivo (beer) of course! View hotel website »
Hotel Hoffmeister, Prague
We are the only active travel company to stay at this hotel, one of Prague's finest addresses. Mere minutes from Stari Grad (Old Town), the five-star Hoffmeister boasts two topnotch restaurants and a spa/wellness centre that is one of the best in the city. View hotel website »
Activity Level
Easygoing to Moderate
We rate this trip Easygoing to Moderate. The riding in Austria offers much variety in landscape and is almost completely downhill or flat along the Danube river banks. In the Czech region of Bohemia, the landscape becomes more rolling, though the frequent hills are never very long nor steep. Long options are also available. The activities on this trip are geared for children 10 years old and up.

Gear
The Bikes
You can't enjoy a great biking trip without a really great bike. On this trip you'll be riding a customized hybrid or a racing bike with drop bars. Click here for a detailed description. We also equip you with handlebar bag, helmet and water bottle.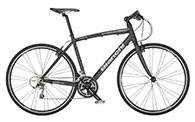 Check out our bikes »
What's Included
All hotel accommodation
All breakfasts, four lunches and three dinners (four for kids), including wine
Services of B&R guide(s) and support van
All special events, private tours, guest experts and entrance fees
Use of a customized hybrid or a racing bike with drop bars, equipped with handlebar bag and helmet
Detailed maps, route suggestions and water bottle
All transportation from rendezvous to drop-off
All gratuities for baggage, porters and hotel service
At Your Service
We take pride in choosing guides who are not only exceptional travelling companions, but who'll go far beyond the call of duty to ensure an unforgettable experience.
Accolades
"This was my first B&R trip and first biking trip ever. I was so impressed by all the little details and the general experience. My most memorable moment was simply getting to know the people on the trip and taking part in the rides. Our trip was amazing—it was fun, active, adventurous, unique and a great way to see a new part of the world."
— Robin Storfer,
Prague to Vienna Biking 2010
Vienna to Prague Family Biking
Notes from the Road
Notes from the Road: Prague to ViennaIn our Notes From the Road series, veteran B&R researchers and guides share reflections and impressions from a few of their favourite trips, revealing the history and emotion behind our expertly curated (and exceptionally well guided, of course) itin …
Gruner Veltliner: Crown Prince of Austrian WineIn a country steeped in history and ruled by the Habsburgs for more than 700 years, the best way to get a handle on Austria's wines may be to place them within the context of the country's regal past. Riesling, with its rigorous structure, edgy miner …
How to Order a Vienna CoffeeSimply asking for a cup of coffee in Vienna won't get you too far. The Viennese are exceedingly particular about how they take it, and a Vienna coffee may not answer to the same name as your go-to brew at Starbucks. Just as the coffee house is a Vien …
related trips
Tuscany Family Biking
6 Days / 5 Nights
Moderate
Florence / Florence
Price from: $4,495
Morocco Family Biking
6 Days / 5 Nights
Easygoing to Moderate
Marrakech / Marrakech
Price from: $4,495
Loire Valley Family Biking
6 Days / 5 Nights
Easygoing to Moderate
Montbazon - Veigné / Tours
Price from: $5,695