The Bold Flavour of the Old World
For lovers of big, bold reds, the old world is an exciting place to taste, where deep roots and long traditions meet cutting-edge technology and innovation. Spain's Ribera del Duero and Rioja take a cue from Bordeaux, the Grande Dame to the north. By combining all three, we've created an oenological odyssey that takes you through time: modernity meets the medieval as a visit to the spectacular Ysios Winery, designed by Santiago Calatrava, precedes a stay atop scenic St-Émilion, a UNESCO World Heritage Site. Our unparalleled insider access grants you authentic meetings with the most interesting players in the business. No matter how much you know about wine, there's nothing like a face-to-face encounter with royalty.
This is a signature B&R Biking trip—expertly guided, small groups, premium hotels.
Trip Details
Easygoing to Moderate
Madrid to Bordeaux
10 Days / 9 Nights
Price per person from: $15,495
Single supplement: $2,100
See departure dates for exact pricing
Choose a Date
Day by Day
A private coach will whisk us from Madrid to the "Miracle Mile," where a downhill ride reveals the appellation's greats. After an up-close look at the vines of Abadía Retuerta, we dine out our hotel and receive an introduction to what sets Ribera del Duero wines apart.
Winding through the sun-kissed villages of the Duero River, we meet José Moro, whose family's Emilio Moro wines use 100% Tinto Fino grapes. After a lunch of lechazo asado, a wood-fired lamb dish, bike or take our shuttle back to our hotel to rest up before a light and contemporary dinner.
Arriving by private coach in Rioja, we'll ride into the capital Haro, where we visit a historic cellar and enjoy a tapas lunch. A scenic ride takes us to our hotel, the Marqués de Riscal, where we'll wash down dinner with some memorable vintages.
Crossing the Camino de Santiago pilgrimage route, we'll ride to our friends' restaurant Venta Moncalvillo for some (Michelin-starred) barbecue and some of Rioja's most interesting wines. For dinner, tapas options abound tonight in Logroño.
After your choice of riding or relaxing this morning, we'll rendezvous at the architecturally inspired Ysios Bodegas, where we'll tour the facility and sample its vintages. We'll then make our way to San Sebastián, where options for a dinner of pintxos (Basque tapas) abound.
A pilgrimage across the Pyrénéan foothills takes us into the heart of French wine country, where we'll plunge into the heart of the Left Bank Médoc with a light château lunch. This afternoon, a course in wine-blending demonstrates the finer points of merging Merlot and Cab Sauvignon.
A morning ride through famous vineyards culminates in an al fresco lunch (accompanied by a lively jazz duet) and a tasting. Tonight, author Dewey Markham Jr. explains what makes Bordeaux wine unique before we dine on chef Jean-Luc Rocha's stellar cuisine.
After a ferry ride to the Right Bank, we'll ride past old fishing ports and vineyards to a very special visit and tasting, then make our way to our hotel perched on top of the medieval town of Saint- Émilion, a UNESCO world heritage site.
On our final day, we'll explore the ancestral home of the world's best Merlots. Passing legendary vineyards, we'll whet our palate with premier and grand crus before gathering for a sunset cocktail and celebratory dinner at our hotel's two-starred Michelin restaurant.

After a leisurely breakfast at the hotel, your private car-and-driver to Bordeaux will depart at your convenience to your destination (hotel, airport, train station) of choice. Au revoir!
Activity Level
Easygoing to Moderate
This trip is rated as Easygoing to Moderate. Our average bike ride is 38 km, with shorter and longer options available. Our first two days in Ribera del Duero allow you to warm up your legs, as the terrain is flattish along the Duero River. Rioja is hillier, including the most challenging climbs of the week, interspersed with easygoing
rides. In the Médoc, Bordeaux we return to flat, then end our trip with some rolling hills again in Saint-Émilion.
Gear
The Bikes
You can't enjoy a great biking trip without a really great bike. On this trip you'll be riding customized Cannondales; there are three models to choose from to ensure you'll have the perfect bike. Click here for a detailed description. We also equip you with handlebar bag, helmet and water bottle.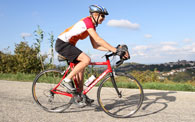 Check out our bikes »
What's Included
All breakfasts, all lunches and six dinners, including wine

Use of a customized Cannondale bike: a hybrid, a racing bike with drop bars, or a racing bike with flat bars, equipped with handlebar bag and helmet

Services of B&R guide(s) and support van

All special events, private tours, guest experts and entrance fees

All transportation from rendezvous to drop-off

All baggage transportation

Detailed maps, route suggestions and water bottle

All gratuities for baggage, porters and hotel service
At Your Service
We take pride in choosing guides who are not only exceptional travelling companions, but who'll go far beyond the call of duty to ensure an unforgettable experience.
Accolades
"Superb trip! Jam packed with extraordinary wine tastings with fascinating local experts plus guided by an enthusiastic wine expert and excellent, seasoned B&R guide."
— Martha Marquand, Germany & France Wine Grand Journey
Spain & Bordeaux Wine Grand Journey
Notes from the Road
Vines 102: Bordeaux Wine ContinuedLike some crus, some wine regions are so grand that a proper explanation can't be restrained to a single blog post. Here, we continue the exploration of Bordeaux wine we began in Vines 101, and examine one of Bordeaux's most potent regions, along wit …
Vines 101: Bordeaux WineWhile expanding your palate is a worthwhile endeavour in its own right, it's made all the more rewarding when you have a sense of the history behind the bottle. In our ongoing Vines 101 series, we pull back the curtain on some of our favourite wine r …
Rave Reviews: Bordeaux to DordogneWhether you've been working at something for five minutes or five decades, it's always nice to hear an encouraging word (or two). And thanks to our amazing travellers, we frequently find ourselves feeling very encouraged indeed. Check out what some o …
related trips
Italy Wine Grand Journey
10 Days / 9 Nights
Moderate
Turin / Florence
Price from: $16,995
Alsace & Champagne Biking
6 Days / 5 Nights
Easygoing to Moderate
Strasbourg / Reims
Price from: $5,995