The New Africa
Rwanda has made incredible strides since its virtual implosion in 1994. Its cities boast broad, newly paved boulevards lined with flowerbeds and parkland, yet its still Africa to the core—with colourful costumes, music, and vibrant markets all around. Immaculate villages and lush fields abound, verdant tea plantations spread over the hilly countryside: everything is green and growing. It is the 'land of a thousand hills,' and home to the endangered Silverback Gorillas. Join B&R for a firsthand look at this remarkable country.
This is a signature B&R Walking trip—expertly guided, small groups, premium hotels.
Trip Details
Moderate
Kigali to Kigali
8 Days / 7 Nights
Price per person from: $8,995
Single supplement: $600
See departure dates for exact pricing
Choose a Date
Day by Day
Visit the highlights of Kigali—museums, markets and the genocide memorial. Enjoy cocktails at "Hotel Rwanda," Hotel des Milles Collines with a special guest and genocide survivor.
Fly south to the Nyungwe Forest Lodge and the surrounding National Park. Visit a local tea plantation before kicking back and relaxing at Rwanda's only five-star property outside of Kigali.
Bask in the natural wonders of Rwanda, exploring the forest canopy and searching for the famous Colobus monkey amongst other animals!
Board our private boat this morning as we head north on Lake Kivu taking in coffee farms and remote islands along the way, complete with a bat colony.
Walk straight out of the hotel for a spectacular coastal hike passing fishermen working from their dugout canoes, before visiting an orphanage in the afternoon.
Head to the Volcanoes National Park and hike through the research centre, Karisoke Research Park, made famous by Dian Fossey. Relax this afternoon in our cottage-style lodge in the mountains.
Wake up before dawn for a full morning of gorilla tracking in the reserve—truly a life-changing experience. Hike the dense jungle at 7000ft of elevation.
En route to Kigali visit a former poacher village, before farewells at the airport.
Activity Level
Moderate
This trip is rated Moderate. This trip has a wide variety of types of walks. We cover everything from a paved, urban stroll through Kigali to coastal hikes around Gisenyi. Our most challenging hike is on Day 7, while gorilla spotting on the slopes of Volcanoes National Park.
Gear
Walking Sticks &
Hip Holsters
Included with all walking trips are Leki telescoping walking sticks and custom-made padded hip holsters, which comfortably carry one full half-litre water bottle. And while the walking sticks get "recycled" for use by another B&R traveller, the holsters are yours to keep at trip's end.
Check out our gear »
What's Included
All hotel accommodation
All meals, including beverages
Services of B&R guide and local guide
All special events and private tours
Detailed maps, route suggestions and water bottle
All baggage transportation
All transportation from rendezvous to drop-off, including comfortable 4x4's for longer distances
All gratuities for baggage, porters and hotel service
At Your Service
We take pride in choosing guides who are not only exceptional travelling companions, but who'll go far beyond the call of duty to ensure an unforgettable experience.
Accolades
"An unforgettable trip in a country with a turbulent past and a bright future–made possible by the incredible Rwandans we encountered during the trip. Africa seen differently."
— Megan Bowen,
Rwanda Walking 2011
Notes from the Road
Rwanda: A Powerful Spirit"It was like, 'Kaboom,'" Joan Gilroy recalls. A seasoned traveller, Joan always looks forward to the arrival of the B&R brochure, where she can get a sense for the destinations on offer each year. But when an email entitled "Rwanda …
An Insider's ItineraryThe gift of travel is that it is never the same experience twice, whether we return to a favourite and familiar locale or fly off to a completely foreign destination on a whim. Rather, it is the romance of wanderlust, …
Remarkable RwandaWhen B&R asked me to put together a unique African experience in Rwanda for a trip, they didn't need to ask twice: I've long believed this extraordinary country—far removed from its politically tumultuous history—will be the new, hot destination in A …
related trips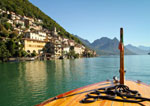 Italian Lakes Walking
6 Days / 5 Nights
Moderate to Challenging
Milan / Milan
Price from: $6,795
Vietnam Walking
9 Days / 8 Nights
Easygoing to Moderate
Hanoi / Ho Chi Minh City (Saigon)
Price from: $6,795
Peru Walking
7 Days / 6 Nights
Moderate to Challenging
Cusco / Cusco
Price from: $5,995