Bohemian Chic
Two must-see European capitals on one magnificent trip—why not? Start: Prague—a boho-chic playground where resplendence is the rule, not the exception. End: Vienna—Austria's handsome jewel along the Danube. In between, Czech hospitality; mile after mile of great riverside rides past vineyards; hilltop monasteries and crumbling castles; a hearty bowl of goulash and a pint of Pilsner enjoyed over candlelight in a private library; a leisurely float down the Big D and the grandest of all finales. Getting there really is half the fun.
This is a signature B&R Biking trip—expertly guided, small groups, premium hotels.
Trip Details
Easygoing to Moderate
Prague to Vienna
6 Days / 5 Nights
Price per person from: $5,995
Single supplement: $900
See departure dates for exact pricing
Choose a Date
Day by Day
Start the day with a ride into the rolling landscape of the Moravian highlands. Enjoy a beer tasting at a monastery's famed microbrewery before biking to the village of Jirice for a traditional Czech countryside lunch.
Explore rural Czech life with an adventurous bike ride through the Vysočina highlands. Later, set out for the castle of Lipnice nad Savavou with our local guide Tereza.
Embark on a scenic drive to Austria and embark on a bike ride high in the picturesque Waldviertal region. Ride through sun-dappled forests and fields before venturing into the thousand-year old riverside towns of the Kamptal wine region.
Cycle the delightfully flat paths along the Danube, surrounded by vineyards. Wander the hallowed halls of the baroque Melk monastery before a tasting at a nearby wine cellar.
Pedal downstream to colourful Kirchberg. Take a guided walk around Vienna, then celebrate the trip in style at one of the city's best locales.
Enjoy a farewell breakfast at the hotel and bis speda in magnificent Vienna.
Hotels
Chateau Heralec, Heralec
A luxury 5 star boutique property opened to great acclaim in 2010, this former national heritage site and re-imagined 17th century chateau is the brainchild of Alexandra Casparova. Surrounded by a stately 18th century English park and outfitted with an over the top spa, this is the perfect Czech getaway. View hotel website »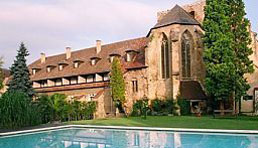 Hotel Richard Lowenherz, Wachau
Founded on the site of a 700-year-old Clarissinian Abbey, the Richard Löwenherz is now a hotel filled with Renaissance sculpture, elegant chandeliers and stone vaulting. Frau Theiry and her staff quickly make us feel at home whether we're lounging with an after-dinner schnapps, lazing in the garden, or enjoying breakfast on the arbour-covered terrace overlooking the Danube. View hotel website »
Hotel Sacher Wien, Vienna
Established in 1876 in the centre of the city, Hotel Sacher Wien blends traditional décor and modern amenities, and is conveniently located across from the Opera House, the Kärntner Straße, and a mere five-minute walk from the Hofburg Imperial Palace. But it's this Leading Hotels of the World's famed eponymous chocolate dessert that may leave the most enduring impression! View hotel website »
Activity Level
Easygoing to Moderate
This trip is rated Easygoing to Moderate. The riding in the Czech Republic and Austria offers much variety in landscape. Heading east of Prague and through the forested area around Chateau Mcely, we encounter some moderately hilly terrain. Riding to Chateau Kotera is relatively flat with a few rolling hills to climb. The bike paths along the Danube are virtually flat and hassle-free. Long options are available.

Gear
The Bikes
You can't enjoy a great biking trip without a really great bike. On this trip you'll be riding a customized hybrid or a racing bike with drop bars. Click here for a detailed description. We also equip you with handlebar bag, helmet and water bottle.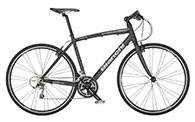 Check out our bikes »
What's Included
All hotel accommodation
All breakfasts, four lunches and all dinners, including wine
Services of B&R guide(s) and support van
All special events, private tours, guest experts and entrance fees
Use of a customized hybrid or a racing bike with drop bars, equipped with handlebar bag and helmet
Detailed maps, route suggestions and water bottle
All transportation from rendezvous to drop-off
All gratuities for baggage, porters and hotel service
At Your Service
We take pride in choosing guides who are not only exceptional travelling companions, but who'll go far beyond the call of duty to ensure an unforgettable experience.
Accolades
"My wife and I booked this trip to celebrate our 10th anniversary—it was a tremendous experience—we made great new friends, shared many laughs and spent a wonderful week together. The guides were tremendous. We won't wait another ten years for another B&R experience...thinking of Tuscany next!"
— Michael Storfer,
Prague to Vienna Biking 2010
Notes from the Road
Notes from the Road: Prague to ViennaIn our Notes From the Road series, veteran B&R researchers and guides share reflections and impressions from a few of their favourite trips, revealing the history and emotion behind our expertly curated (and exceptionally well guided, of course) itin …
Gruner Veltliner: Crown Prince of Austrian WineIn a country steeped in history and ruled by the Habsburgs for more than 700 years, the best way to get a handle on Austria's wines may be to place them within the context of the country's regal past. Riesling, with its rigorous structure, edgy miner …
How to Order a Vienna CoffeeSimply asking for a cup of coffee in Vienna won't get you too far. The Viennese are exceedingly particular about how they take it, and a Vienna coffee may not answer to the same name as your go-to brew at Starbucks. Just as the coffee house is a Vien …
related trips
Berlin to Dresden Biking
6 Days / 5 Nights
Easygoing
Berlin / Dresden
Price from: $5,795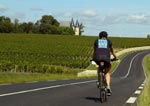 Bordeaux to Dordogne Biking
6 Days / 5 Nights
Moderate
Bordeaux / Trémolat
Price from: $5,695