Finding the Sacred in Machu Picchu
The Sacred Valley of the Incas sounds, smells, looks, and feels like Narnia, Neverland and the garden of Eden all wrapped in one. It is imagination realized. And overlooking this great valley—in all its magic and magnificence—stands Machu Picchu. Photographs do not do these sights justice. One must behold it the way the architects of Machu Picchu intended it to be seen, and as it's been seen for centuries—by foot. In the Sacred Valley, you will find it hard to believe your senses: you'll hear music manifests itself, seemingly from nowhere, and see llamas freely roam about. But your senses are not being fooled—trust them. Trust also your B&R guides: they will take you where you need to go, show you what you need to see.
Trip Details
Moderate
Cusco to Cusco
7 Days / 6 Nights
Price per person from: $6,395
Single supplement: $900
See departure dates for exact pricing
Choose a Date
Day by Day
Spend the morning exploring the Pisac ruins, famous for its temples and Inca tombs. Enjoy a picnic lunch of local delicacies before winding down the day with a special afternoon performance by a paco—a guardian of Inca religious traditions.
Trade walking sticks for life jackets and prepare to get wet! Rafting on the Vilcanota River will provide a slightly different take on the Sacred Valley, as history and culture give way to adrenalin.
Enjoy a pleasant walk from Moray's experimental agricultural terraces to the town of Maras, or saddle up (on bike or horse) instead! Visit the workshop of a traditional hat maker and walk among the valley's ancient salt mines.
Board the Orient Express Inca Train, one of the most enchanting rides in the world. Experience the unforgettable Inca Trail and emerge through the Sun Gate to breathtaking views. Head down to the valley floor for a relxing evening at the hotel.
Explore the ruins of Machu Picchu with our guide before a visit to the Inca Bridge. Meanwhile, the kids will really get to grips with the ruins on a scavenger hunt. Make your way back down to the valley to take advantage of the hot springs and local market.
Head to the village of Chinchero for lunch and some time to chat with local artisans and take part in a weaving demonstration. Tonight is our final night together, and we'll spend it amidst the dancing lights of Cusco.
After breakfast we say adios to Peru. We will arrange transport for those heading directly to the airport for flights home or beyond.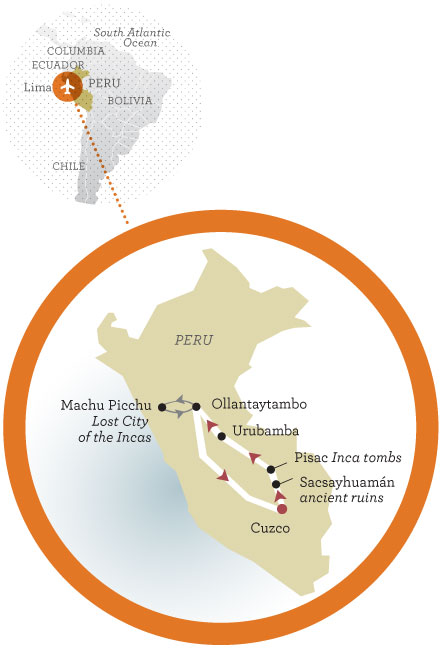 Hotels
Sol y Luna Lodge, Urubamba
Sol y Luna blends Old World charm with the tranquility of the Sacred Valley. Our hosts, Marie-Helene and Franz, have made Peru their home since the early 1990s. The stylish bungalow-style cottages on this intimate property are all thoughtfully decorated with local ceramics and indigenous woods. The hotel is surrounded by lovely gardens and features a fully equipped spa. View hotel website »
Inkaterra Pueblo Hotel, Machu Picchu
The Inkaterra Machu Picchu Pueblo Hotel is located in the town's outskirts. This is a quite unique property, which not only has a beautiful infrastructure built in harmony with nature, but amazing jungle-like gardens where you will find orchids, tea plantations, exotic birds (especially hummingbirds) and other charming surprises. This hotel is the perfect way to enjoy the full Machu Picchu experience. View hotel website »
Hotel Monasterio, Cusco
Situated in the heart of the city's old district, this 16thC monastery has been converted into a deluxe hotel, surrounded by Inca walls and Spanish colonial architecture, with beautiful inner courtyards. The Gregorian music, vaulted ceilings, and roaring fireplace make the hotel lounge a particularly enchanting setting for enjoying a cup of tea. View hotel website »
Activity Level
Moderate
We rate this trip as Moderate. Our daily walks range in distance from 4 to 10 km (2.5 to 6 mi.), on cobbled city streets, grassy terraced hillsides and along the winding footpaths of the Inca Trail. We travel throughout the Sacred Valley at altitudes between 1,500 and 3,200 m (5,000 to 11,000 ft.). Apart from one challenging walk up to Machu Picchu, it's moderate going. You may fi nd, however, that the effect of the altitude will make the walks require more effort than they would at lower elevations. Expect some uneven stairs on our hikes in the ruins as well as some sheer drop offs in places. The activities on this trip are geared for children 12 years old and up.
Gear
Walking Sticks &
Hip Holsters
Included with all walking trips are Leki telescoping walking sticks and custom-made padded hip holsters, which comfortably carry one full half-litre water bottle. And while the walking sticks get "recycled" for use by another B&R traveller, the holsters are yours to keep at trip's end.
Check out our gear »
What's Included
All hotel accommodation
All meals, including wine
Services of B&R guide(s) and support vehicle
All special events, private tours, guest experts and entrance fees
Access to km 104 of the Inca Trail. Please Note: We will need your passport information several months before the trip to reserve your pass.
Use of two lightweight, telescoping walking sticks
All baggage transportation
All transportation from rendezvous to drop-off
Detailed maps, route suggestions and water bottle
All gratuities for baggage, porters and hotel service
Pre-arranged pick-up from the airport
At Your Service
We take pride in choosing guides who are not only exceptional travelling companions, but who'll go far beyond the call of duty to ensure an unforgettable experience.
Accolades
"We would like to congratulate B&R for the amazing experience we had in Peru. The unique opportunity we had to interact with local people and go really deep into their culture is something we will never forget."
— Leandro Taga,
Peru Walking 2012
Notes from the Road
In Deep: CuscoIn the days of the Inca, all roads led to Cusco. From here, the Inca ruled over a self-contained world that stretched from modern-day Colombia to Northern Argentina, composed of organized agriculture cultivation, education systems, trade and commerce …
Virtuoso Life: The Line on LimaPublished in Virtuoso Life | Nov/Dec 2013 "Chef Brisa Deneumostier's well-traveled career has taken her from Copenhagen's Noma to top kitchens in New York, Phuket, Lebanon and beyond. Here, her six-course serving of her native Lima, where, when not c …
Know Before You Go: Peru Travel Tips"But, what's it really like?" As invigorating, exciting and intoxicating as it is to explore an unknown land, it can be inconvenient and even a little intimidating to go in completely blind. That's where we come in. In this ongoing series, we pose so …
related trips
Myanmar Family Multi-Active
9 Days / 8 Nights
Easygoing
Yangon / Yangon
Price from: $6,995
Morocco Family Biking
6 Days / 5 Nights
Easygoing to Moderate
Marrakech / Marrakech
Price from: $4,495
Iceland Family Multi-Active
6 Days / 5 Nights
Easygoing to Moderate
Reykjavik / Keflavik via Reykjavik
Price from: $6,295