Normandy Self-Guided Bike Tour
History Comes Alive
None of our scheduled dates fit your schedule? Like the idea of taking the reins yourself? Love your independence but don't want to be totally on your own? A B&R self-guided biking trip is just the ticket. It combines three hallmarks of any B&R itinerary—excellent hotels, beautiful riding routes and superb custom-fitted bicycles—with the freedom of pacing each day exactly the way you like. We arrange some can't-miss meals and events, transfer your bags and equip you with all the information you'll need to craft the trip you desire. Explore the Impressionist harbour town of Honfleur and the Côte de Grace; discover the English, Canadian and American landing beaches of D-day; and in quaint medieval Bayeux visit the monumental tapestry recounting the Battle of Hastings. Call it structured independence, B&R style.
Trip Details
Enthusiast
Honfleur to Caen
6 Days / 5 Nights
Price per person from: $3,295
Single supplement: $700
Request your date for exact pricing
Best Time to Visit
Jan

Feb

Mar

Apr

May

Jun

Jul

Aug

Sep

Oct

Nov

Dec
Day by Day
We start our journey in Honfleur, the quaint little harbour town whose rainbow-coloured shops and cafes are said to have inspired Impressionist artists for decades. The ride will take you along the coast and then through lush wetlands and woods.
Our second-day loop out of Honfleur spins through the lovely horse-breeding country known as the 'haras,' and then leads you to optional stops in elegant Deauville or its traditional fishing-village counterpart, Trouville, en route back.
Head to Pegasus Bridge, the first theatre of D-day, and later cycle to Juno Beach, the site of the Canadian breakthrough on June 6th. This evening, we'll visit medieval Bayeux and learn all about the Battle of Hastings which took place almost 1000 years ago.
Ride past the German bunkers of Longues sur Mer, the only historic monument that still bears the original guns of June 1944. On your ride back, stop at a local farm producing some homemade ice cream and watch the entire process from the milking to the scoop.
Ride to Pointe du Hoc, the German stronghold overlooking Utah and Omaha beach. Our veteran from the US army will cycle with you to Omaha beach and the American cemetery, telling stories of heroes and tragic destinies.
Enjoy a final breakfast at your hotel and say farewell to Caen before catching your departures home. Au revoir!
Hotels
Les Maisons de Léa, Honfleur
Les Maisons de Léa is a beautiful meld of three 15th century townhouses with a former salt warehouse. Its 20+ rooms are tastefully appointed, while the terrace and tea room add a touch of cross-Channel refinement. The location, within the heart of Honfleur and steps from shops and restaurants, is the icing on the cake. View hotel website »
Hotel Villa Lara, Bayeux
This 4-star, boutique hotel is located in the centre of historic Bayeux—and faces both an 11thC hotel and the Aure River. The contemporary rooms feature hand-made Moissonnier furniture, flat-screen televisions, air-conditioning and well-equipped mini bars; no convenience has been overlooked. The historic, 68-metre long Bayeux Tapestry is just minutes away. View hotel website »
Activity Level
Enthusiast
The trip alternates relatively flat routes with some hilly rides. Distances range from 25 to 50 km (16 to 32 mi.) with options every day, including the Century Ride of 100 km. In general, we follow small, quiet roads next to coastlines, through farmland, forests and charming towns with ancient 12thC churches.
Gear
The Bikes
You can't enjoy a great biking trip without a really great bike. On this trip you'll be riding a customized hybrid or a racing bike with drop bars. We also equip you with handlebar bag, helmet and water bottle.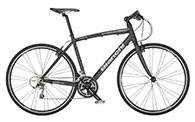 Check out our bikes »
What's Included
All hotel accommodation
All baggage transportation
All breakfasts and two dinners, including wine
Use of a customized hybrid or a racing bike with drop bars, equipped with handlebar bag and helmet
Detailed maps, route suggestions and water bottle
A private walking tour of Pegasus Museum
A private tour with 101st Airborne Veteran from Pointe du Hoc to Omaha and the American Cemetery
Transportation to drop-off
At Your Service
We take pride in choosing guides who are not only exceptional travelling companions, but who'll go far beyond the call of duty to ensure an unforgettable experience.
Accolades
"Our trip surpassed our expectations. We expected a great biking trip, which we experienced. We did not anticipate that we would laugh as much as we bonded with our travel group on the rides and during meals; that we would learn as much about the French culture and history… and that this would all take place in strikingly beautiful and varied locations."
— Elizabeth Vorys
Normandy Biking 2013
Normandy Self-Guided Biking
Notes from the Road
Today, Omaha Beach, which once bore so much violence, has given way to a series of beautiful, if stoic, tributes to the many men who fought that day.
more »
Related Trips
Provence Self-Guided Biking
6 Days / 5 Nights
Enthusiast
St Remy de Provence / Avignon
Price from: $3,295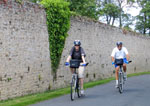 Normandy Biking
6 Days / 5 Nights
Enthusiast
Deauville / Caen
Price from: $5,295
Burgundy Self-Guided Biking
6 Days / 5 Nights
Enthusiast
Chambolle-Musigny / Dijon
Price from: $3,095