India Adventure Travel
Experience India
After arriving in the cacophony of India's capital and the hustle of Delhi's streets, we make our way to the rural lands of Rajasthan, where the city gives way to the vast, unrelenting deserts and remarkably lush landscapes as we cycle by. Unforgettable experiences abound throughout your India adventure travel experience—the omnipresent colour, the irony of an elephant traffic jam, the unique scents and abundant colours, and so much more. This is B&R's India—a land and people that conquer and create, today as much as centuries ago.
B&R's newest way to travel! This itinerary is one of our new locally-supported, private trips. We've applied the hallmarks that we're known for to our India adventure travel: great hotels, friendly and talented local guides plus memorable experiences but it's just your group and on the dates that work best for you.
Trip Details
Avid
Delhi to Delhi
10 Days / 9 Nights
Price per person from: $13,450
Request your date for exact pricing
Best Time to Visit
Jan

Feb

Mar

Apr

May

Jun

Jul

Aug

Sep

Oct

Nov

Dec
Day by Day
Meet your driver at the airport and take a short drive to the stately Imperial Hotel where you can relax after a long flight. Located about 45 minutes from the city, it's the perfect way to unwind and start your trip.
Enjoy a unique experience led by former street children, who will share their in-depth knowledge of the area and take you on a walking journey through hidden backstreets to discover an India tucked away behind the chaos.
Catch a morning flight to Jodphur and rendezvous in the heart of Rajput territory, gathering for a brief intro to the region and rules of the road in India. Bike past villages, Hindu temples, camels and the ubiquitous king of the road—the holy cow.
Partake in some yoga before driving to the start of today's ride. The cycling route is mainly flat, weaving through farmland and small patches of bush and ending in Salawas, at the home of the most famous dhurry (rug) maker in Rajasthan, if not India.
Cycle though Bishnoi villages en route to Mihirgarh for a bite to eat. Continue riding through the desert until reaching the charming hamlet of Rohet where we'll catch a ride to Rawla Narlai, our home for this evening.
Bike to Ranakpur to visit one of the finest temples in all of India and learn about the Jains who built it. The head Jain priest guides us through this extraordinary structure and provides insight into the religious beliefs of the Jains.
The next day starts with a spectacular loop ride right from our majestic base at Devi Garh, where we climb from the desert flats into the rolling Aravalli Hills, passing marble mines and local artisans – stopping for a glass of hot chai along the way.
Take a morning ride over the hills that lead into the valley of Udaipur. Today's ride is a little more challenging with some sharp hills thrown in for good measure, but the destination and our home for the next two nights is more than worth it.
This morning we set off on our last beautiful bike ride of your journey through the back hills of Udaipur to the small village of Pie. Head into the town of Udaipur to explore the extravagant City Palace, one of the largest palace complexes in India.
Time to say goodbye! We'll bring you back to the airport for your flight to Delhi, where we have arranged day rooms to relax in before your flight home. Safe travels!
Activity Level
Avid
This trip is moderate to challenging.
Gear
Walking Sticks &
Hip Holsters
Included with all walking trips are Leki telescoping walking sticks and custom-made padded hip holsters, which comfortably carry one full half-litre water bottle. And while the walking sticks get "recycled" for use by another B&R traveller, the holsters are yours to keep at trip's end.
Check out our gear »
What's Included
All hotel accommodation
Select meals with wine (selected by B&R)
Services of B&R guide(s) and support vehicle
Use of two lightweight, telescoping walking sticks
Detailed maps, route suggestions and water bottle
All special events and private tours
All transportation from rendezvous to drop-off
All baggage transportation
All gratuities for baggage, porters and hotel service
At Your Service
We take pride in choosing guides who are not only exceptional travelling companions, but who'll go far beyond the call of duty to ensure an unforgettable experience.Learn more about our guides »
Accolades
"The best moments were the unscripted ones -- buying masala tea from a roadside stand, bargaining with local villagers for costume jewelry, talking to local school children."
— Lisetta Lavy,
India Biking 2013
Notes from the Road
"I'm the mayor of Delwara," says Akhtar, a young man living in the small Rajasthani town. You can tell by the way the shopkeepers wave that Akhtar's boast carries at least a hint of truth.
more »
Related Trips
Indochina Active Private
8 Days / 7 Nights
Recreational
Siem Reap / Hanoi
Price from: $6,885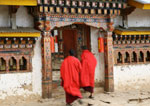 Bhutan Cultural Private
10 Days / 9 Nights
Avid
Bangkok / Bangkok
Price from: $11,495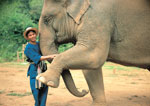 Thailand Private
8 Days / 7 Nights
Occasional
Bangkok / Bangkok
Price from: $9,995