Natural Selection
A warm Canadian welcome, fresh Pacific air, and tours along quiet roads and shorelines make this trip truly special. Our Gulf Islands tour features three of the most beautiful islands in the Gulf Island archipelago as well as the Saanich Peninsula of Vancouver Island. Ferries deliver us to Saltspring, Mayne and Galiano for rides along coastal roads where views of the water are never far away. Because the trip is fully supported, we are free to stop in small villages along the way to savour the local lifestyle. The world-class cycling is interrupted only by opportunities to hike, sea kayak and observe the local wildlife.
B&R's newest way to travel! This itinerary is one of our new locally supported, private trips. They use the hallmarks that we're known for: great hotels, friendly and talented local guides plus memorable experiences, but it's just your group and on the dates that work best for you.
Trip Details
Easygoing to Moderate
Victoria to Vancouver
7 Days / 6 Nights
Price per person from: $5,560
Request your date for exact pricing
Best Time to Visit
Jan

Feb

Mar

Apr

May

Jun

Jul

Aug

Sep

Oct

Nov

Dec
Day by Day
Our trip starts out in beautiful Victoria, on Vancouver Island. Soak up the history of BC's capital as you meet your guides and enjoy a short ride along the coast, then watch the sun dip into the Pacific over dinner.
Today we take in astounding views of Mt. Baker, the San Juan Islands, and Olympic Peninsula, then ride north while the scenery transforms from the bustle of Victoria to serene farmlands, beaches and wildlife-rich estuaries. After a ferry to Mayne Island, we'll ride to our resort and enjoy dinner in its pastoral waterfront setting.
Today we soak in the natural beauty of Mayne Island's seascapes, farmlands, forests and apple orchards with a short but challenging ride, taking in the unique ecology of the island. Both the optional hike and sea kayaking offer opportunities to spot sea lions and bald eagles this afternoon.
Often referred to as the "gem of the gulf" today we board the ferry to Galiano Island and ride to the world-class Galiano Inn. Enjoy some of the Inn's many amenities, then a dinner on your own at one of the city's many wonderful dining spots.
Three-thousand years ago the aboriginal Coast Salish people explored its forests, watched as eagles rode thermals and shared their fishing grounds with sea lions, killer whales, and otters. Today you will ride in their ancient foot-steps through mature old growth forests and along white-shell beaches.
Today we head to Salt Spring Island, whose residents are an eclectic mix of artists, musicians and entrepreneurs. We wind through old growth forest to a magical beach where hot sandbars warm the rising tide, followed by a special dinner at the acclaimed Salt Spring Hastings House.
We'll visit the world renowned Farmers Market then ride through the Fulford Valley, with gorgeous vistas of Mount Tuam and Mount Bruce, to the southern tip of Salt Spring Island. As we approach the beautiful harbour of Victoria, it's time to wish your guide goodbye.
Activity Level
Easygoing to Moderate
This trip is rated Easygoing to Moderate. Daily biking distances usually vary from 20 to 50km (12 to 30 mi.), with options on some days as far as 62 km (40 mi.). The difficulty of the ride often depends on which way the wind is blowing. The walking routes are mostly flat and in the city.
Gear
The Bikes
You can't enjoy a great biking trip without a really great bike. On this trip you'll be riding customized Cannondales; there are three models to choose from to ensure you'll have the perfect bike. Click here for a detailed description. We also equip you with handlebar bag, helmet and water bottle.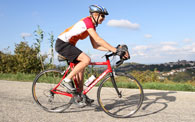 Check out our bikes »
What's Included
6 nights' accommodation
6 breakfasts, 6 lunches and 6 dinners
Wine during your meals
Specialized road bikes
Private kayak tour around Mayne Island- Guided or unguided (choice of guests)
Local B&R guides for 7 days
Private transfer from Victoria to our accommodation
At Your Service
We take pride in choosing guides who are not only exceptional travelling companions, but who'll go far beyond the call of duty to ensure an unforgettable experience.Learn more about our guides »
Accolades
"We had an unbelievable week on our honeymoon trip! We can't stop talking about the biking, eating, beer, kayaking, fishing & wine. We'll definitely be exploring more Butterfield & Robinson trips in the future as well. We consider this trip just the beginning of a series of fabulous future vacations!"
— Alison & Chase Curtin,
Bespoke BC Biking 2012
Notes from the Road
Q&A: Zita Cobb, Fogo Island InnWhen Zita Cobb went back to Fogo, the tiny island of her birth just off the coast of Newfoundland, she returned with not just an executive pedigree, but a vision. With the official opening of the Fogo Island Inn, the landmark hotel that's become the …
Insider's Guide to VancouverVancouver, A Pacific Playground Lots of cities claim to welcome the world, but few can match the hospitable welcome Vancouver, British Columbia provides her visitors. (And as a Tornoto-based company, that's not easy for us to admit!) A Pacific seapor …
Sneak Peek: A Venetian Skier in B.C.B&R Guides wear many hats: expert rider, gracious host and exceptional leader among them. You can now add "published author" to the list. Venice native, B&R Guide and adventure-seeker Giacomo Fano recently published a book recounting his time traipsi …
related trips
American West Coast Bespoke
Take in the endless vineyards, crashing surf and Pacific sunsets of America's west coast.
British Columbia Bespoke
Explore the natural beauty on our doorstep as you discover the spectacular Pacific Northwest coast and the wild interior of British Columbia.