Alsace Bike Tours
In Vino Veritas
Above all, Alsatians are proud—proud to be Alsatian, and proud of what that means. But they are not a cloistered people. Historically, they took what they liked from the people who passed through, making war or staking a claim. Setting aside the question of who "owns" it, Alsace is much more than a land between Germany and France. It is the result of a 2000-year experiment, of the mixing of cultures with the catalysts of time and the indomitable character of the Alsatian people. We've paired Alsace with Champagne, allowing you to experience not only two traditions—and arguably, two visions—of France, but also two tastes. We'll compare the wines of these two distinct regions, and experience firsthand the unexpected differences between them.
| Travellers | Pricing* |
| --- | --- |
| 5 or less | Please contact us |
| 6 - 8 | From $7,495 per person |
| 9 - 11 | From $6,795 per person |
| 12 or more | From $6,295 per person |
Trip Details
Hotels:
Signature
Signature
We use premium hotels that are unique expressions of the region. Often they've had a previous life as a monastery or a castle, but in every case they offer an exceptionally comfortable stay.
Bistro
These are stylish 4-star properties that offer a casual and comfortable stay. Often without a 24-hour concierge or room service, they tend to be smaller family-run hotels that are perfect for the region.
Level:
Enthusiast
Occasional
"I can't say I really 'work out,' but I'm in good shape and am relatively active."
Recreational
"I enjoy a good walk or ride, and feel comfortable while on the move."
Enthusiast
"I get moving at least once a week, and don't mind a little sweat."
Avid
"I get moving a few times per week and enjoy some exertion."
Expert
"I want to feel invigorated each day and going hard how I like to do that."
Type:
Small group
Small group
The right number of like-minded travellers to make new friends.
Private
Your dates. Your group. Our expertly-designed itinerary.
Custom
Tailored to your interests, a bespoke travel experience.
Support:
Guided
Self-Guided
Combines the hallmarks of any B&R itinerary (excellent hotels and beautiful routes) with the freedom of pacing each day exactly the way you like.
Locally Supported
Our friends on the ground are there to set you up with insider access and expert tips—then disappear when you'd prefer to be on your own.
Guided
Our B&R guides are with you throughout, anticipating needs, translating languages, providing advice and—above all—facilitating fun.
Strasbourg to Reims
6 Days / 5 Nights
CHOOSE A DEPARTURE
Limited Space / Waitlist
This departure is either sold out or almost fully booked but with deposit we will request additional rooms from our hotels where possible.
BOOK NOW
TAKE OVER A DATE
Have a group already?
Make it a private trip by taking over one of our dates, or we can request a fresh one. Prices are sliding scale to suit the number of travellers.
Request your

PRIVATE DATE
Day by Day
As we bike through the medieval villages that line the border between France and Germany prepare for one of your most memorable meals ever, to be had at Auberge de l'Ill with wine hand-picked by Serge Dubs, previously named "Best Sommelier in the World".
Today, Colmar is ours to explore. This delightfully picturesque town is home to, what is considered to be, the most dramatic artistic work of the early 16thC, as well as an excellent restaurant scene.
This morning's ride leads you through several small villages, each representing Alsace perfectly. Enjoy the landscape as you pedal winding valley roads towards your vineyard lunch spot. Finally reaching Obernai, another Alsatian jewel, experience the local charm once more during our last night in the region.
Out of Riesling country and into Champagne, our introduction to bubbly begins. Hosted by luminaries, Anselme Selosse and Agnès Corbon at their individual estates, we will learn the "Dégorgement à la Volée" and sample some of the best bottles (that are also favourites of Chez Daniel in New York).
Today, stroll along the "Avenue de Champagne" and enjoy the countryside. Any famous maison in Épernay is yours to discover—including Moët & Chandon, where we will meet for a tasting and tour. This evening's events are one of the most exclusive offered by B&R…and well-worth keeping secret.
After a leisurely breakfast at the hotel, we're heading off together for the Gare TGV of Champagne Ardenne-Reims train station, where you can catch a train to Paris or beyond. Bon voyage!
Hotels
Hotel les Avisés, Avizé
Hosts Anselme and Corinne Selosse welcome B&R as the first and only biking company to stay in their prestigious Champagne estate and the most exclusive Independent Wine Domain of Champagne. There are only 10 rooms in the property, each of which are unique and illustrate their relationship to the "Joie de Vivre" of Champagne. View hotel website »
Hotel des Berges, Illhaeusern
Next door to Auberge de l'Ill, this Relais & Châteaux hotel is the stylish creation of the Haeberlins, the chefs and owners of the world famous restaurant. Set amid willow trees on the banks of the River Ill, it's hard to imagine a finer hotel. View hotel website »
Activity Level
Enthusiast
The biking is exceptional, starting on gentle rolling hills along bike paths in the Alsace and building up to moderate (with some good climbs) through the vineyards. More relaxed for the final leg in Champagne, where we will encounter a few climbs but nothing strenuous. Most rides average 40 km (25 mi.) but there is always extra mileage (and the van!) available.
Gear
The Bikes
You can't enjoy a great biking trip without a really great bike. On this trip you'll be riding a customized hybrid or a racing bike with drop bars. We also equip you with handlebar bag, helmet and water bottle.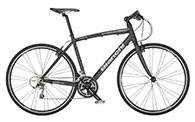 Check out our bikes »
What's Included
All breakfasts, three lunches and four dinners, including wine

Use of a customized hybrid or a racing bike with drop bars, equipped with handlebar bag and helmet

Services of B&R guide(s) and support van

All special events, private tours, guest experts and entrance fees

All transportation from rendezvous to drop-off

All baggage transportation

Detailed maps, route suggestions and water bottle

All gratuities for baggage, porters and hotel service
At Your Service
We take pride in choosing guides who are not only exceptional travelling companions, but who'll go far beyond the call of duty to ensure an unforgettable experience.
Accolades
"Travelling with B&R is what being alive all about. It's action packed and incredibly invigorating with so many personal and group highlights that it's hard to single out just one."
— Andrew Crowe
Alsace & Champagne Biking
Notes from the Road
Now a tour company has paired Alsace with Champagne, allowing participants to experience two traditions—and arguably, two visions—of France.
more »
Related Trips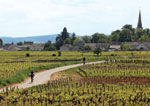 Burgundy Biking
6 Days / 5 Nights
Enthusiast
Dijon / Dijon
Price from: $5,795 USD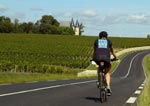 Bordeaux to Dordogne Biking
6 Days / 5 Nights
Enthusiast
Bordeaux / Trémolat
Price from: $5,995 USD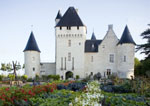 Loire Châteaux Biking
6 Days / 5 Nights
Recreational
Veigné (Montbazon) / Tours
Price from: $5,795 USD