Luxury Uruguay Travel
Discover Uruguay
Rolling green pastures and beef abound, what Uruguay lacks in population it makes up for in bovine and coastline. With only one land border with Brazil, Uruguay is a hidden coastal gem waiting to be discovered. Uruguay is one of the smallest and most economically developed countries in South America. Low on corruption and high on life, it is a haven for horseback riders and those looking to get in touch with their inner gaucho. Become one of the few who have explored this relatively unknown but enchanting land.
Dream ~ what՛s your perfect trip?
Design ~ meet your personal trip designer
Decide ~ collaborate on your custom trip
Depart ~ start packing
The best time of year to visit Uruguay is from November to March.
Trip Ideas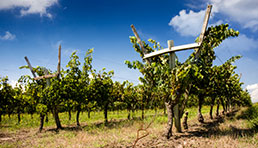 Uruguay Biking
Canter on the wind sculpted Atlantic beaches, ride along the stunning coastlines, discover the magic of hamlets like Cabo Polonia, or go in search of the mystical Ombu tree, deciding for yourself if it is a tree or overgrown bush. Uruguay's colonial cities, thermal hot springs, vineyards and charming Montevideo, are all deserving of a visit.
Cycle seemingly deserted roads and along calming, endless coastlines
Visit Carlos Páez Vilaró's whimsical villa and art gallery at the lovely Casa Pueblo
Try your hand at Polo during the day and your feet at Tango by night
Inspired? Craft a similar Bespoke guided trip starting from $1,000-$2,000 per person per night.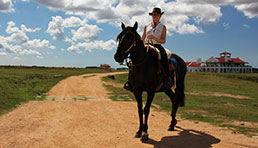 Family Vacation
It's no wonder Uruguay makes such an ideal family-oriented location. Offering a wide array of dynamic and exciting activities for young and old alike, from glorious bike rides and blue sky beach time, to lively horseback riding and unforgettable gaucho lessons, Uruguay is a destination that will make any family vacation a memorable one.
Feel like a professional polo play for a day, learning the ins and outs of the game
Bike Montevideo's popular La Rambla and feel like a local in Colonia de Sacramento
Visit a working estancia and see what it really means to be a gaucho.
Inspired? Craft a similar Bespoke guided trip starting from $1,500-$2,000 per person per night.
Feature Hotels
Playa Vik, Jose Ignacio
A strikingly contemporary property that incorporates natural elements, Playa Vik José Ignacio is instantly recognizable from a distance, thanks to its so-called "living roof" planted with Uruguayan wild flowers. The property sits in a village, providing a relaxed, small-town ambiance and its six villas are divided into several sizes, each one offering a fireplace, original artwork and hand-painted floors. View hotel website »
Estancia Vik, Jose Ignacio
Merging exceptional design, flawless personalized service, environmentally minded practices and an unparalleled collection of contemporary Uruguayan and international art—Estancia Vik is a remarkable property set in a magical backdrop where Marlboro country meets virgin San Tropez. Each suite has been imagined by an individual Uruguayan artist who has created works of art from these spaces. View hotel website » 
Our Trip Designers are a special breed. Part guru, part collaborator, part mind-reader, they have the full breadth of B&R resources at their fingertips. Extraordinarily well-travelled, they've been there, lived there, done it, planned it and eaten it, too. With a combined geographic knowledge that's nothing short of staggering, they can save you literally years of research. Above all, they're incredibly good at what they do.
Accolades
"B&R travel is seamless. The pre-trip informational packet was amazing, the guides were awesome, the food was delicious and the wine was flowing We loved our experience and would definitely return to ride skinny tires with your company again."
— Julianne Major, 2013
Notes from the Road
Freshness and variety are the hallmarks of Chilean food culture, thanks in large part to its unique geography and climatic diversity. And as these seven dishes prove, the results are nothing short of delicious.
more »
Related Trips
Patagonia Bespoke
Discover Patagonia, a land shaped by glaciers and teeming with adventure. Walk across icebergs, ride with cowboys, kayak in crystal-clear lakes.
Peru Bespoke
Explore the Sacred Valley of the Incas and its magnificent Machu Picchu on a customized private adventure.
Colombia Bespoke
Discover Colombia's stunning scenery, welcoming people and fantastic coffee as you explore a country shining with new optimism.
CLOSE X
ADVENTURE AWAITS!
Click below to start planning your custom trip.
Start Planning