LUXURY URUGUAY CUSTOM TRIPS
Discover Uruguay
Rolling green pastures and beef abound, what Uruguay lacks in population it makes up for in bovine and coastline. With only one land border with Brazil, Uruguay is a hidden coastal gem waiting to be discovered.
Uruguay Biking
Price per person per night from US$1,000 to $2,000
Family Vacation
Price per person per night from US$1,500 to $2,000
What is bespoke with B&R?
Your dreams—realized. Your expectations—exceeded. And your mind? Totally and utterly blown.
We craft extraordinary experiences, tailor made to meet your every need, with every stitch of every day crafted just the way you want it.
Tell us your dreams and The World's Best trip designers will craft a journey exclusively for you.
Fill out the form to have one of our expert trip designers get in touch—and start planning your perfect adventure
TRIP IDEAS
Uruguay Biking
Canter on the wind sculpted Atlantic beaches, ride along the stunning coastlines, discover the magic of hamlets like Cabo Polonia, or go in search of the mystical Ombu tree, deciding for yourself if it is a tree or overgrown bush. Uruguay's colonial cities, thermal hot springs, vineyards and charming Montevideo, are all deserving of a visit.
Cycle seemingly deserted roads and along calming, endless coastlines
Visit Carlos Páez Vilaró's whimsical villa and art gallery at the lovely Casa Pueblo
Try your hand at Polo during the day and your feet at Tango by night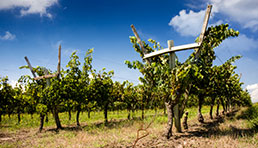 Inspired? Craft a similar Bespoke trip starting from US$1,000-$2,000 per person per night.
Family Vacation
It's no wonder Uruguay makes such an ideal family-oriented location. Offering a wide array of dynamic and exciting activities for young and old alike, from glorious bike rides and blue sky beach time, to lively horseback riding and unforgettable gaucho lessons, Uruguay is a destination that will make any family vacation a memorable one.
Feel like a professional polo play for a day, learning the ins and outs of the game
Bike Montevideo's popular La Rambla and feel like a local in Colonia de Sacramento
Visit a working estancia and see what it really means to be a gaucho.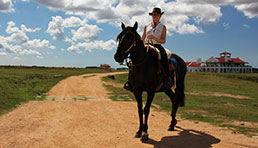 Inspired? Craft a similar Bespoke trip starting from US$1,500-$2,000 per person per night.
FEATURE HOTELS
Playa Vik, Jose Ignacio
A strikingly contemporary property that incorporates natural elements, Playa Vik José Ignacio is instantly recognizable from a distance, thanks to its so-called "living roof" planted with Uruguayan wild flowers. The property sits in a village, providing a relaxed, small-town ambiance and its six villas are divided into several sizes, each one offering a fireplace, original artwork and hand-painted floors. View hotel website »
Estancia Vik, Jose Ignacio
Merging exceptional design, flawless personalized service, environmentally minded practices and an unparalleled collection of contemporary Uruguayan and international art—Estancia Vik is a remarkable property set in a magical backdrop where Marlboro country meets virgin San Tropez. Each suite has been imagined by an individual Uruguayan artist who has created works of art from these spaces. View hotel website » 
TRIP DESIGNERS
Our talented team of Trip Designers are the best in the world at what they do—and what they do is turn fantasies into reality. (We thought about changing their title to "Dream Weavers," but we didn't want to re-print all those business cards.)
Accolades
"B&R travel is seamless. The guides were awesome, the food was delicious and the wine was flowing. We loved our experience and would definitely return to ride skinny tires with your company again."
— Julianne Major
Notes from the Road
Related Trips
Chile Biking Private
8 Days / 7 Nights
Enthusiast
Santiago / Santiago
Price from: $8,795 USD
Northern Argentina Biking
8 Days / 7 Nights
Enthusiast
Salta / Salta
Price from: $7,995 USD