TUSCANY CUSTOM LUXURY TRIPS
A region of rejuvenation
If leisure's what you seek, then head to Tuscany and Umbria with our Tuscany luxury travel and bask in one of its 39+ luxurious spas. A land of natural wonders, Tuscany is renowned for its many thermal springs.
Family Vacation
Price per person per night from US$1,000 to $2,000
Biking & Walking
Price per person per night from US$2,000 to $3,000
Corporate Walking Retreat
Price per person per night from US$1,500
What is bespoke with B&R?
Your dreams—realized. Your expectations—exceeded. And your mind? Totally and utterly blown.
We craft extraordinary experiences, tailor made to meet your every need, with every stitch of every day crafted just the way you want it.
Tell us your dreams and The World's Best trip designers will craft a journey exclusively for you.
Fill out the form to have one of our expert trip designers get in touch—and start planning your perfect adventure
TRIP IDEAS
Family Vacation
We'll arrange everything on this family trip from romantic dinners and guided historical walks through vineyards and olive groves, découpage lessons and medieval games for the kids, and bike rides for the whole family down cypress-lined streets past the family farms and peaceful hilltop villages. Bottom line: everyone has a vacation for the ages, regardless of age.
Ride along a portion of the pilgrimage route to Rome, out of Trequanda and over some rolling countryside with views of the Crete Senesi in the distance.
Explore the magical town of Cortona, high up on the hills overlooking the Val di Chiana.
Take part in a medieval flag-throwing demonstration and learn how to toss Palio flags in Siena from real sbandieratori.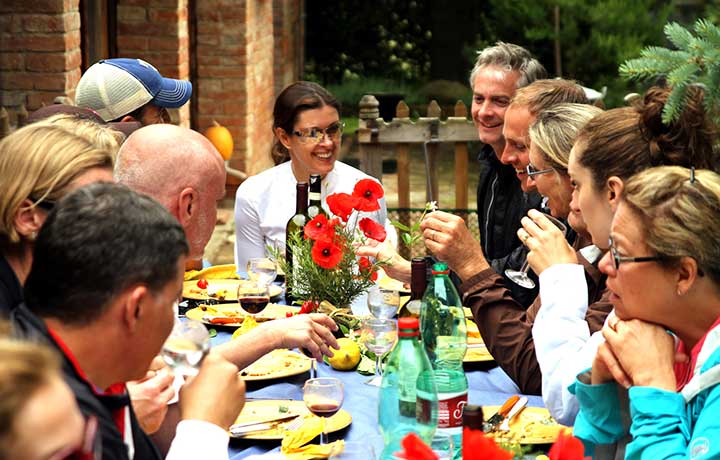 Inspired? Craft a similar Bespoke trip starting from US$1,000-$2,000 per person per night.
Biking & Walking
As lovely as the Tuscan countryside and cuisine are, they're at their best when enjoyed in good company. Here, our friends are your friends, and we have great ones. Giovanni brings Cortona to life for us. In Umbria, we'll ask Mamma Dina to serve up her homemade pasta for us. And before we part, our friends at the Avignonesi winery will send us off in style.
Ride to Castello di Brolio, the estate still home to the descendants of the Baron Ricasoli – renowned for being the inventor of the Chianti Classico.
Walk past tiny villages that are frozen in time towards our favourite Tuscan cooking school.
Join local guide Giovanni, whose family has been here since at least the 14thC, to walk towards the 4thC hilltop town of Cortona.
Inspired? Craft a similar Bespoke trip starting from US$2,000-$3,000 per person per night.
Corporate Walking Retreat
At the centre of Italy, Umbria's lush rolling hills and beautiful forests are dotted with walled towns and timeless equanimity. Its rugged landscape has served to make Umbria a sort of island throughout the centuries. Self-reliant and tenacious, Umbrians are fiercely proud of their culture and history.
Tour the winding alleyways and view the spectacular cathedral of Spoleto, a town once a key military outpost connecting Rome to the Adriatic Sea.
Follow the "olive tree path" of Spello, rolling gently along the northeastern ridge to the town of Assisi.
Enjoy a privately guided tour of Assisi highlighting the two-tiered basilica with its spectacular frescoes.
Inspired? Craft a similar Bespoke trip starting from US$1,500 per person per night.
FEATURE HOTELS
Casabianca, Asciano
The CasaBianca, a 15thC villa and working farm, has been converted into comfortable apartments in the heart of Tuscany's most gorgeous countryside. We take full advantage of its extensive grounds while staying there. Our gracious hosts, Alba & Luigi Scaperotta, produce their own wine and olive oil, and give us a pizza-making demo using the villa's original wood-burning oven. View hotel website »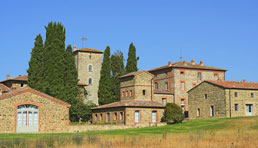 Relais Borgo Scopeto
This Tuscan 11thC estate has been through the ages renowned as "the" meeting place for scholars and politicians. Since being brought into the modern era in 2005—it is today a place of tranquil and classic Tuscan beauty. You are sure to enjoy the elegance and comfort of the rooms, the superb traditional Tuscan cuisine, beautiful pools and incredible grounds—over 5,000 hectares of Chianti vineyards. View hotel website »
Nun Assisi Relais e Spa Museum, Assisi
Nestled in the very heart of Assisi, this hotel seamlessly blends archaic 1stC Roman pillars with state-of-the-art amenities for a luxurious pampering experience. The dining area features cross-vaulted ceilings and décor that also echoes the ages. Each guest room in this reconstructed Saint Catherine's convent is unique and is a masterful blend of design and history. View hotel website »
TRIP DESIGNERS
Our talented team of Trip Designers are the best in the world at what they do—and what they do is turn fantasies into reality. (We thought about changing their title to "Dream Weavers," but we didn't want to re-print all those business cards.)
"There were many great moments on our fabulous trip through Tuscany. The fact that everything was so smooth was clearly due to the professional planning of B&R and it's great team. The views were delightful and our new friendships are amazing!"
— Fabio Vidigal, Bespoke Tuscany Biking
Notes from the Road
While soccer may engross much of the continent,for the people of Siena, the big games come every year – twice, in fact – with the running of the Palio.
more »
Related Trips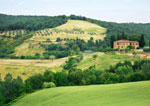 Tuscany & Umbria Walking
6 Days / 5 Nights
Enthusiast
Spoleto / Florence
Price from: $4,495 USD
Tuscany Family Biking
6 Days / 5 Nights
Enthusiast
Florence / Florence
Price from: $4,895 USD
Tuscany Biking
6 Days / 5 Nights
Enthusiast
Florence / Florence
Price from: $4,995 USD