SICILY CUSTOM LUXURY TRIPS
Let the land seduce you
A collection of various cultures' most famous cuisine, Sicily's kitchen is a collection of all the different civilizations that have passed by, sharing their delicious yet diverse recipes. Beyond the food (and the limitless pasta noodle shapes) lays the islands of the Sicilian coast, where the last of ancient Mediterranean traditions are practiced: farming and fishing.
Family Vacation
Price per person per night from US$500 to $1,000
Walking Adventure
Price per person per night from US$1,000 to $2,000
Biking Journey
Price per person per night from US$2,000 to $3,000
What is bespoke with B&R?
Your dreams—realized. Your expectations—exceeded. And your mind? Totally and utterly blown.
We craft extraordinary experiences, tailor made to meet your every need, with every stitch of every day crafted just the way you want it.
Tell us your dreams and The World's Best trip designers will craft a journey exclusively for you.
Fill out the form to have one of our expert trip designers get in touch—and start planning your perfect adventure
TRIP IDEAS
Family Vacation
Everything that makes Italy loveable is magnified on Sicily, and on this journey, we explore the best of this unforgettable region: myriad dialects, dozens of different pasta shapes, sparkling salt pans beside blue lagoons, Greek temples, mouth-watering food and wonderful wines.
Descend into the hidden gem of Modica for up-close exposure to the area's famous Spanish baroque architecture.
Embark on a family catamaran trip from Marina di Ragusa.
Explore Ragusa Ibla's superb old quarter, boasting a rare mix of medieval streets and baroque architecture.
Inspired? Craft a similar Bespoke trip starting from US$500-$1,000 per person per night.
Walking Adventure
Discover the artistic, architectural and culinary mementos of the welcoming Sicilians as we travel deep into the lesser-known corners of the largest Mediterranean island to appreciate its true possibilities on foot. Walk through coastal towns and savour Sicily's unique charms in its Greek ruins.
Visit the famous Greek settlements of Siracusa.
Travel back in time to one of Sicily's oldest archeological sites: Pantalica and its Anapo River valley.
Taste Modica's distinctive chocolate (one of Europe's earliest recipes) at Dolceria Bonajuto.
Inspired? Craft a similar Bespoke trip starting from US$1,000-$2,000 per person per night.
Biking Journey
Cruise the less travelled routes of Sicily's west coast, rolling over vine covered hills and descending into cozy seaside villages. Between explorations of Greek temples and a private wine tasting, we reward our appetites with an incredible array of classic Sicilian cuisine.
Taste carefully crafted wine and olive oil in Marsala and visit the archeological site of Selinunte.
Cruise beautiful vineyards leading to a tranquil seaside and charming village.
Navigate the vibrant and buzzing streets of Palermo expertly steered by a local historian.
Inspired? Craft a similar Bespoke trip starting from US$2,000, $3,000 per person per night.
FEATURE HOTELS
Hotel Eremo della Giubiliana, Ragusa
This erstwhile monastery is part of the historical group of Abitare La Storia hotels, dedicated to preserving the look and feel of ancient and historic structures while incorporating modern amenities and top of the line service. Hotel Eremo della Giubiliana sits quietly in splendid solitude on its own private estate among the stonewalled fields outside of Ragusa. View hotel website »
Villa Athena, Agrigento
Originally an 18thC villa, Villa Athena is uniquely situated inside the UNESCO world heritage site, the Archaeological Park of the Valley of the Temples. It also stands only 200 m. from the Temple of Concordia, a true masterpiece of Doric art. Renovated in 2009, the exquisite comforts and breathtaking view are miraculously matched by the gastronomic restaurant. View hotel website »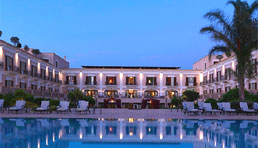 Giardino di Costanza, Mazara del Vallo
This superb 5-star hotel provides guests with everything for their needs, from spacious rooms to pools, and a Daniela Steiner spa. Its perfect location for moderate biking among the surrounding olive groves and vineyards is an added advantage B&R travellers will particularly enjoy. Whether guests seek relaxation or adventure, this hotel offers unrivalled comfort and service.  View hotel website »
TRIP DESIGNERS
Our talented team of Trip Designers are the best in the world at what they do—and what they do is turn fantasies into reality. (We thought about changing their title to "Dream Weavers," but we didn't want to re-print all those business cards.)
Accolades
"We love the experience of biking around Europe and seeing the world from that perspective. We have always had great experiences, met wonderful new friends and thoroughly enjoy the travel with you. Keep up the great work!"
— Cynthia White
Notes from the Road
Once neglected in favour of modern Syracuse on the mainland, today Ortygia is enjoying quite a renaissance. Reconstruction has brought its many treasures to life, and great restaurants and shops abound.
more »
Related Trips
Sicily Saveur Culinary
7 Days / 6 Nights
Occasional
Siracusa / Catania
Price from: $5,995 USD
Sicily Biking Private
7 Days / 6 Nights
Enthusiast
Catania / Catania
Price from: $6,595 USD
Puglia Biking
6 Days / 5 Nights
Recreational
Brindisi / Bari
Price from: $4,795 USD