Luxury Spain Travel
Spain's big sky country
This little known region of Spain brought to the spotlight by its fertile soil and tasty tempranillos is truly a delight. From the expansive countryside to the more than 500 bodegas Rioja is a must for any wine connoisseur. Spend a week biking the spectacular landscapes, hiking hidden trails, or tasting Spain's delights with our luxury Spain travel. The choice is up to you!
Dream ~ what՛s your perfect trip?
Design ~ meet your personal trip designer
Decide ~ collaborate on your custom trip
Depart ~ start packing
The best time of year to visit Rioja is from April to May and September to October.
Trip Ideas
Rioja Biking
Think Rioja and you tend to think award-winning wine, but artistic and culinary creativity has exploded here, and don't forget spectacular rides along gorgeous vineyard roads, the ever-changing landscapes, medieval history and Michelin dining. Bottom line? Divine.
Bike along winding roads and breathtaking scenery as you ride through a bit of Basque, a bit of Navarra and whole lot of La Rioja.
Fine tune your taste buds at tastings across the region, from a crianza to Gran Reserva.
Make up your own mind about Frank Ghery's spectacular modern design set against a backdrop of tradition.
Inspired? Craft a similar Bespoke guided trip starting from $1,000-$2,000 per person per night.
Rioja Walking
Take a walk on the wild side, of Spain that is. There is something special happening here in this tiny region of La Rioja and further into Navarra. There is a new energy in the area that stems on the edge of bizarre and tradition.
Walk sections of the centuries old "Camino de Santiago" and enjoy a culinary jewel on the way down the valley, the Molino de Urdániz restaurant.
Discover the secrets of Rioja's best recipes from a master chef followed by a delicious meal at his restaurant.
Learn about the history of the area's olive oil and groves while enjoying an exclusive lunch at Hacienda Queiles.
Inspired? Craft a similar Bespoke guided trip starting from $1,000-$2,000 per person per night.
Feature Hotels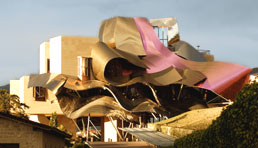 Marques de Riscal, Elciego
Designed by Frank Gehry—responsible for the Bilbao Guggenheim Museum—the Marques de Riscal Hotel is a masterpiece of modernity. Inside, you'll find 43 spacious, minimal rooms fitted with full amenities, marble baths and high-speed Internet access. A Vinothérapie spa and amazing, unforgettable gastronomy round out this top-shelf property. View hotel website »
Hotel Viura, Alava
Nestled in the magical Rioja wine region, the Hotel Viura offers avant-garde architecture and impressive luxury, and features floor-to-ceiling windows in each of the 33 guest rooms, a superb restaurant that doubles as an art installation and the most modern of technological amenities throughout. It also rests in the shadow of the magnificent San Andres Church. View hotel website »
Our Trip Designers are a special breed. Part guru, part collaborator, part mind-reader, they have the full breadth of B&R resources at their fingertips. Extraordinarily well-travelled, they've been there, lived there, done it, planned it and eaten it, too. With a combined geographic knowledge that's nothing short of staggering, they can save you literally years of research. Above all, they're incredibly good at what they do.
Accolades
"It is impossible to say – so many moments were over the top, special and memorable. If I were to speak to another traveller about the trip I would have to say that it is a once-in-a-lifetime experience that should not be missed, if at all possible."
— Kitty Durtschi, Bespoke Navarra & Rioja Biking 2011
Notes from the Road
Rioja wine was regarded as particularly good even in ancient times. The Visigoths, who conquered Spain after the Romans, consumed it in enormous quantities (and we can't blame them!).
more »
Related Trips
Catalonia Bespoke
Experience the allure of Barcelona, the mystery of Dali and peaceful countryside of this unique Spanish region.
Andalucia Bespoke
Find the essence of Spain at every turn on your adventure through the olive groves and ancient mountains of Andalucia.
Sicily Bespoke
Take in the artistic, architectural and culinary mementos of charming of Sicily.
CLOSE X
ADVENTURE AWAITS!
Click below to start planning your custom trip.
Start Planning