Where Old World meets New
As Canada's largest province, Quebec keeps its calendar full of lively festivals and events with a joie de vivre the vintage locale is known for. A stunning collection of Old World and New, Quebec is a city of creative spirit, from its theatrical productions, visual art, literature and beyond. Though its primary language is French, English is spoken and understood almost everywhere in the province. While on your travels, don't forget to stop for Canada's culinary treasure (created in Quebec): the cheesy, gravy-y, potato-y goodness of poutine.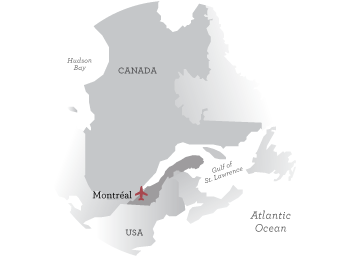 Dream ~ what՛s your perfect trip?
Design ~ meet your personal trip designer
Decide ~ collaborate on your custom trip
Depart ~ start packing
The best time of year to visit Quebec is from May to October.
Trip Ideas
Biking Getaway
From cosmopolitan Montréal to history-rich Québec City (by way of the Eastern Townships and a Loyalist enclave of beautiful woodland biking), sample Canada's most European province through its cheeses, wines, sparkling lakes and charming towns.
Bike Montréal's green alleyways—a vast network of community-beautified lanes and paths that run throughout town.
Ride on the famous Lachine Canal bike path, followed by a gorgeous picnic in the park.
Cruise into stately North Hatley aboard Captain Ross's 1957 mahogany boat for a sunset ride.
Inspired? Craft a similar Bespoke guided trip starting from $1,000-$2,000 per person per night.
Walking with Friends
Adventure-seekers will enjoy discovering historic Quebec City, cultural Montreal, and everywhere between on this Quebec experience. Enjoy the festivals, fine art, historic estates, and breathtaking scenery that this province has to offer.
Embark on a walking tour of Montréal, visiting the Basilique Notre Dame, the fountains of Parc LaFontaine and little Italy.
Visit the magnificent Abbaye St. Benoit du Lac, a Benedictine monastery from 1912.
Explore historic homesteads and gardens dating back to the first European settlers.
Inspired? Craft a similar Bespoke guided trip starting from $2,000-$3,000 per person per night.
Feature Hotels
Auberge Saint-Antoine, Quebec City
One of Travel + Leisure's Top 100 Best Hotels, and Condé Nast Traveler's "Canada's Best," this 94-room hotel, built along the historically significant St. Lawrence River, doubles as an archaeological museum, with artifacts thoughtfully incorporated into its design. In the heart of Québec City's Old Port, we'll enjoy rooms that meld Quebec traditions with modern amenities. View hotel website »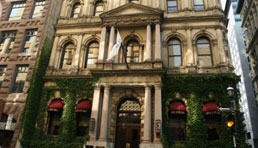 Hotel le St. James, Montréal
This 5-star luxury property is housed in a converted historic Merchant's Bank dating from 1870, amidst the cobblestone streets of Old Montréal. Renowned for its professional service and avant-garde style, this hotel has become the benchmark of hospitality in Canada. With impeccably detailed guest accommodations, each room and suite possesses its own character and personal charm.
View hotel website »
Our Trip Designers are a special breed. Part guru, part collaborator, part mind-reader, they have the full breadth of B&R resources at their fingertips. Extraordinarily well-travelled, they've been there, lived there, done it, planned it and eaten it, too. With a combined geographic knowledge that's nothing short of staggering, they can save you literally years of research. Above all, they're incredibly good at what they do.
Accolades
"Our Guide, Jean Louis Doss was amazing. He really made the trip for us. We can't wait to start planning our next B&R trip and have already told many friends about our experience, our guide and Butterfield."
— Felicia Perlman, Bespoke Independent Quebec Biking 2013
Notes from the Road
Q&A: Zita Cobb, Fogo Island InnWhen Zita Cobb went back to Fogo, the tiny island of her birth just off the coast of Newfoundland, she returned with not just an executive pedigree, but a vision. With the official opening of the Fogo Island Inn, the landmark hotel that's become the …
Insider's Guide to VancouverVancouver, A Pacific Playground Lots of cities claim to welcome the world, but few can match the hospitable welcome Vancouver, British Columbia provides her visitors. (And as a Tornoto-based company, that's not easy for us to admit!) A Pacific seapor …
Sneak Peek: A Venetian Skier in B.C.B&R Guides wear many hats: expert rider, gracious host and exceptional leader among them. You can now add "published author" to the list. Venice native, B&R Guide and adventure-seeker Giacomo Fano recently published a book recounting his time traipsi …
related trips
British Columbia Bespoke
Explore the natural beauty on our doorstep as you discover the spectacular Pacific Northwest coast and the wild interior of British Columbia.