Provence Luxury Travel
Radiant Bliss
Rare is the place where the sunlight alone is a tourist attraction. The fabled glow that bathes Provence has entranced painters, poets and cyclists for centuries, but even on a cloudy day this radiant region is a sight to behold. With dramatic rolling hills dotted with small villages as our backdrop, this Provence luxury travel experience will take you deep into the heart of Provençal life through its people, food (lavender chocolates, anyone?) and wine (Châteauneuf-du-Pape for all).
Dream ~ what՛s your perfect trip?
Design ~ meet your personal trip designer
Decide ~ collaborate on your custom trip
Depart ~ start packing
The best time of year to visit Provence is from May to October.
Trip Ideas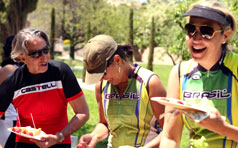 The Quintessential Getaway
You could come to Provence to feel the Mistral rush through, stirring up the scent of lavender and fennel, or to try and name all the ingredients in the weekly bouillabaisse. We could tell you that your walk in van Gogh's footsteps alone is worth the journey—even without mentioning the sundown vespers in a medieval abbey, or that the morning you spend at the local market searching for the perfect round of cheese.
Enjoy a private lesson of the classic game of Provence—boules (pétanques).
Canoe under the arches of the Roman-built Pont du Gard, stopping en-route for a swim.
Tour an 18th century olive-oil producing property—including a private olive-oil tasting.
Choose from numerous bike and walking options throughout the region.
Inspired? Craft a similar Bespoke guided trip starting from $500-$1,000 per person per night.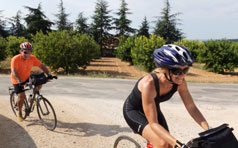 A Classic Journey with the Kids
Provence—home to exiled popes, poets of lost languages, pomegranates, white horses and pink flamingoes. Treasure hunting in Provence yields the perfect scoop of rosemary ice cream and an afternoon dip beneath a three-story Roman aqueduct. With the sun shining almost all the time—ride past fields of sunflowers, hills of red earth and rows of elegant cypresses that inspired Cezanne and van Gogh.
Take a lesson with a master potter, right in his studio and create your own masterpiece.
Kayak under the arches of the Roman-built Pont du Gard, stopping en-route for a swim.
Walk in the footsteps of van Gogh with our local expert before creating your own masterpiece.
Choose from numerous bike and walking options throughout the region.
Inspired? Craft a similar Bespoke guided trip starting from $1,000-$1,500 per person night.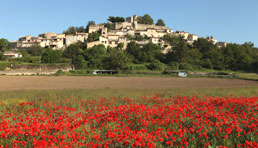 Camargue to Cote d'Azur
Whether biking, hiking or a bit of both, put on your best straw hat and watch the black bulls of the Camargue perform for the camarguais cowboys. Trace the footsteps of Romans, popes and great artists along ramparts, through the stunning hill-top towns and beautiful markets. Finally, your straw hat gives way to a chic chapeau for a jaunt in the Riviera. After all, Provence is a place that has intrigued, lured and inspired man for centuries.
Explore the culinary trail through Provence with a selection of private cooking classes.
Enjoy an exclusive tasting and vineyard visit with a local wine-marker.
Discover a secret sanctuary—reached only by sail-boat.
Immerse yourself in the region's artistic experiences, from world-class museums to Biot's glassblowers.
Inspired? Craft a similar Bespoke guided trip starting from $2,000-$3,000 per person night.
Feature Hotels
L'Oustau de Baumanière – La Guigou
Hidden away off the road leading to the 13th century fortress village of Les Baux, this lovely hotel has been a destination for the discerning traveller for decades. Owned and run by two-star Michelin chef André Charial, the hotel is renowned for both its restaurant and the beautiful views, not to mention the newly open luxurious spa. View hotel website »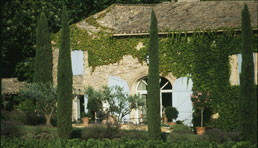 La Bastide de Marie, Menerbes
This beautifully restored, centuries-old "farmhouse" is set among 37 acres of the inn's own vineyards in the heart of the Lubéron Valley. With two pools and terraces that run the length of the house, you will be hard pressed to get up from your lounge chair. Fortunately, the chef, Laurent Houdart , is on hand to lure you to dinner with his acclaimed Provençal cooking. View hotel website »
Cap Estel, Èze
Situated on its own two-hectare peninsula jutting into the Mediterranean Sea, Cap Estel offers magnificent panoramic views and resides only 10 minutes away from Monaco. A boutique hotel set amid lush greenery, Cap Estel is a quiet oasis where you can enjoy complete rest and privacy. With only 28 rooms spread over four separate locations, Cap Estel brings you luxury and the utmost comfort. View hotel website »
Our Trip Designers are a special breed. Part guru, part collaborator, part mind-reader, they have the full breadth of B&R resources at their fingertips. Extraordinarily well-travelled , they've been there, lived there, done it, planned it and eaten it, too. With a combined geographic knowledge that's nothing short of staggering, they can save you literally years of research. Above all, they're incredibly good at what they do.
Accolades
"The choice of hotels and the variety of food and wine were all fantastic, and the landscape was utterly beautiful, but it was our guides that made our trip absolutely spectacular! Their knowledge, helpfulness and constant positive attitude made this trip unforgettable!"
— Erik Tuveson, Bespoke Provence 2011
Notes from the Road
"Take the slow road. Organize bespoke hiking and biking trips through the prettiest Tuscan and Provencal countryside between the best hotels, restaurants and vineyards. They transport your luggage and lay on guides and picnics."
more »
Related Trips
Andalucia Bespoke
Find the essence of Spain at every turn on your adventure through the olive groves and ancient mountains of Andalucia.
Ireland Bespoke
Castles and ruins, endless green hills and open waters beckon on a customized journey through Ireland.
Burgundy Bespoke
Explore the countryside, unique gastronomy and tranquil waterways of Burgundy.
CLOSE X
ADVENTURE AWAITS!
Click below to start planning your custom trip.
Start Planning