Peru Adventure Travel
Ancient Worlds & Mystical Wonder
The Sacred Valley of the Incas sounds, smells, looks, and feels like Narnia, Neverland, and the garden of Eden all wrapped in one. It is imagination realized. And overlooking this great valley—in all its magic and magnificence—is Machu Picchu. Photographs do not do Machu Picchu, or the Sacred Valley, justice. One must see it the way the architects of Machu Picchu intended it to be seen, and as it's been seen for centuries—by foot. On your own Peru adventure travel experience, voyage into these sacred Incan lands and examine the ancient existence of a truly fascinating people.
Dream ~ what՛s your perfect trip?
Design ~ meet your personal trip designer
Decide ~ collaborate on your custom trip
Depart ~ start packing
The best time of year to visit Peru is from March to December.
Trip Ideas
Classic Peru
In the Sacred Valley, you will think your senses are being fooled – You'll hear music in the air, you'll see llamas walking freely about. But your senses are not being fooled—trust them. Trust also your B&R guides: they will take you where you need to go on this unforgettable Peruvian adventure.
Walk to the Temple of the Moon, visit the Inca Bridge, or climb Machu Picchu Mountain
Enjoy catered lunches and learn about Peruvian gastronomy from the hotel's chef
Meet the remarkable women of the Chinchero Weaving Cooperative
Learn the culture of the Andes by having your group blessed by a local Shaman
Inspired? Craft a similar Bespoke guided trip starting from US$1,000+ per person per night.
Peru Family
Discover the Incan capital of Cuzco, the colonial Spanish art and architecture throughout the valley, and of course, ancient Incan sites such as the magnificent Sun Gate at Machu Picchu. Meet charming locals along the way and fill your adrenaline needs with mountain biking, rafting, 4×4'ing, and more!
Explore colonial Cuzco, capital of the ancient Inca civilization
Mountain bike through the Sacred Valley, stopping in the artisan communities of Maras and Urubamba
Embark on a spectacular train ride past the fabled peaks of Machu Picchu
Ride Peruvian Paso horses over snow-covered mountain peaks and through Andean villages
Inspired? Craft a similar Bespoke guided trip starting from $1,000+ per person per night.
Peru Grand Journey
Visit the three main areas of the Incan universe: the jungle, Cuzco, and the sacred lake high in the mountains. Along the way, chat with traditional hat makers and charming weavers before heading to the southern border on the waters of Lake Titicaca, where the Incan culture originated.
Walk the tree canopy in the Amazon basin and explore Tambopata National Park
Paraglide through the remarkable and breathtaking Andean Mountains
Raft the mighty rivers of the Andean mountains, one of the Amazon's main waterways
Paddle the waters of Lake Titicaca, the largest lake in South America
Inspired? Craft a similar Bespoke guided trip starting from $1,000+ per person per night.
Feature Hotels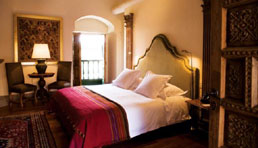 La Casona Inkaterra, Cuzco
This historic colonial manor house (perhaps the first Spanish construction in Cuzco) is centrally located on an ancient Incan settlement near Cuzo's present-day main square. Eleven spacious suites surround a sumptuous courtyard, where the patina of time is tastefully preserved. Contemporary amenities create the ambience of comfort and exclusivity enjoyed by guests of the hotel. View hotel website »
Sol y Luna Lodge, Urubamba
Sol y Luna blends Old World charm with the tranquility of the Sacred Valley. Our hosts, Marie-Helene and Franz, have made Peru their home since the early 1990s. The stylish bungalow-style cottages on this intimate property are all thoughtfully decorated with local ceramics and indigenous woods. The hotel is surrounded by lovely gardens and features a fully equipped spa. View hotel website »
Titilaka Lodge, Puno
Located on its own private peninsula with 4 acres of grounds, Titilaka Lodge is a tranquil oasis on Lake Titicaca, surrounded by the natural wildlife of the lake. Set between the rich contrast of dramatic red mountains and the blue skies and lake, Titilaka is a traveller´s paradise. The hotel features eighteen lake-facing rooms, two private beaches, wrap-around terraces and a dining room offering breathtaking views. View hotel website »
Our Trip Designers are a special breed. Part guru, part collaborator, part mind-reader, they have the full breadth of B&R resources at their fingertips. Extraordinarily well-travelled, they've been there, lived there, done it, planned it and eaten it, too. With a combined geographic knowledge that's nothing short of staggering, they can save you literally years of research. Above all, they're incredibly good at what they do.
Accolades
"We would like to congratulate B&R and specially Tyler Dillon for the amazing experience we had in Peru. The unique opportunity we had to interact with local people and go really deep into their culture is something we will never forget."
— Leandro Taga, Peru Walking 2012
Notes from the Road
On my most recent trip to Peru I was completely blown away. I had heard about Machu Picchu and knew a bit about the Inca culture, but seeing the mind-blowing vistas and incredible landscapes up close truly took my breath away. Check out my photos to see for yourself!
more »
Related Trips
Peru Walking Private
8 Days / 7 Nights
Avid
Lima / Lima
Price from: $7,495 USD
Patagonia Bespoke
Discover Patagonia, a land shaped by glaciers and teeming with adventure. Walk across icebergs, ride with cowboys, kayak in crystal-clear lakes.
Chile Bespoke
Ride through the country's valleys, hike the endless coast, visit with penguins and sample award-winning wine on a customized Chilean adventure.
CLOSE X
ADVENTURE AWAITS!
Click below to start planning your custom trip.
Start Planning