NORMANDY CUSTOM LUXURY TRAVEL
Of Coastlines and Counryside
Normandy is a land of welcomed simplicity. From its food  – seafood is king – to its quaint countryside, it's the perfect place to get away from the hustle and bustle, and unwind in uncomplicated territory.
Historic Getaway
Price per person per night from US$500 to $1,000
Family Vacation
Price per person per night from US$1,000 to $2,000
Cultural Immersion
Price per person per night from US$2,000 to $2,500
What is bespoke with B&R?
Your dreams—realized. Your expectations—exceeded. And your mind? Totally and utterly blown.
We craft extraordinary experiences, tailor made to meet your every need, with every stitch of every day crafted just the way you want it.
Tell us your dreams and The World's Best trip designers will craft a journey exclusively for you.
Fill out the form to have one of our expert trip designers get in touch—and start planning your perfect adventure
TRIP IDEAS
Historic Getaway
Discovering this unforgettable region is like turning the pages of a history book while taking in the lush and endless fields, white sandy beaches, quaint thatched cottages and numerous ancient churches; the combination of these elements creating the unique and inspiring region of Normandy.
Visit historic locations that have helped shape the course of the 20th century.
Explore the site of Utah Beach, made famous by Stephen Ambrose's Band of Brothers.
Listen to a local veteran resistance fighter recount tales from Omaha Beach and D-Day.
Inspired? Craft a similar Bespoke trip starting from US$500-$1,000 per person per night.
Family Vacation
Forget textbooks and head to the real-life historical classroom of Normandy, the setting of some of the most important moments in western civilization. We will trail William the Conquerer and the recent history of WWII and D-Day, then explore the countryside on bikes, beaches and sand yachts.
Stroll the pilgrim's path to Mont St. Michel on a unique tour with the director of religious texts.
Follow in the footsteps of Band of Brothers' Major Winters and his EASY company.
See Bayeux and the tapestry that tells of how the French-English rivalry began.
Inspired? Craft a similar Bespoke trip starting from US$1,000-$2,000 per person per night.
Cultural Immersion
From camembert to calvados and years of impactful human history: Normandy is today adored as an idyllic getaway by the French. Travel through quiet countryside, fisherman's harbours and chic seaside resorts. All experiences are enhanced by the delicious regional specialties and incredible local experts.
Join a biologist dedicated to studying the dolphin populations of the region.
Experience the gastronomic marvels found throughout Normandy's excellent markets and culinary classes.
Visit key WWII locations and view William the Conqueror's celebration tapestry from 1070.
Inspired? Craft a similar Bespoke  trip starting from US$2,000-$2,500 per person per night.
FEATURE HOTELS
Hotel Villa Lara, Bayeux
This 4-star, boutique hotel is located in the centre of historic Bayeux—and faces both an 11thC hotel and the Aure River. The contemporary rooms feature hand-made Moissonnier furniture, flat-screen televisions, air-conditioning and well-equipped mini bars; no convenience has been overlooked. View hotel website »
Maisons de Bricourt, Brittany
Set in one of the most stunning locations in Brittany, the Maisons de Bricourt's most prominent building is a 1920's villa overlooking the Mont St Michel. The property oozes charm and the décor is simple and elegant. This is the perfect finish to your trip! View hotel website »
Ferme St. Simeon, Honfleur
This charming and beautiful 5-star luxury hotel is perched on the heights of Honfleur, close to Satie Museum, Eugene Boudin Museum, and 200 metres from the Normandy coast. Ferme Saint Simeon features individually decorated guestrooms, a relaxing spa and a stunning garden and terrace. View hotel website »
TRIP DESIGNERS
Our talented team of Trip Designers are the best in the world at what they do—and what they do is turn fantasies into reality. (We thought about changing their title to "Dream Weavers," but we didn't want to re-print all those business cards.)
Accolades
"The roads we used were quiet and very picturesque, the restaurants selected were delicious, and the Bespoke 'extras' made it all the more special."
— Elizabeth Jick, Bespoke Normandy Biking
Notes from the Road
Related Trips
Normandy & Brittany Biking
6 Days / 5 Nights
Recreational
Trouville / Saint Malo
Price from: $4,995 USD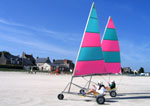 Normandy Family Biking
6 Days / 5 Nights
Recreational
Trouville / Caen
Price from: $5,295 USD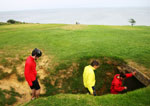 Normandy Biking
6 Days / 5 Nights
Enthusiast
Deauville / Caen
Price from: $3,995 USD