Newfoundland Adventure Travel
Discover Newfoundland
It's easy to see why Newfoundlanders are a breed apart. Their island home is a rugged, rocky fortress housing precious treasures both natural and man-made. Colossal glacier-carved fjords, lost Viking settlements, remote seaside villages where lobster is more common than steak, and the enduring symphony of the Atlantic heaving against the coast are just some of the sensory delights on offer. Best of all, the people you'll meet are quite possibly the most cheerful in the world. Here, you're among friends.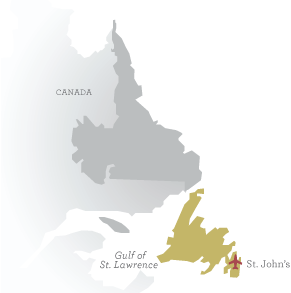 Dream ~ what՛s your perfect trip?
Design ~ meet your personal trip designer
Decide ~ collaborate on your custom trip
Depart ~ start packing
The best time of year to visit Newfoundland is May to September.
Trip Ideas
Fogo Island Experience
Situated on Newfoundland's east coast, Fogo Island underwent massive, painful changes after Newfoundland's confederation. However, true to the indomitable spirit of the islanders and their unbreakable connection with the land and sea, a new Fogo Island has been emerging. The Fogo Island Inn is the centerpiece of this change, a perfect hub to explore the beauty, history and culture of Newfoundland.
Take a fishing trip on one of the oldest fishing grounds in the "New World."
Stay in one of the most innovative and exciting new hotels anywhere.
Tour through magical inlets, ancient trails, abandoned villages and resettled coves of Fogo and its surrounding islands.
Discover an amazing international and local arts and crafts community.
Inspired? Craft a similar Bespoke guided trip starting from $1,000-$2,000 per person per night, depending on your length of stay, hotel property selection, group size and the cultural and adventurous experiences you select.
Newfoundland Active Adventure
Welcome to Newfoundland! Over the course of a week, you'll see dramatic scenery and a variety of wildlife as we explore one of the most rugged and truly "untouched" landscapes in North America. Our travels take us from the capital city to charming fishing outposts of the Bonavista Peninsula and the spectacular Fogo Island. It's the perfect getaway on Canada's remarkable east coast!
Walk up to the historic Citadel Hill to experience the incredible views of St John's Harbour.
Take a hike on the Skerwink Trail voted one of the top 20 walks in North America by Travel+Leisure magazine.
Visit Puffin Island—home to kittiwake, black guillemot, cormorant and puffins alike.
Try your hand at rowing and compete in The Great Fogo Island Punt race.
Inspired? Craft a similar Bespoke guided trip starting from $1,000-$2,000 per person per night, depending on your length of stay, hotel property selection, group size and the cultural and adventurous experiences you select.
Feature Hotels
Fogo Island Inn, Newfoundland
On the gorgeous rocky shoreline of the Atlantic sits the new and luxurious Fogo Island Inn. Featuring 29 rooms with panoramic ocean views, windows that open 180 degrees to the fresh salt-sea air and hand-crafted furniture, the inn also offers locally inspired cuisine, rooftop hot tubs and a publicly accessible art gallery, library and cinema. View hotel website »
Fishers' Loft, Port Rexton
Situated on the Bonavista Peninsula, Fishers' Loft is a collection of buildings that have been lovingly and carefully brought to life in the authentic Newfoundland style. As one of the best hotels in Newfoundland, your every need will be catered to through impeccable and friendly service, as well as delicious home-cooked meals with produce fresh from the garden. View hotel website »
Our Trip Designers are a special breed. Part guru, part collaborator, part mind-reader, they have the full breadth of B&R resources at their fingertips. Extraordinarily well-travelled, they've been there, lived there, done it, planned it and eaten it, too. With a combined geographic knowledge that's nothing short of staggering, they can save you literally years of research. Above all, they're incredibly good at what they do.
Accolades
"Our guides were amazing and spot on with every aspect of our trip: organization, food, wine and accommodations were all outstanding! A very impressive trip!"
— Gaye Leggat, Bespoke Newfoundland Walking 2010
Notes from the Road
"One of Mother Nature's most spectacular displays is upon us. With the arrival of autumn the forests and woodlands of the Northern Hemisphere are gradually transforming into a striking natural show of russet, vermillion, gold, bronze and yellow. New England is justifiably popular for its arresting autumnal displays but there are off-the-beaten-track alternatives."
more »
Related Trips
Iceland Winter Walking Private
5 Days / 4 Nights
Recreational
Reykjavik / Reykjavik
Price from: $5,995 USD
Quebec Bespoke
Discover Canada's most European of provinces as you explore the land rich in history and culture.
British Columbia Bespoke
Explore the natural beauty on our doorstep as you discover the spectacular Pacific Northwest coast and the wild interior of British Columbia.
CLOSE X
ADVENTURE AWAITS!
Click below to start planning your custom trip.
Start Planning