Myanmar Luxury Travel
Discover Myanmar
This is a fascinating and enigmatic country whose mysteries few travellers have chosen to explore. There are the famous floating villages. There's the peaceful Ayeyarwady River. There are the dazzling golden temples. Life moves at a calm remove here. Unspoiled is the word that springs to mind. So if you've been considering a visit, now would be the time. See Myanmar the way you want, on your own customized getaway. On this Myanmar luxury travel experience, the possibilities are endless.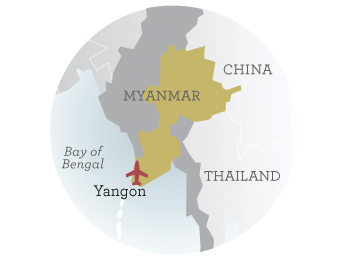 Dream ~ what՛s your perfect trip?
Design ~ meet your personal trip designer
Decide ~ collaborate on your custom trip
Depart ~ start packing
The best time of year to visit Myanmar is from November to February.
Trip Ideas
Myanmar Trekking
It is the quiet mystique of Myanmar that proves so compelling. This nation that, for many, feels largely undiscovered is a true gem in Southeast Asia. This special trip digs deeper into the hills than most, seeing places and people few have seen before, in the hills of the Shan state.
Board your private local boat to Mine Thauk village for 4 days of trekking.
Head into the Shan state mountains to sleep in houses that have been converted into our own bungalows in the teak wood villages of the Pa-O tribe.
Experience the cuisine of the region with our own cooking staff who will travel with us throughout the Pa-O kingdom.
Inspired? Craft a similar Bespoke guided trip. Please call for a quote.
Myanmar By Sea
Off the coast of Myanmar lies the next undiscovered region of Southeast Asia: the Mergui Archipelago, where 800 mountain islands jut out from the sea like paintings from the Tang Dynasty. Populated by sea gypsies and animal life, pristine beaches and Moken tribes, it's as if Kipling's Jungle Book were trapped in time.
Sail in some of the most undiscovered waters in Southeast Asia with your own crew and guides.
Meet villagers from the Moken Tribe, a sea going people who have lived in these waters for hundreds of years.
Swim on your own private beaches and toast the sunset in these islands of lost time.
Inspired? Craft a similar Bespoke guided trip. Please call for a quote.
Myanmar Adventure
One of the last of the untouched in Southeast Asia, Myanmar conjures images of thick jungles, ancient cities, and golden temples stretching as far as the horizon allows. Dine with princesses, hike with hill-tribe kings, boat with the spirit of the old British Empire and realize this is no trip; it's an adventure.
Have tea with Chieftains and Kings in the Shan state.
Watch the sunrise over the ancient city of Bagan from your private hot air balloon.
Explore the Himalaya region in far north Myanmar, by foot, raft, or bike.
Charter a private sail boat in the Mergui Archipelago.
Inspired? Craft a similar Bespoke guided trip starting from $1,200 per person per night, based on four people.
Feature Hotels
The Silolona
Silolona is a truly modern classic sailing vessel providing guests with an understated elegance, exquisite cuisine, and views of breathtaking scenery, underwater wonders and fascinating artistic expression found along the fabled spice routes of South East Asia. Teak wood, glossy finish, professional crew, and cuisine and wine make this ship the best way to see the islands. View ship website »
Governor's Residence, Yangon
A romantic, colonial­-style mansion dating from the 1920s, the Governor's Residence conjures up a bygone era of elegance and comfort. Set in lush gardens dotted with lotus pools, the hotel is a magical base for exploration of the city of Yangon. View hotel website »
Our Trip Designers are a special breed. Part guru, part collaborator, part mind-reader, they have the full breadth of B&R resources at their fingertips. Extraordinarily well-travelled, they've been there, lived there, done it, planned it and eaten it, too. With a combined geographic knowledge that's nothing short of staggering, they can save you literally years of research. Above all, they're incredibly good at what they do.
Accolades
"This expedition is fabulous. In a place with such challenging tourist issues, our guides made it seem like a breeze. One of the best B&R trips that we have ever been on!"
— Gregory Hanker, Myanmar Biking
Notes from the Road
Replete with thatched cottages, long boats and the famed Intha rowers, on Inle Lake one gets a sense of serenity, observing a pace suggestive of how its inhabitants have lived for decades—and maybe centuries.
more »
Related Trips
Indochina Multi-Active Private
14 Days / 13 Nights
Recreational
Siem Reap / Hanoi
Price from: $11,995 USD
Myanmar Multi-Active
7 Days / 6 Nights
Occasional
Yangon / Yangon
Price from: $6,895 USD
India Bespoke
Discover the land of kings and camels, soaring mountains and once-in-a-lifetime-experiences on your own customized adventure to India.
CLOSE X
ADVENTURE AWAITS!
Click below to start planning your custom trip.
Start Planning