A can't miss on your bucket list
Widely known for authentic art, culture and enriched history, Morocco—in addition to its must-see deserts—is host to more than 3,500 km of crystal clear coast with the Atlantic Ocean to the west and the Mediterranean to the north. A land of rocky plains, snowy (you read that right, snowy) mountains, lush forests and the unforgettable appearance as the location for Sex and the City 2, the truest, most humbling experience comes from the people, where Moroccan hospitality is as plentiful as its soft, ancient sands.
Dream ~ what՛s your perfect trip?
Design ~ meet your personal trip designer
Decide ~ collaborate on your custom trip
Depart ~ start packing
The best time of year to visit Morocco is October, November and March, April
Trip Ideas
Biking with the Family
On this Moroccan adventure, we give you the best of the region: magical Marrakech, Berber villages, stunning oases, camel and donkey rides, fabulous food, the High Atlas Mountains, and an absolutely unforgettable stay in the magical city of Essaouira.
Journey to the Sahara by bike, 4×4 and camel, then feast under the stars before retiring to your unique private tent.
Visit a pre-Saharan village with a local guide then ride through the foothills of the High Atlas Mountains to a true oasis.
Explore Marrakech's intricate neighbourhoods with local guide Mohamed. Listen to tales of the city over lunch at his riad.
Inspired? Craft a similar Bespoke guided trip starting from $1,000-$2,000 per person per night.
Gather the Gang for a Sahara Getaway
As you cross the sun-baked Saharan dunes and ascend the High Atlas Mountains, you'll discover that Morocco is a journey of the mind and spirit as much as one of geography. From souk to Kasbah to Berber village, we've got the authentic experiences covered.
Bike lush olive and almond groves and desert landscapes and stop en route for a delicious picnic in the shade of oases.
Dance and sleep under the Sahara desert's never-ending stars in the middle of the "Grand Erg – Lake Iriqi."
Dine in the middle of the sand dunes and sleep under the stars at Dar Ahlam's luxurious outdoor camp.
Inspired? Craft a similar Bespoke guided trip starting from $2,000-$3,000 per person per night.
Feature Hotels
Dar Ahlam, Province de Ouarzazate
Located within the palm groves of Skoura, this renovated and relaxing kasbah features serene guest rooms, a gorgeous turquoise pool and soaring views of the mighty Atlas Mountains. It ranks as perhaps one of the most luxurious oases in our books; in fact, our Regional Expert for Morocco reports that it is the very best he has seen in his 12 years in the country. View hotel website »
Le Berbère Palace, Ouarzazate
Le Berbère Palace offers by far the best accommodations southern Morocco has to offer—a four-star by European standards. Built in one-storey kasbah style, our suites are tastefully decorated and very spacious, each with a private terrace and ensuite bathroom. View hotel website »
Our Trip Designers are a special breed. Part guru, part collaborator, part mind-reader, they have the full breadth of B&R resources at their fingertips. Extraordinarily well-travelled, they've been there, lived there, done it, planned it and eaten it, too. With a combined geographic knowledge that's nothing short of staggering, they can save you literally years of research. Above all, they're incredibly good at what they do.
Accolades
"Of most importance, our guide, James, was fabulous. He combined both intimate knowledge of the locale, familiarity with all of the people we met along the way, and a "fit-right-in" personality. He bonded immediately with all of the members of our family, and his fun-loving attitude just made our trip so enjoyable."
— Ken McVay, Bespoke Morocco With the Kids, 2012
Notes from the Road
Morocco: A Family's Perfect PlaygroundA country as stunningly diverse as Morocco makes a perfect playground for kids young and old. From the lush forests of its national parks to the stunning vistas of the Agafay Desert, it's a country as rich in geographic bounty as it is in ancient cul …
Know Before You Go: Morocco Travel Tips"But, what's it really like?" As invigorating, exciting and intoxicating as it is to explore an unknown land, it can be inconvenient and even a little intimidating to go in completely blind. That's where we come in. In this ongoing series, we pose so …
The Art of HagglingWorld-famous for both the fare on offer and its kinetic energy, Marrakech's open-air market, or souk, offers a uniquely Moroccan shopping experience not to be missed. But be warned: even the fiercest sharks at the bargaining tables of Europe and Nort …
related trips
Peru Active Private
8 Days / 7 Nights
Moderate to Challenging
Lima / Lima
Price from: $7,495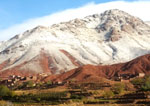 Morocco Walking
7 Days / 6 Nights
Moderate
Marrakech / Marrakech
Price from: $6,995
Morocco Family Biking
6 Days / 5 Nights
Easygoing to Moderate
Marrakech / Marrakech
Price from: $4,495
Morocco Biking
8 Days / 7 Nights
Easygoing to Moderate
Ouarzazate / Marrakech
Price from: $8,795