Luxury Middle East Holiday
More than meets the eye
From the timeless tranquility of the desert, to the hustle and bustle of some of the worlds' best shopping, our luxury Middle East holiday is one packed full of culture, history, heat and beauty. From pristine beaches and seas teeming with dolphins and turtles to dusty villages and ultra-modern shopping malls. The outsider's view of the Middle East is certainly muddled, and though it happens to contain plenty of desert, certain areas (like Dubai) serve as both a dynamic international business centre and laid-back escape.
Dream ~ what՛s your perfect trip?
Design ~ meet your personal trip designer
Decide ~ collaborate on your custom trip
Depart ~ start packing
The best time of year to visit the Middle East is from October to April (depending on region)
Trip Ideas
Walk back in time in Oman
We've devised an itinerary that cleverly takes in all the highlights, whisking you from the capital to the interior, coast to mountains, to the isolated Musandam Peninsula and back again. Our stay swings between wild and tamed, from urban comforts to donkey paths in the stately Hajar Mountains and, finally, to the door of a Six Senses oasis.
Explore Muscat Old and New, including a harbour cruise and dinner aboard a traditional dhow.
Walk along the coast to Oman's oldest and most important souk near the seaport of Muttrah.
Hike the canyon wall of the massive Wadi an Nakhar, dubbed "the Omani Grand Canyon."
Inspired? Craft a similar Bespoke guided trip starting from $1,000-$2,000 per person per night.
Explore Egypt & Jordan
You'll feel like you're on the Discovery Channel on this adventure. From Egypt to Jordan encounter soaring mountains and colourful souks, Roman ruins and the towering Pyramids. You'll float in the Dead Sea, watch the sun set over the dunes and cruise the Nile in a beautifully crafted dahabbiya. A true trip of a lifetime.
Explore the ancient necropolis in the Valley of the Kings on the Nile's west bank.
Cruise past ancient monuments and visit one of a fascinating temple of the ancient world.
Discover the Great Pyramid of Giza, the unforgettable Sphinx, and the magnificent Valley Temple.
Inspired? Craft a similar Bespoke guided trip starting from $2,000-$3,000 per person per night.
Feature Hotels
Al Bustan Intercontinental, Muscat
Just south of the historic city of Muscat, the Al Bustan Intercontinental is set against a dramatic and soaring mountain backdrop, and sits on 35 acres of private sandy beach and lush, vibrant gardens. The hotel offers comfortable and relaxing rooms with fantastic views, fitness centre. Owned by the Sultan Himself, when royalty (and B&R!) comes to Oman, this is where they stay.
View hotel website »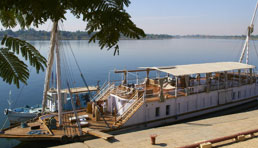 Lazuli II
The 120-foot traditional Luzuli II, with a double lateen sail, was entirely renovated for its 2006 launch. Named for the precious stone lapis lazuli, the ship features six cabins with private baths and balconies, a spacious lounge and a comfortable on-deck viewing area, making it the perfect vessel for observing life along the Nile. View hotel website »
Our Trip Designers are a special breed. Part guru, part collaborator, part mind-reader, they have the full breadth of B&R resources at their fingertips. Extraordinarily well-travelled, they've been there, lived there, done it, planned it and eaten it, too. With a combined geographic knowledge that's nothing short of staggering, they can save you literally years of research. Above all, they're incredibly good at what they do.
Accolades
"Another fantastic B&R trip. All the extras were wonderful – a memorable cave dinner, lunch at a 'friend's' home, all the usual over-the-top, perfect extras of a B&R trip! Thanks soo much!"
— Jo Anne Doll, Jordan Biking 2011
Related Trips
Patagonia Bespoke
Discover Patagonia, a land shaped by glaciers and teeming with adventure. Walk across icebergs, ride with cowboys, kayak in crystal-clear lakes.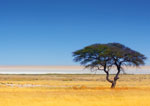 Namibia Bespoke
Get in deep and up close with spectacular Namibia as you track rhinos, meet the Himba people and marvel at the dunes of Sossevlei.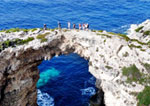 Greece Bespoke
Follow terraced hillsides to whitewashed coastal towns, ancient ruins and hidden beaches of Greece.
CLOSE X
ADVENTURE AWAITS!
Click below to start planning your custom trip.
Start Planning