Italian Lakes Luxury Trips
Experience the Italian Lakes
Nestled cosily between the Alps and the Swiss border, the Italian Lakes are grandeur and elegance incarnate. A lofty claim, we know, but once you've laid eyes on this land of perched villas and verdant hills, you'll forgive us our hyperbole. Truly incredible walks—linked by private boats—lead us through the charming streets of Lugano and chic Bellagio to unforgettable meals at luxurious lakeside resorts. This is what a "week at the lake" feels like—the Old World way. Choose from our suggested Italian Lakes luxury trips or create your own unique adventure!
Dream ~ what՛s your perfect trip?
Design ~ meet your personal trip designer
Decide ~ collaborate on your custom trip
Depart ~ start packing
The best time of year to visit the Italian Lakes is from May to October.
Trip Ideas
Family Vacation
Lake Como is more than just a Golden Age destination. Whether kayaking in the crystal-blue waters, cruising past towering mountains by private boat or checking out the views from high above the lake in a scenic seaplane ride, there is a long list of active fun and adventure for every age imaginable.
Ride along the scenic hillside paths horseback
Explore alpine trails leading to mountain huts with phenomenal views of each arm of the lake far below
Water ski to your heart's content or take in sailing lessons from a skipper at the local club
Inspired? Craft a similar Bespoke guided trip starting from $750-$1,000 per person per night.
Walking Adventure
Set between the Alps and the Swiss border, legendary Lakes Lugano and Como have long attracted the world to their shores. Journey along the waters of each of these lakes and set foot on paths that offer unique views offering you active days and elegant evenings in a memorable setting still living up to its Grand Tour reputation.
Wander cobblestone laneways with a Bellagio-native meeting local artisans along the way
Taste Lombardy and Piemonte wines from the owner of a private villa during a picnic in his garden
Trek the ancient paths between Switzerland and Italy aided by private boat
Inspired? Craft a similar Bespoke guided trip starting from $1,000-$2,000 per person per night.
Villa Stay
Live in grand style befitting Europe's most high-profile lake destination. Cruise the lakefront in your private boat to reach charming lakeside towns. Between visits to classic villas and their artistically designed gardens and boating to each corner of this magical lake be sure to find time to relax in your own private spa.
Follow your lively chef in a cooking demonstration of Lombardy specialties
Hop in your own private boat to reach quaint and quiet villages or lively restaurants
Enjoy a private aperitivo following an exclusive visit to a long time resident and villa neighbour
Inspired? Craft a similar Bespoke guided trip starting from $2,000 per person per night.
Feature Hotels
Grand Hotel Villa Serbelloni, Bellagio Como
Villa Serbelloni, one of the oldest hotels in the Lake Como area, was one of the most famous stops along the 19thC tour of the lakes. Not much has changed today. This 5-star hotel is decorated in a neo-classical style and offers guests the pleasure of a relaxing poolside, spa treatments or a motorboat ride from the private dock to the historic gardens along the lake. View hotel website »
Grand Hotel Villa Castagnola, Lugano
On the shores of Lago di Lugano, the Villa Castagnola is a luxurious Italian-styled villa surrounded by sub-tropical and exotic gardens. With wonderful lake and mountain views, a fabulous restaurant, a wellness area with spa and beauty treatments, a private lido and fascinating collection of contemporary sculptures, this is a treat for the senses at every level. View hotel website »
Villa Giuseppina, Lake Como
Having recently undergone a multi million dollar restoration, this historic villa and its fabulous gardens complete with infinity edge pool, spa, private boat and car, every imaginable amenity is available during your stay. View hotel website »
Our Trip Designers are a special breed. Part guru, part collaborator, part mind-reader, they have the full breadth of B&R resources at their fingertips. Extraordinarily well-travelled, they've been there, lived there, done it, planned it and eaten it, too. With a combined geographic knowledge that's nothing short of staggering, they can save you literally years of research. Above all, they're incredibly good at what they do.
Accolades
"This trip exceeded all of our expectations. We're discriminating travelers so topping our list of favourites is difficult to do…yet B&R has easily done it! We were impressed by everything. Lunches were extraordinary. Dinners were lavish, and the vino was free flowing!"
— John Dowd, Italian Lakes Walking 2011
Notes from the Road
During the last Ice Age, powerful glaciers shifted so as to create a mountainous cove that's been treasured by mankind ever since, the home of Lake Como.
more »
Related Trips
Dolomites Bespoke
Join us to explore the rooftop of Europe in spectacular and scenic northern Italy.
Sicily Bespoke
Take in the artistic, architectural and culinary mementos of charming of Sicily.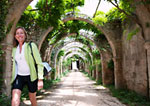 Puglia Bespoke
Experience incredible food, surprising wines and a bottomless supply of memorable moments on this journey through Puglia.
CLOSE X
ADVENTURE AWAITS!
Click below to start planning your custom trip.
Start Planning