IRELAND CUSTOM LUXURY TRAVEL
Adventure on the Emerald Isle
In Ireland, a pub isn't just a place to grab a pint. Here, you can immerse yourself in true Irish culture. Tap your feet to a symphony of live music, philosophize with friendly locals and listen to literature with a pint of Guinness in hand.
Family Vacation
Price per person per night from US$1,000 to $2,000
Walking Adventure
Price per person per night from US$2,000 to $3,000
What is bespoke with B&R?
Your dreams—realized. Your expectations—exceeded. And your mind? Totally and utterly blown.
We craft extraordinary experiences, tailor made to meet your every need, with every stitch of every day crafted just the way you want it.
Tell us your dreams and The World's Best trip designers will craft a journey exclusively for you.
Fill out the form to have one of our expert trip designers get in touch—and start planning your perfect adventure
TRIP IDEAS
Family Vacation
Castles and ruins, green hills and open waters, horseback riding on the beach, tales of faerie folk…what doesn't Ireland have to hold a child's imagination? Perhaps the better question is: will their friends back home believe them when they say they slept in a real medieval castle?
Try out your medieval skills with an archery lesson and a visit to a falconry school.
Learn the best techniques for fly fishing.
See first hand how to sheer sheep and learn how that turns into a wool and then cloth.
Inspired? Craft a similar Bespoke guided trip starting from US$1,000-$2,000 per person per night.
Walking Adventure
Walk through bogs and alongside loughs, dodge sheep, visit quaint villages, feast on fresh seafood and enjoy the understated luxury of one of the country's finest castle-hotels, Ballynahinch Castle. Most importantly, rural wanderings put you in touch with the country's greatest asset—her warm, welcoming people.
Walk along the shore of Ireland's only fjord, following the famine relief road built in the 1850s.
Visit historic Omey Island and the small fishing port of Cleggan.
Hike into the hills of Southern Connemara, the last stronghold of the Irish language.
Inspired? Craft a similar Bespoke guided trip starting from US$2,000-$3,000 per person per night.
FEATURE HOTELS
Lough Inagh Lodge, Connemara
Nestled in a picturesque setting between the Twelve Bens mountains and the Maum Turk Mountain Range, this cozy fishing lodge boasts some very important features – its own pub, comfortable lounges, and killer views. View hotel website »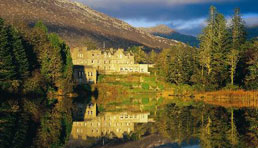 Ballynahinch Castle, Connemara
Surrounded by 350 acres of beautiful wooded grounds, Ballynahinch Castle offers all the attractions of a large private estate. Its rooms are tastefully and individually furnished in casual country elegance, and its superb restaurant offers fresh local produce. View hotel website »
TRIP DESIGNERS
Our talented team of Trip Designers are the best in the world at what they do—and what they do is turn fantasies into reality. (We thought about changing their title to "Dream Weavers," but we didn't want to re-print all those business cards.)
Accolades
"B&R consistently produces great adventures – they know the neighbourhood, have done the research, know the people and have super guides to produce a great trip for you and your family."
— Richard Fade, Ireland Bespoke
Notes from the Road
Known as Naomh Pádraig in Gaelic, St. Patrick is the Patron Saint of Ireland, credited with bringing Christianity to the Emerald Isle.
more »
Related Trips
Ireland Biking
6 Days / 5 Nights
Enthusiast
Galway / Galway
Price from: $4,995 USD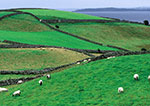 Ireland Biking Private
7 Days / 6 Nights
Recreational
Dublin / Dublin
Price from: $8,495 USD
Ireland Walking Private
6 Days / 5 Nights
Recreational
Shannon / Galway
Price from: $6,495 USD