LUXURY CUSTOM INDIA TRAVEL
Manifold India
The extraordinary richness of India's diversity can best be described as a bewitching explosion of dazzling colours, sounds and stark contrasts. Where the North has great forts, the South has temples; where northern cuisine is emphasized by filling meat dishes and influenced by its desert conditions, southern cuisine is subtle and light, but fiery and influenced by sea.
Hidden Rajasthan
Price per person per night from US$1,250 to $1,500
Family Rajasthan
Price per person per night from US$750
India Grand Journey
Price per person per night from US$1,250 to $1,500
What is bespoke with B&R?
Your dreams—realized. Your expectations—exceeded. And your mind? Totally and utterly blown.
We craft extraordinary experiences, tailor made to meet your every need, with every stitch of every day crafted just the way you want it.
Tell us your dreams and The World's Best trip designers will craft a journey exclusively for you.
Fill out the form to have one of our expert trip designers get in touch—and start planning your perfect adventure
TRIP IDEAS
Hidden Rajasthan
Beyond the vibrancy of India's cities, the buried treasures of Rajasthan await your discovery. From the lakeside palaces of Udaipur to the pink sands and luxurious tented camps of romantic Jaisalmer, travel through history and catch an ephemeral glimpse of India's most noble and heroic of times.
Visit majestic working forts with local experts and dine on cuisine fit for royalty under the stars.
Ride through colourful markets to a luxury desert camp and watch the sun set behind the golden dunes of the Thar.
Wander through opulent marble palaces, explore the quiet back roads of rural towns and drink tea with families in local villages.
Inspired? Craft a similar Bespoke guided trip starting from US$1,250-$1,500 per person per night.
Family Rajasthan
Explore the rural lands of Rajasthan where the cities give way to the smells of exotic spice. Wander down alleyways of towns more ancient than history remembers and take in the extreme grandness of the palaces and forts we visit and stay in. Experience the land of kings and camels, curry and karma, tigers and elephants and gracious people.
Explore massive forts, ride camels, meet sacred monkeys and watch elephant polo on the lawns of palaces.
Marvel at snake charmers' magic shows and learn to make handicrafts and jewelry.
Gaze at world-famous monuments at sunrise and sleep in treehouses by night. Spot Bengal tigers, play cricket with locals and climb golden sand dunes.
Inspired? Craft a similar Bespoke guided trip starting from US$750 per person per nigh
India Grand Journey
Experience the backwaters of Alleppy and watch classical Indian dance in Kerala's intellectual centre, Cochin, while dining on freshly caught fish. Learn the history of ancient Hindu temples and cycle through the hills of Tamil Nadu's hilltop stations. Witness perpetual life and death in one of the oldest living inhabited cities in the world. Let India change you.
Cruise the waterways of Alleppy on your private luxury houseboat and experience the slow pace of life in the untouched backwaters.
Experience yoga and meditation on sun-drenched white beaches and learn classical dance-drama, telling stories of ancient myths.
Explore prehistoric caves, marvel at rock paintings, track Bengal tigers and visit bustling markets and their treasure troves.
Inspired? Craft a similar Bespoke guided trip starting from US$1,250-$1,500 per person per night.
FEATURE HOTELS
The Serai, Jaisalmer
The Serai, a luxurious desert camp and spa close to the medieval city of Jaisalmer is set on a hundred acre private estate amongst the golden sands dunes in the heart of the Thar Desert. Blending modern amenities and service with traditional Rajput style and design, there couldn't be a better place to experience and discover the mystical Golden City of Rajastan's best kept secret. View hotel website »
Samode Haveli, Jaipur
Located 25 miles north of Jaipur, the 300 year-old restored Mahraja's mansion Samode Haveli is a surreal maze of flower-covered courtyards, hidden alcoves and secret staircases. It is a great hotel for kids with pools, playgrounds, puppet shows and dance performances. Decorated with hand-painted murals and luxuriously furnished in rich tapestries it is a perfect hotel to blend city and country while still being close to Jaipur. View hotel website »
Nadesar Palace, Varanasi
Situated on the banks of the holy river Ganges and located in one of the oldest living cities in the world, Nadesar Palace with its works of art from the Maharaja's collection adorning the walls of its ten luxurious suites and cool elegant marbled luxury this refurbished palace is an tranquil oasis in the midst of a city that never sleeps. View hotel website »
TRIP DESIGNERS
Our talented team of Trip Designers are the best in the world at what they do—and what they do is turn fantasies into reality. (We thought about changing their title to "Dream Weavers," but we didn't want to re-print all those business cards.)
Accolades
"The best moments were the unscripted ones—buying masala tea from a roadside stand, bargaining with local villagers for costume jewelry, talking to local school children."
— Lisetta Lavy, India Biking
Notes from the Road
Let's start with the obvious caveat: Hinduism is so vast that it's virtually impossible to explain in a few paragraphs.
more »
Related Trips
Chennai to Mumbai Multi-Active Private
12 Days / 11 Nights
Recreational
Chennai / Mumbai
Price from: $9,495 USD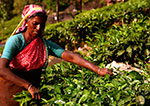 Rajasthan Walking Private
6 Days / 5 Nights
Recreational
Delhi / Udaipur
Price from: $5,995 USD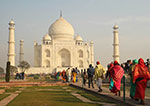 India Spiritual Walking Private
9 Days / 8 Nights
Occasional
Delhi / Delhi
Price from: $11,495 USD