Luxury Iceland Travel
Experience Iceland
Welcome to a land of untamed natural beauty and wild abandon. It is an adventure for the taking and we dive in with activities for all ages. Whether traversing the exquisite landscape on foot, in a Super Jeep—the ultimate off-road vehicle for straying gloriously off the beaten path—or in the comfort of a private coach, you'll be in awe. The sense that you are in the company of the elves, trolls and the sword-wielding heroes of Viking fantasy and legend is impossible to shake. Iceland is as entrancing as it is welcoming, and truly offers the trip of a lifetime.
Dream ~ what՛s your perfect trip?
Design ~ meet your personal trip designer
Decide ~ collaborate on your custom trip
Depart ~ start packing
The best time of year to visit Iceland is from May to September, or November to February for the Northern Lights.
Trip Ideas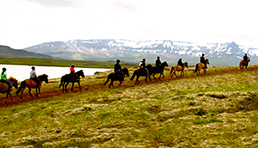 Iceland Family Multi-Active
A family trip to Iceland is like stepping into a scene from "The Lord of the Rings"—a fantasy playground where ancient sagas of sword-wielding Viking legends come to life, where trolls are still believed to roam the lava fields, and the lofty summit of Snaefellsnes offers routes to the centre of the earth. Travelling in the comfort of our own private vehicles, we set off for hikes over lava fields, glacier treks, caving, horseback-riding and river rafting.
Hike through lava fields and explore inside a lava tube to see what it's like below ground
Ride an Icelandic pony on black sand beaches and river-raft down the scenic Hvita River
Take a ferry to the Westman Islands and explore the city buried by an erupting volcano
Inspired? Craft a similar Bespoke guided trip starting from $750-$1,250 per person per night.
Iceland Winter Adventure
Our five-day winter adventure includes two nights in Reykjavik and two nights in the countryside where conditions for viewing the Aurora are optimal. The best time to see the northern lights in Iceland is from September through March. They can be seen anywhere in Iceland and are most like to appear on cold, calm and clear evenings. Travelling in the comfort of our own 4X4 with an expert Icelandic guide, we set off for a real winter wonderland adventure!
Take a snowmobile tour on a glacier and hike across its surface
In the evenings, enjoy fantastic meals, view breathtaking sunsets and spot the Northern Lights
Take in the views of the magical snow-covered surroundings from your own hot pool
Inspired? Craft a similar Bespoke guided trip starting from $750-$1,250 per person per night.
Iceland: In Deep & Up Close
This truly unique journey takes you through some of the most beautiful and remote parts of Iceland, as you travel north to explore the Snaefellsnes Peninsula, sail to the charming island of Flatey, travel to the remote Westfjords and finish by exploring the south of the country. Along the way, sail across the bay of Breiðafjörður, where thousands of islets and skerries shelter seals, whales, dolphins, and dozens of species of birds.
Spend a night on the charming island of Flatey with a population of only 120 in summer
Hike to Latrabjarg, Europe's largest bird cliff to see thousands of species
Enjoy a full day's hike in the highlands of Landmannalaugar's rhyolite mountains
Inspired? Craft a similar Bespoke guided trip starting from $750-$1,250 per person per night.
Feature Hotels
Hotel Ranga, Hella
With a noticeable lack of timber in the country, Rangá was entirely constructed from imported Canadian lumber, from the walls to the furniture to the remarkable bar stools (watch out for them). With just 38 rooms, it is intimate and comfortable. The location sits at the mouth of the highlands with spectacular access to Hekla, one of the country's most impressive volcanoes. View hotel website »
Hotel 101, Reykjavik
101 Hotel is a boutique hotel, situated in the heart of Reykjavik. It offers an onsite spa and art gallery as well as rooms designed with clean lines and simple palates. Its restaurant and bar, incorporating with high walls and a glass ceiling, offers a casual setting where modern Icelandic meets international cuisine. View hotel website »
Hotel Flatey, Flatey
Hotel Flatey is situated in the center of the old village in the very heart of Breiðafjörður. The houses are timber structures dating from the island's former times of prosperity, and most have been restored in their original style. The hotel's dining room and guest rooms are in converted warehouses and guests can savoir the unique ambiance of the island in cozy accommodation, enjoying choice food with a view over the village and coastline. View hotel website »
Our Trip Designers are a special breed. Part guru, part collaborator, part mind-reader, they have the full breadth of B&R resources at their fingertips. Extraordinarily well-travelled, they've been there, lived there, done it, planned it and eaten it, too. With a combined geographic knowledge that's nothing short of staggering, they can save you literally years of research. Above all, they're incredibly good at what they do.
Accolades
"I can't pick the best moment, because every day blew me out of the water. It was a life changing trip and the memories of the sites, culture, and experience will forever be my go-to spot when having a bad day. Thank you B&R for the best time of my life."
— Lauren Van Horn, Iceland Walking 2013
Notes from the Road
With a heritage that dates back more than 1,000 years, the Vestmannaeyjar (or the "Westman Islands") are as rich in natural beauty as they are in history and lore.
more »
Related Trips
Iceland Family Private
7 Days / 6 Nights
Recreational
Reykjavik / Reykjavik
Price from: $7,495 USD
Iceland Winter Walking Private
5 Days / 4 Nights
Recreational
Reykjavik / Reykjavik
Price from: $5,995 USD
Ireland Bespoke
Castles and ruins, endless green hills and open waters beckon on a customized journey through Ireland.
Croatia Bespoke
Discover the playground of Roman Emperors, the tiny towns, picturesque islands and dramatic coastline of Croatia.
CLOSE X
ADVENTURE AWAITS!
Click below to start planning your custom trip.
Start Planning