Greece Luxury Travel
Home to mythical heritage and unparalleled beauty
Greece is obviously (and statistically) one of Europe's top destinations—for good reason. If the food doesn't grab you (Greece is the home of souvlaki, tzatziki and feta cheese!), the picturesque stone-built villages, clean beaches and rich history most certainly will.  Whether you're keen to relax or explore, Greece offers a profusion of options for either endeavour, with hundreds of historic sites to uncover the archaeological and mythical heritage, as well as over 14,000 islands and islets surrounded by vivid waters as blue as its flag. See it for yourself with our Greece luxury travel experience.
Dream ~ what՛s your perfect trip?
Design ~ meet your personal trip designer
Decide ~ collaborate on your custom trip
Depart ~ start packing
The best time of year to visit Greece is from May to October.
Trip Ideas
Family Vacation by Sea
As you awake on your first morning in this historically and culturally significant country, you will quickly realize that you are in paradise. For the next eight days your life will be filled with adventure, history and quality family time on board the Aegean Schatz, cruising from island to island with the greatest of ease.
Discover the uninhabited and unique island of Delos, known to locals as Apollo's Sanctuary.
Explore the Acropolis, where your family can get in touch with ancient Greek history.
Visit with a local who will teach you the methods of ancient Greek pottery.
Inspired? Craft a similar Bespoke guided trip starting from $1,000-$2,000 per person per night.
Journey from Athens to Istanbul
Visit some of the most naturally beautiful regions of the world. By day, you'll walk terraced hillside paths through coastal towns to ancient ruins and hidden beaches beyond the reach of big ships. By night, you'll dine on freshly grilled fish while swapping stories with the local fishermen.
Discover the medieval architecture of the 15th century Church of Paraportiani.
Explore the Kameni islands and walk along the caldera's edge to discover stunning Oia.
Take a guided tour of Istanbul's Topkapi Palace and the Golden Horn's spice market.
Inspired? Craft a similar Bespoke guided trip starting from $2,000-$3,000 per person per night.
Feature Hotels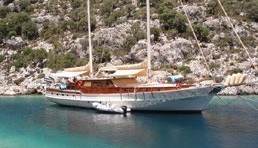 Aegean Schatz Yacht
A beautiful vessel, this classic motor sailing yacht has all the amenities to ensure a comfortable time on board. The intimate Aegean Schatz is the best way to travel through the Greek Islands. Luxury and hospitality are priorities on board, meaning that your every need is met, leaving you to simply enjoy the ride. View ship website »
Aristi Mountain Resort, Aristi
A hidden gem in the mountains of the Zagori region, Aristi Mountain Resort comprises a group of pretty stone buildings that reflect the traditional villages set along the Vikos Gorge. With awe-inspiring mountain views from the rooms, an indoor pool, restaurant and spa, this is a wonderfully understated and charming place from which to discover this intriguing part of north-west Greece. View hotel website »
The Excelsior, Thessaloniki
The Excelsior is a rare gem directly and perfectly situated in the heart of Thessaloniki. State of the art technology and a designer interior come as a pleasant surprise within this historical building dating back to app. 1925. The Excelsior combines all modern facilities of a five-star hotel, combined with the unique and warm atmosphere of an elegant home. View hotel website »
Our Trip Designers are a special breed. Part guru, part collaborator, part mind-reader, they have the full breadth of B&R resources at their fingertips. Extraordinarily well-travelled, they've been there, lived there, done it, planned it and eaten it, too. With a combined geographic knowledge that's nothing short of staggering, they can save you literally years of research. Above all, they're incredibly good at what they do.
Accolades
"We'll never forget the magic show the guides did for the kids and the amazing experience of the boat. A trip-of-a-lifetime!"
— Mike & Marg McNair, Bespoke Greek Islands by Sea
Notes from the Road
"Cash does nothing to motivate me but a trip to Greece or Tuscany had been on our wish list for years."
more »
Related Trips
Dolomites Bespoke
Join us to explore the rooftop of Europe in spectacular and scenic northern Italy.
Croatia Bespoke
Discover the playground of Roman Emperors, the tiny towns, picturesque islands and dramatic coastline of Croatia.
Sicily Bespoke
Take in the artistic, architectural and culinary mementos of charming of Sicily.
CLOSE X
ADVENTURE AWAITS!
Click below to start planning your custom trip.
Start Planning