Perfectly preserved
Croatia is one of the best ecologically preserved parts of Europe. As such, we suggest you visit the land's multiple museums, galleries, churches and more of its truly rare European landscape—which contains as many as eight national parks in close-quarters. Indulge in local cuisine (freshly caught fish, pasta, olives and the juiciest tomatoes) and further discover the land that was once a playground to Roman Emperors. Croatia looks and feels like a fairy tale. Only here, no damsel needs rescuing.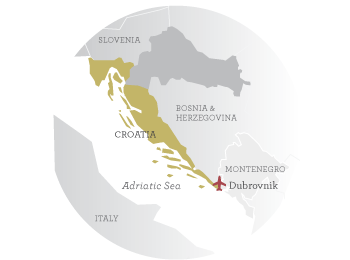 Dream ~ what՛s your perfect trip?
Design ~ meet your personal trip designer
Decide ~ collaborate on your custom trip
Depart ~ start packing
The best time of year to visit Croatia is from June to October.
Trip Ideas
Family Vacation
Discover the playground of Roman Emperors, the picturesque islands and dramatic coastline of this region as we experience the Dalmatian Coast the way it was created—by sea. With your family, visit the fortresses and coves where people have lived for centuries, and swim or snorkel in the crystal clear Adriatic.
Explore the dramatic shoreline and blue grottos of the small island of Bisevo.
Bike across the island to Grscica, past vineyards, orchards and small villages.
Wander through the old harbour and side streets of relaxing and romantic Dubrovnik.
Inspired? Craft a similar Bespoke guided trip starting from $1,000-$2,000 per person per night.
Walking Adventure
This stunning region is an unexplored gem full of hidden archipelagos, quaint towns and clear, blue azure seas and we'll have the chance to step into the local scene and explore it all by foot. The experience will make you acutely aware that there are still a few places in the world where going slowly is the only way to go.
Marvel at the waterfalls and nature of Plitvice National Park, a UNESCO World Heritage site.
Take a ferry to explore hidden towns and villages and savour a very special home-cooked meal.
Discover Kornati National Park by boat, home to over 140 uninhabited islands and reefs.
Inspired? Craft a similar Bespoke guided trip starting from $2,000-$3,000 per person per night.
Feature Hotels
Andjeo, Split
Our unique accommodations for the week are aboard the luxurious four-cabin gulet, the Andjeo. Flying under the Croatian flag, this all-wooden vessel is nimble enough to venture into those coves and ports that other larger cruise ships are unable to access. Guests can take in the magnificent scenery while enjoying the full comfort and the attentive service of the four-person crew.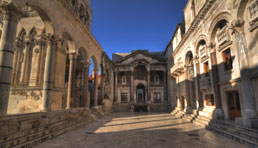 Vestibul Palace, Split
Well situated, this hotel was created from three separate palaces spanning three different eras. However, in present-day Croatian style, the property has an ultra-modern feel and boasts all the amenities you would expect. View hotel website »
Our Trip Designers are a special breed. Part guru, part collaborator, part mind-reader, they have the full breadth of B&R resources at their fingertips. Extraordinarily well-travelled, they've been there, lived there, done it, planned it and eaten it, too. With a combined geographic knowledge that's nothing short of staggering, they can save you literally years of research. Above all, they're incredibly good at what they do.
Accolades
"Swimming in the coves, biking the hills, exploring caves, the unique dining experiences – it was all excellent, and we truly loved it all. My family is going through withdrawl right now!"
— Kim Cook, Bespoke Dalmatian Coast
with the Kids 2011
Notes from the Road
Italy and Croatia with the KidsWe had travelled to Italy and Croatia with the kids before, but my husband, who is Croatian Canadian, never gets tired of either country—so we went again! Despite my protestations that Rome and Venice would be packed with tourists, my sons insisted o …
Rave Reviews: CroatiaWhether you've been working at something for five minutes or five decades, it's always nice to hear an encouraging word (or two). And thanks to our amazing travellers, we frequently find ourselves feeling very encouraged indeed. Check out what some o …
Know Before You Go: Dalmatian Coast Travel Tips "But, what's it really like?" As invigorating, exciting and intoxicating as it is to explore an unknown land, it can be inconvenient and even a little intimidating to go in completely blind. That's where we come in. In this ongoing series, we pose s …
related trips
Burgundy Bespoke
Explore the countryside, unique gastronomy and tranquil waterways of Burgundy.