Croatia Adventure Travel
Perfectly preserved
Croatia is one of the best ecologically preserved parts of Europe. As such, we suggest you visit the land's multiple museums, galleries, churches and more of its truly rare European landscape—which contains as many as eight national parks in close-quarters. With our Croatia adventure travel experience, indulge in local cuisine (freshly caught fish, pasta, olives and the juiciest tomatoes) and further discover the land that was once a playground to Roman Emperors. Croatia looks and feels like a fairy tale. Only here, no damsel needs rescuing.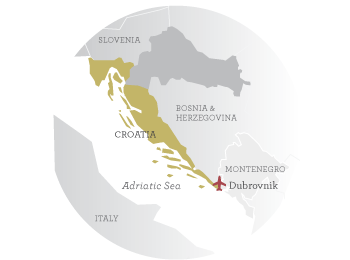 Dream ~ what՛s your perfect trip?
Design ~ meet your personal trip designer
Decide ~ collaborate on your custom trip
Depart ~ start packing
The best time of year to visit Croatia is from June to October.
Trip Ideas
Family Vacation
Discover the playground of Roman Emperors, the picturesque islands and dramatic coastline of this region as we experience the Dalmatian Coast the way it was created—by sea. With your family, visit the fortresses and coves where people have lived for centuries, and swim or snorkel in the crystal clear Adriatic.
Explore the dramatic shoreline and blue grottos of the small island of Bisevo.
Bike across the island to Grscica, past vineyards, orchards and small villages.
Wander through the old harbour and side streets of relaxing and romantic Dubrovnik.
Inspired? Craft a similar Bespoke guided trip starting from $1,000-$2,000 per person per night.
Walking Adventure
This stunning region is an unexplored gem full of hidden archipelagos, quaint towns and clear, blue azure seas and we'll have the chance to step into the local scene and explore it all by foot. The experience will make you acutely aware that there are still a few places in the world where going slowly is the only way to go.
Marvel at the waterfalls and nature of Plitvice National Park, a UNESCO World Heritage site.
Take a ferry to explore hidden towns and villages and savour a very special home-cooked meal.
Discover Kornati National Park by boat, home to over 140 uninhabited islands and reefs.
Inspired? Craft a similar Bespoke guided trip starting from $2,000-$3,000 per person per night.
Corporate Retreat
On the sparkling east shore of the Adriatic Sea lie the emerald islands of the Dalmatian Archipelago. From the tiniest villages hidden in secluded coves, to the Adriatic jewels of Hvar, Korcula and Split, on this journey we'll introduce you to the secret life of Dalmatia.
Private tour of the magical city of Dubrovnik exploring its ancient ramparts, the Stradun and Rector's Palace.
Join local friends fishing in the village of Vrboska, nicknamed "Little Venice" for its small bridges.
Enjoy a private boat tour tasting of local shellfish paired with the region's famous white wine.
Inspired? Craft a similar Bespoke guided trip starting from $1,500 per person per night. 
Feature Hotels
Andjeo, Split
Your unique accommodations are aboard a luxurious four-cabin gulet, the Andjeo. Sailing under the Croatian flag, this all-wooden vessel is nimble enough to venture into those coves and ports that larger ships are unable to access. The attentive service of its four-person crew allows one to relax and enjoy the journey. Simply put, there's no better way to travel.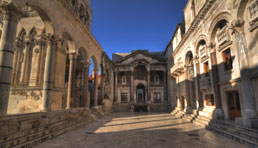 Vestibul Palace, Split
Created from three separate palaces spanning three different eras, this luxury boutique hotel in the heart of the 1700 year old Diocletian's palace has seven unique rooms and provides guests the experience of sleeping in an emperor's chambers. Located in the heart of Split, this hotel is steps from Saint Duje Bell Tower, Diocletian's Palace and Split Cathedral. View hotel website »
Villa Dubrovnik, Dubrovnik
At the water's edge, and overlooking the old city, the Villa Dubrovnik is Croatia's most exclusive and most awarded boutique hotel featuring an unprecedented level of luxury and style. Its position on the cliffs above prestigious St. Jacob precinct makes it minutes from the Old City cultural landmarks and Dubrovnik attractions. View hotel website »
Our Trip Designers are a special breed. Part guru, part collaborator, part mind-reader, they have the full breadth of B&R resources at their fingertips. Extraordinarily well-travelled, they've been there, lived there, done it, planned it and eaten it, too. With a combined geographic knowledge that's nothing short of staggering, they can save you literally years of research. Above all, they're incredibly good at what they do.
Accolades
"Swimming in the coves, biking the hills, exploring caves, the unique dining experiences – it was all excellent, and we truly loved it all. My family is going through withdrawal right now!"
— Kim Cook Bespoke Dalmatian Coast
Notes from the Road
For the second of my three-part Insider's Guide, I've collected my 3 favourite Dubrovnik restaurants that nicely round out the city's cultural offerings.
more »
Related Trips
Sicily Bespoke
Take in the artistic, architectural and culinary mementos of charming of Sicily.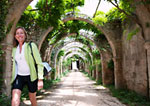 Puglia Bespoke
Experience incredible food, surprising wines and a bottomless supply of memorable moments on this journey through Puglia.
Burgundy Bespoke
Explore the countryside, unique gastronomy and tranquil waterways of Burgundy.
CLOSE X
ADVENTURE AWAITS!
Click below to start planning your custom trip.
Start Planning