Spain Bike Trips
Totally Surreal
From your bike, you can see the peaks of the Pyrenees looming on the horizon. Volcanic flats stretch out ahead, leading to unbelievable pastoral fields. Along the way stand villages shaped by the hands of Roman architects, medieval craftsmen and surrealist artists. Experience the allure of Barcelona, the mystery of Dali and peaceful countryside of this unique Spanish region on a customized Catalonian journey, one of our Spain bike trips.
Dream ~ what՛s your perfect trip?
Design ~ meet your personal trip designer
Decide ~ collaborate on your custom trip
Depart ~ start packing
The best time of year to visit Catalonia is from March to May and September to October.
Trip Ideas
Catalonia Biking
From the spectacular Pyrenees's to the rugged Costa Brave this biking adventure has it all on two wheels accompanied by cutting edge fusion cuisine and tempting wines.
Bike the heart of the Garrotxa Natural Park that extends from the foothills of the Pyrénées.
Pedal the coast into Sant Feliu de Guixolls and board our private boat for a cruise up the panoramic coast.
Enter the largest surrealist "object" in the world, the Teatro-Museo de Salvador Dali.
Inspired? Craft a similar Bespoke guided trip starting from $1,000-$2,000 per person per night.
Family Biking
Where else can your kids experience the mystery of Dali, the rugged coastline by kayak and vibrant city such as Barcelona?
Pedal in and out of medieval villages and hear ancient stores of pirates and treasures.
Kids create their own pottery masterpiece followed by a canoe trip down the Rio Ter.
After a visit to The Museo de Dali, kids attempt their own version of a Dali impression while parent bike the nearby rolling countryside.
Inspired? Craft a similar Bespoke guided trip starting from $1,000-$2,000 per person per night.
Feature Hotels
Mas Falgarona, Avinyonet de Puigvent
This quiet and serene hotel is located just outside of charming Figueres. Built in the 15thC, it is now a stylish, contemporary hotel with all modern amenities, yet it still retains its country charm thanks to the surrounding farmland. Mas Falgarona has been a labour of love for centuries with walls dating from the 15th, 17th and 21st century, the latter which transformed it to the hotel it is today. It is owned currently by a local family from Dali's home town of Figueres. View hotel website »
La Malcontenta, Palamos
Translated to 'The Unsatisfied One,' this beautiful property was named after the mother of the owner whose perfectionism was a relentless force during the creation of the hotel. Its spacious environment extends outdoors to a great garden and pool, complementing a classic Mediterranean décor. The sea is a mere 15 minute walk away ending up at one of the most tranquil beaches along the Costa Brava. View hotel website »
Our Trip Designers are a special breed. Part guru, part collaborator, part mind-reader, they have the full breadth of B&R resources at their fingertips. Extraordinarily well-travelled, they've been there, lived there, done it, planned it and eaten it, too. With a combined geographic knowledge that's nothing short of staggering, they can save you literally years of research. Above all, they're incredibly good at what they do.
Accolades
"I'll never forget the beautiful countryside and charming little towns. Biking and hiking opened a whole new world of freedom and excitement. The total experience and pure luxury of the trip is wonderful!"
— Sandy Atwood, Bespoke Catalonia Bike and Walk 2011
Notes from the Road
A new two-part trip from Butterfield & Robinson is heavily customizable—possible add-ons include Mediterranean yacht excursions and private museum tours.
more »
Related Trips
Andalucia Bespoke
Find the essence of Spain at every turn on your adventure through the olive groves and ancient mountains of Andalucia.
Sicily Bespoke
Take in the artistic, architectural and culinary mementos of charming of Sicily.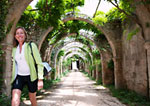 Puglia Bespoke
Experience incredible food, surprising wines and a bottomless supply of memorable moments on this journey through Puglia.
CLOSE X
ADVENTURE AWAITS!
Click below to start planning your custom trip.
Start Planning