Burgundy Luxury Travel
Sit back and sip some world-class wines
The region of Burgundy promises to recharge your batteries with some much-needed R&R. Be it a peaceful walk along Europe's last wild river, a spiritual retreat, a stroll along natural sights, or a tour of châteaux and other historic buildings. Oh, did we forget to mention that Burgundy is one of France's main wine producing areas? There's that too. Renowned for both its red and white wines (mostly made from Pinot Noir and Chardonnay grapes) you can sip some of Europe's most renowned wines while taking in true natural beauty.
Dream ~ what՛s your perfect trip?
Design ~ meet your personal trip designer
Decide ~ collaborate on your custom trip
Depart ~ start packing
The best time of year to visit Burgundy is from May to October.
Trip Ideas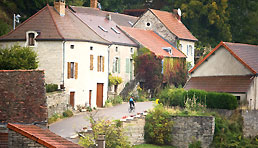 Burgundian Getaway
Beaune has been B&R's most beloved European homebase for the past two decades. On this trip, we share our favourite wines, local experts and culinary delights, and provide a B&R guide at your disposal, but this experience is one we've set-up to allow you to discover things at your own pace.
Partake in an authentic culinary experience; shop in the local market and head to a private cooking class.
Bike or walk through vineyards and beautiful countryside taking in the cote's vistas.
Indulge in a unique (and educational) wine tasting featuring the various tastes of Burgundian winemakers.
Inspired? Craft a similar Bespoke guided trip starting from $500-$1,000 per person per night.
Biking the Vineyards
Thousands of miles of peaceful, paved roads await your exploration off the beaten track when traversing this stunningly varied landscape. We'll lead you to the top of the gorgeous Hautes Côtes, uncork the splendid vintages from French wine's ancestral home and bed down in the region's most exclusive hotels.
Dine at La Côte d'Or – Bernard Loiseau, one of the most famous eateries in Burgundy.
Bike along some of the most well-known vineyards of the region: Le Montrachet, Chambertin, La Tâche and Musigny.
Taste world-renowned wines and let us surprise you with some unique tastings unlike any other.
Inspired? Craft a similar Bespoke guided trip starting from $1,000-$2,000 per person per night.
Burgundy Walking
Walk through time in a region which as been fuelled by wine just as much as by a millennia-old pilgrimage site—one of the starting points for the Santiago de Compostella. Tread through vineyards and hike in Morvan National Park, taking in history, the vines, local winemakers and delicious cuisine from rustic to refined.
Take a guided tour of the magnificent Basilique Sainte-Marie-Madeleine with a local Benedictine Monk.
Walk through some of the most fabled Grand Cru vineyards of the region.
Enjoy a private culinary lesson after shopping with the chef on market day.
Inspired? Craft a similar Bespoke guided trip starting from $1,000-$2,000 per person per night.
Feature Hotels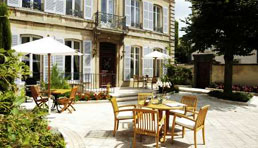 L'Hôtel de Beaune
This 19thC hotel is ideally located within steps of the shops and restaurants in the historic centre of Beaune. The courtyard is a great spot to unwind over a glass of wine, and the terrace leads to an incredible view over the city's medieval rooftops. L'Hôtel is very intimate offering only 10 rooms. We'll take over the whole place and you'll feel like you are right at home. View hotel website »
Bastion Ste. Anne, Beaune
Upon turning the key to the Bastion's outer wall (yes, it has its own stone wall) one feels as though they have entered into a magical fairy-tale setting. Dating back to 1637, the Bastion is an official historic monument that has been transformed into an idyllic retreat. Throughout the house ancient stone walls are juxtaposed with clean contemporary design. Its walled courtyard houses a gorgeous garden that is private just to you! View hotel website »
Abbaye de la Bussière, La Bussière-sur-Ouche
This boutique hotel is a medieval castle that was once a Cistercian monastery and later a hunting lodge. Now the hotel offers luxurious accommodations within an 18-acre park. It was entirely refurbished prior to its opening, and joined Relais & Châteaux in 2007—in 2009, Emmanuel Hébrard, the young talented chef of the property's restaurant, earned his first Michelin star. View hotel website »
Our Trip Designers are a special breed. Part guru, part collaborator, part mind-reader, they have the full breadth of B&R resources at their fingertips. Extraordinarily well-travelled, they've been there, lived there, done it, planned it and eaten it, too. With a combined geographic knowledge that's nothing short of staggering, they can save you literally years of research. Above all, they're incredibly good at what they do.
Accolades
"Our trip was the most memorable of the many vacations we have taken. The guides were fantastic, the routes awe-inspiring, and the accommodations and food were phenomenal! We hope to travel with B&R in the near future!"
— Scott Thompson, Burgundy Biking 2011
Notes from the Road
"In Europe, luxury travel experiences keep taking off in new directions, as can be expected on a continent tailor-made for today's brave new world of bespoke travel."
more »
Related Trips
Southwest France Bespoke
Take in the pastoral landscapes, volcanic formations and hidden villages of charming of South West France.
Normandy Bespoke
Take in the lush fields, white sand beaches, quaint thatched cottages and ancient churches of Normandy.
Provence Bespoke
Experience the beauty, history, culture and cuisine of Provence on your own unique getaway.
CLOSE X
ADVENTURE AWAITS!
Click below to start planning your custom trip.
Start Planning