British Columbia Adventure Travel
An ideal destination for any traveller
British Columbia offers the perfect getaway for any adventure-seeker or nature-lover. Comb the province's bounty of beaches or hike its many trails for picturesque views. Not an outdoorsy type?  No problem, BC also offers world-class exhibitions, uptown shopping and blog-worthy dining within its more sophisticated cities. Oh, and we can't forget about the wine—offering a variety of tasting tours and cellars. Pop the cork and start your adventure!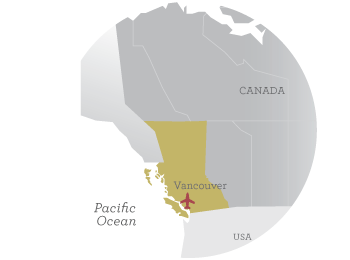 Dream ~ what՛s your perfect trip?
Design ~ meet your personal trip designer
Decide ~ collaborate on your custom trip
Depart ~ start packing
The best time of year to visit British Columbia is from June to October.
Trip Ideas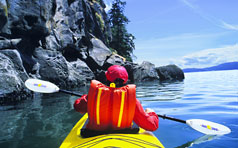 Family Vacation by Sea
Each of British Columbia's islands is a gem, perfect in its own pristine character, and on this journey, we explore the best of them by foot, kayak, boat – and any other mode of transport you desire. Smell the ocean air and taste the local produce as you are reminded of nature's perfection.
Get up close and personal with magnificent marine life in the immense tidal lagoon at Cortes Island.
Kayak and swim in pristine bays and inlets throughout Desolation Sound.
Sample some the freshest salmon and oysters that you've ever had – caught by you and your fellow travellers.
Inspired? Craft a similar Bespoke guided trip starting from $2,000-$3,000 per person per night.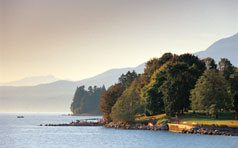 Biking the Gulf Islands
In the sunny gap between Vancouver Island and mainland British Columbia lie the magnificent Gulf Islands. Here, country roads connect peaceful farmland, quaint port towns and funky artisans' shops. Each island has a unique identity, and we visit the best of them during our stay here.
Take a bird's-eye view flight of Vancouver, the Strait of Georgia and the 200+ islands that form this magical chain.
Explore Lighthouse Point for views of magnificent Active Pass, and stunning Galiano Island.
Take an unforgettable whale-watching expedition in search of orcas, humpbacks, sea lions and many species of local seabirds.
Inspired? Craft a similar Bespoke guided trip starting from $1,000-$2,000 per person per night.
Feature Hotels
Pacific Yellowfin
This seagoing beauty comes equipped with all the comforts of home, from its well-appointed stylish staterooms to the lovely dining and relaxation areas – and all the amazing views of the ocean as you could wish for. An abundance of water and land toys turn the natural coastal habitat into a marine playground: mountain bikes, scooters, sea-doos, kayaks, wakeboards, water tubes. If you can have fun with it, the Yellowfin almost certainly has it. But the key to your unforgettable journey is the warm, impeccable hospitality of the knowledgeable crew. View ship website »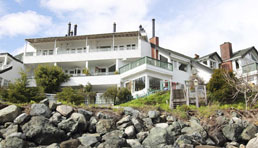 Sooke Harbour House, Sooke
With 28 rooms and having won a number of awards over the years and been honoured as one of the 20 Best Inns in the World, the waterfront gardens are a great place to relax and enjoy a West Coast sunset. In the kitchen, Chef Edward Tuson works culinary magic with local, seasonal ingredients. View hotel website »
Our Trip Designers are a special breed. Part guru, part collaborator, part mind-reader, they have the full breadth of B&R resources at their fingertips. Extraordinarily well-travelled, they've been there, lived there, done it, planned it and eaten it, too. With a combined geographic knowledge that's nothing short of staggering, they can save you literally years of research. Above all, they're incredibly good at what they do.
Accolades
"We had an unbelievable week on our honeymoon trip! We can't stop talking about the biking, eating, beer, kayaking, fishing & wine. We'll definitely be exploring more Butterfield & Robinson trips in the future as well. We consider this trip just the beginning of a series of fabulous future vacations!"
— Alison & Chase Curtin, Bespoke BC Biking 2012
Notes from the Road
"One of Mother Nature's most spectacular displays is upon us. With the arrival of autumn the forests and woodlands of the Northern Hemisphere are gradually transforming into a striking natural show of russet, vermillion, gold, bronze and yellow. New England is justifiably popular for its arresting autumnal displays but there are off-the-beaten-track alternatives."
more »
Related Trips
Patagonia Bespoke
Discover Patagonia, a land shaped by glaciers and teeming with adventure. Walk across icebergs, ride with cowboys, kayak in crystal-clear lakes.
California Bespoke
Take in the endless vineyards, crashing surf and Pacific sunsets of America's west coast.
Quebec Bespoke
Discover Canada's most European of provinces as you explore the land rich in history and culture.
CLOSE X
ADVENTURE AWAITS!
Click below to start planning your custom trip.
Start Planning