Southern Scents
In Andalucia, find the essence of Spain at every turn: walking through the endless olive groves; stopping at ancient mountain shrines; biking among Roman ruins, Baroque churches and the legacy of 700 years of Moorish domination; learning the castenetas; touring the oldest stone bullring with a toreador; and enjoying paella, gazpacho and every known tapa while basking in the sunshine, Flamenco and lazy afternoons scented with orange blossoms.
Dream ~ what՛s your perfect trip?
Design ~ meet your personal trip designer
Decide ~ collaborate on your custom trip
Depart ~ start packing
The best time of year to visit Andalucia is March to May and September to October.
Trip Ideas
Corporate Getaway
Find the essence of Andalucia at every turn on this Spanish getaway: biking past olive groves, stopping at mountain shrines, learning the casteñetas, touring the oldest stone bullring with a toreador and enjoying tapas with vintage sherry to the plaintive strains of true flamenco.
Bike the scenic 'Via Verde de la Sierra,' spotting local vultures and cross viaducts.
Cycle along bike paths with the majestic Sierra de Cadiz Mountains as your backdrop.
Horseback ride through olive groves, sunflowers and orange trees at a well-known ranch.
Inspired? Craft a similar Bespoke guided trip starting from $1,000-$2,000 per person per night.
Andalucia Biking
Andalucia is truly the soul of Spain. Everything about it—its architecture, food, language and music—is unforgettable, born out of a collision of folk and Catholic, Moorish and Gypsy worlds swirled together for centuries to create something entirely unique and deeply alive.
Ride through stunning countryside at the foothills of the remarkable Sierras.
Experience the many subtleties of Sherry with an expert and view incredible Flamenco.
Discover the incredible Alhambra Palace and learn to prepare authentic paella.
Inspired? Craft a similar Bespoke guided trip starting from $2,000-$3,000 per person per night.
Feature Hotels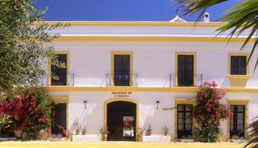 Hacienda de San Rafael, Near Seville
Your deluxe rooms are duplex style with charming local furnishings and deluxe washrooms. Each room is accessed from an inner courtyard and has a private terrace. The 470 square foot meeting room is bright and comfortable with 20 foot ceilings, high-speed internet and wireless internet. The restaurant serves delicious local cuisine and there is a casual outdoor bar if weather permits. View hotel website »
Finca La Bobadilla, Loja
Though only opened in 1986, this quietly luxurious Moorish-styled Andalucían "village" feels as if it has been around for centuries. Surrounded by hundreds of acres of olive trees, it is indeed fit for a King (Juan Carlos has stayed here a few times). Its plush surroundings include archery and skeet shooting range, tennis courts, an outdoor pool, a fitness room and massage and spa services. View hotel website »
Our Trip Designers are a special breed. Part guru, part collaborator, part mind-reader, they have the full breadth of B&R resources at their fingertips. Extraordinarily well-travelled, they've been there, lived there, done it, planned it and eaten it, too. With a combined geographic knowledge that's nothing short of staggering, they can save you literally years of research. Above all, they're incredibly good at what they do.
Accolades
"So many moments were over-the-top, special and memorable. If I were to speak to another traveller about the trip I would have to say that it is a once in a lifetime experience that should not be missed if at all possible."
— Kitty Durtschi, Bespoke Navarra & Rioja Biking 2011
Notes from the Road
The Edge of the WorldRiding through patchwork fields, I passed vineyards and dry stone terraces that carved the mountains into farmable strips, which wind between medieval villages of golden stone. Researching in Catalonia, I began my voyage tracing B&R's cycle route dow … …
On the Road in RiojaFollowing last week's awesome clip of our Tuscany Biking trip, B&R guide Philipp Haemmerle shares this great compilation of the Rioja Biking trip he guided last year. Great stuff, Phil! Video not working? Click here to view on YouTube. Where …
Snapshot: AndaluciaAs both a historical gateway to Europe and a point of departure to the African continent, Andalucia in the far south of Spain has a way of enticing travellers, adventurers and the occasional band of Visigoths or Moors. It has …
related trips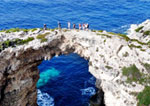 Greece Bespoke
Follow terraced hillsides to whitewashed coastal towns, ancient ruins and hidden beaches of Greece.
Croatia Bespoke
Discover the playground of Roman Emperors, the tiny towns, picturesque islands and dramatic coastline of Croatia.
Tuscany & Umbria Bespoke
Sip classic vintages and explore the breathtaking countryside of Tuscany and Umbria.