Discover Alsace
Through successive invasions, occupations and annexations, Alsatians have fought to sustain a distinct identity in their culture, cuisine and peppery white wines. Bike between the Rhône River and the foothills of the Vosges. Visit medieval castles and fortified towns dating back to the Huns and the Holy Roman Empire. Explore one of France's hidden treasures and everywhere, enjoy a unique French-German cultural heritage.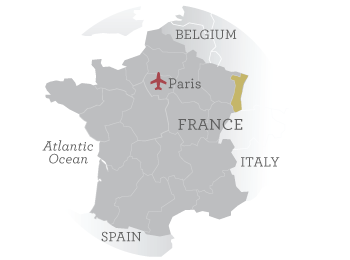 Dream ~ what՛s your perfect trip?
Design ~ meet your personal trip designer
Decide ~ collaborate on your custom trip
Depart ~ start packing
The best time of year to visit Alsace is from mid May through early October.
Trip Ideas
Biking with Friends
Alsace's gentle, bucolic hills produce full-bodied white wines of the highest quality, while the fertile plains below provide fresh produce for a regional gastronomy that is the talk of France. Tucked behind every sun-soaked slope of the Vosges foothills is yet another picture-perfect village filled with unforgettable, architectural wonders.
Ride at your own pace, from easygoing, to moderate to challenging; spectacular views are to be had by all
Explore Strasbourg's incredible architecture and history on two-wheels with a local expert
Be welcomed like friends to a family-run domaine for a private tasting
Inspired? Craft a similar Bespoke guided trip starting from $1,000-$2,000 per person per night.
Biking & Walking with Family
Over the centuries, Alsace has absorbed the words and customs of the peoples who have passed through and made them their own. Alsace is not just distinct, it's exceptional—a hidden gem of postcard villages, castle ruins and plenty of history to fascinate the imagination.
Discover a pied fairytale towns, hike up to the imposing castle ruins that once protected and ruled them
Take part in a cooking class specializing the sweet side of Alsatian cuisine
Bike to the Maginot line and into WWII history that you'll be sure to never forget
Inspired? Craft a similar Bespoke guided trip starting from $1,000-$2,000 per person per night.
Feature Hotels
Hotel des Berges, Illhaeusern
Next door to Auberge de l'Ill, this Relais & Châteaux hotel is the stylish creation of the Haeberlins, the chefs and owners of the world famous restaurant. Set amid willow trees on the banks of the River Ill, it's hard to imagine a finer hotel. View hotel website »
Cour de Corbeau Hotel, Strasbourg
Located within steps of the legendary cathedral, this 16th century edifice is particularly coveted for its lavish comforts and conveniences inside. The hotel underwent an extensive two-year renovation in 2007 and today offers visitors a blissful retreat in the historic heart of the city. View hotel website »
Our Trip Designers are a special breed. Part guru, part collaborator, part mind-reader, they have the full breadth of B&R resources at their fingertips. Extraordinarily well-travelled, they've been there, lived there, done it, planned it and eaten it, too. With a combined geographic knowledge that's nothing short of staggering, they can save you literally years of research. Above all, they're incredibly good at what they do.
Accolades
"The events and dinners were superb. We loved the ambiance of the hotels and the incredible service and hospitality of our guides. A very memorable trip!"
— David & Judy Baum, Bespoke Alsace Biking 2010
Notes from the Road
"Now a tour company has paired Alsace with Champagne, allowing participants to experience two traditions—and arguably, two visions—of France."
more »
Related Trips
Alsace & Champagne Biking
6 Days / 5 Nights
Enthusiast
Reims / Strasbourg
Price from: $5,995 USD
Normandy Bespoke
Take in the lush fields, white sand beaches, quaint thatched cottages and ancient churches of Normandy.
Burgundy Bespoke
Explore the countryside, unique gastronomy and tranquil waterways of Burgundy.
Provence Bespoke
Experience the beauty, history, culture and cuisine of Provence on your own unique getaway.
CLOSE X
ADVENTURE AWAITS!
Click below to start planning your custom trip.
Start Planning